In the illustrious history of gory Kung Fu flicks, I have yet to come across anything with more splatter than RIKI-OH.  This classic not only kicks your ass, it also smashes your skull, chokes you with your own intestines, and makes sexy-time with free-range livestock.
Highlights include over-the-top frolicking, tendon self-repair, instant weight loss, a total disregard for PETA, an inexplicably sexy dude, piehole rearrangement, and a Main Boss that looks like one of the Garbage Pail Kids on steroids.  And finally, let's not forget the clip made (in)famous by The Daily Show: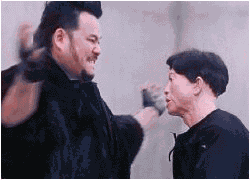 Recommended.
PUT YOUR WEIGHT ON IT!
The Creeper
Jon Abrams is a New York-based writer, cartoonist, and committed cinemaniac whose complete work and credits can be found at his site, Demon's Resume. You can contact him on Twitter as @JonZilla___.
Latest posts by Jon Abrams (see all)
---