Hal Roach, the classic comedy producer who brought us Our Gang and Laurel and Hardy, had something special up his sleeve when he produced ONE MILLION B.C. (1940) and introduced filmgoers to a new kind of cinematic wonder: the cave babe. Pissing on science, Roach created a world in which dinosaurs and humans lived in the same space, with the females of the time outfitted in sexy one-piece furs and modern hair styles.
When Hammer Studios remade the film in 1966, the dinosaurs became more ferocious (thank you Ray Harryhausen) and the female wardrobe of choice became the fur bikini. The success of that film spurred Hammer to produce a series of prehistoric follow-ups, inspiring rival studios like Amicus Productions to follow suit with series of their own throughout the next decade.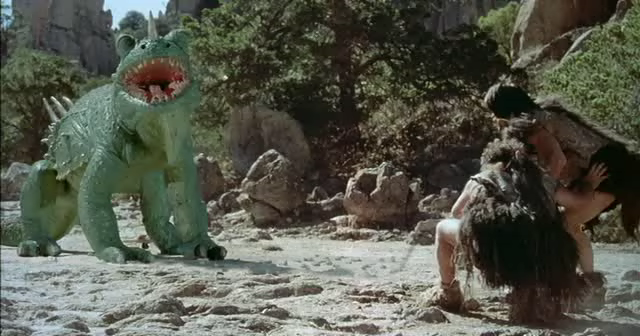 Minus a few spoofs that popped up in the 1980s and 1990s, this sexy subgenre is more or less extinct (pun intended) but certainly not forgotten. To honor the gorgeous ladies that populated these films, I have put a together a list of ten of the most beautiful women to don a fur bikini and beat off a dinosaur (no pun intended).
#10. Dana Gillespie – THE PEOPLE THAT TIME FORGOT (1978)
Question to Time: How in the hell could you forget this one?!
#9. Edina Ronay – PREHISTORIC WOMEN (1967)
I find it funny how a majority of these films feature a blonde in the good girl role. Case in point: the stunning Ms. Ronay's portrayal of sympathetic Sari to raven-haired Martine Beswick's evil Queen Kari in this Hammer eye-filler. Edina sure looks like she could play a bad girl to me.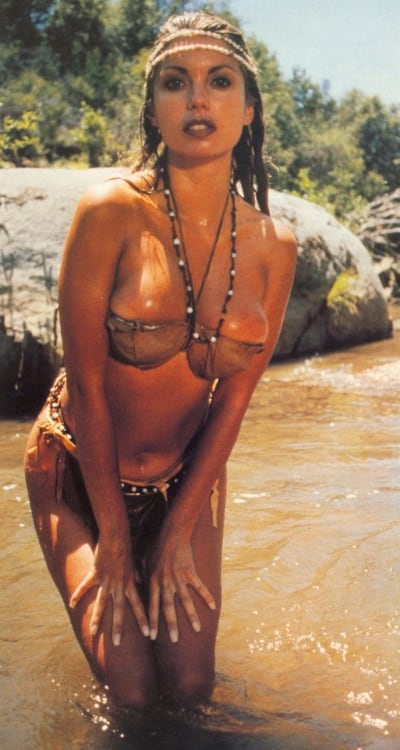 #8. Antonia Dorian – DINOSAUR ISLAND (1994)
As this is a Fred Olen Ray film, Ms. Dorian's fur bikini top was off more than on.
#7. Carole Landis – ONE MILLION B.C. (1940)
Film's first lovely to don sexy cave attire spent a majority of her film escaping giant lizards. One wonders if she could have run faster if she was sporting the fur bikinis her future cave sisters were permitted to wear.
6. Julie Ege – CREATURES THE WORLD FORGOT #(1971)
By the time this Hammer exercise in prehistoric goodness was released, the studio had ceased adding dinosaurs to the formula, instead focusing solely on the grunting charms of the human cast. That's fine with us, as it meant spending more time with the beautiful Ms. Ege and company.
#5. Barbara Bach – CAVEMAN (1981)
Ringo Starr sure didn't need any help from his friends after nabbing the enticing Barbara for his wife after they co-starred together in this silly spoof.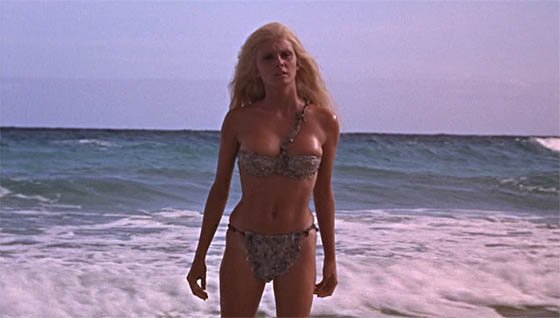 #4. Victoria Vetri – WHEN DINOSAURS RULED THE EARTH (1970)
Hammer followed up the hugely successful ONE MILLION YEARS B.C. (1966) by producing a film with more excellent stop-motion dinosaurs (courtesy of Jim Danforth) and 1968 Playmate of the Year, Victoria, in the lead. Never has a winning formula been so appealing.
#3. Martine Beswick – PREHISTORIC WOMEN (1967)
After cat fighting with Raquel Welch in ONE MILLION YEARS B.C. (1966), this fiercely sexy brunette was allowed to headline her own film in another erotic prehistoric romp from Hammer Studios. "Battling Beswick" (as the press dubbed her) continues her line of female scraps in this film as well.
#2. Caroline Munro – AT THE EARTH'S CORE (1976)
Along with Peter Cushing, this delicious Hammer and Bond girl was about the only thing worth watching in a film that features exploding dinosaurs. I imagine co-star Doug McClure did some exploding of his own when Caroline walked onto the set in costume.
#1. Raquel Welch – ONE MILLION YEARS B.C. (1966)
Rock and roll has the Beatles, the NBA has Michael Jordan, and the cave babe epic has Raquel. Carole Landis may have been the first, but it was the lovely Ms. Welch that helped turn the subgenre into the eye-popping type of films that appeal to the missing link in all of us.
---
Tags: Antonia Dorian, Barbara Bach, Carole Landis, Caroline Munro, Dana Gillespie, Edina Ronay, fred olen ray, hammer, Jim Danforth, Julie Ege, Lists, Martine Beswick, peter cushing, Raquel Welch, RAY HARRYHAUSEN, Ringo Starr, Victoria Vetri