For 25 years, Fantasia International Film Festival has showcased some of the most wild and wonderful genre filmmaking out there. They've particularly championed East Asian cinema, bringing a plethora of amazing titles into the Western consciousness, such as Hideo Nakata's 1999 classic Ringu, Satoshi Kon's incredible debut film Perfect Blue and several titles by Japanese horror master Takashi Miike. Fantasia is a genre lover's dream and this year's line-up proves their continued dedication to showing off the best of the genre. 
This year, the festival continues with an amazingly diverse line-up of films from around the world that tell horrifying and entertaining tales using animation, gore, and so much more. Here are just ten of the films we're excited to catch at this year's edition of Fantasia.
In Richard Bates, Jr.'s latest film, he tackles the world of the occult and found family with KING KNIGHT. The film is centered on Thorn (Matthew Gray Gubler), a high priest of a coven, and his life partner Willow (Angela Sarafyan). They live a quiet, peaceful life with their coven where they celebrate Pagan holidays in the woods and support one another. But, a dark part of Thorn's past rises to the surface and he must journey back to his hometown. This Pagan comedy also stars Barbara Crampton, Ray Wise, Nelson Franklin, Johnny Pemberton, Andy Milonakis, Kate Comer, Emily Chang, Josh Fadem, Swati Kapila, Shane Brady and the voices of Aubrey Plaza and AnnaLynne McCord.
Screen life films like UNFRIENDED and SEARCHING are the way of the horror future as these stories capture the idea of digital fear. Entering the arena of screen life is #BLUE_WHALE, a Russian film based on the influx of deaths in Eastern Europe caused by cybercrimes. In #BLUE_WHALE, a small Russian town experiences a wave of teen suicides, including the younger sister of Dana (Anna Potebnya). Dana investigates the inexplicable death of her sister and through her internet history, Dana discovers a social media game that involves increasingly more deadly acts of self harm. Enraged that such a game exists and killed her sister, Dana embarks on a mission of revenge. Produced by the godfather of screen life Timur Bekmambetov and the directorial debut of Anna Zaytseva, #BLUE_WHALE promises a daring look at the terrifying digital world.
Phil Tippett is the visionary master behind films such as STARSHIP TROOPERS, ROBOCOP, JURASSIC PARK, and STAR WARS. He is a master of visual effects, and now, 30 years in the making, comes his magnum opus, MAD GOD. The film's synopsis is as follows:
"Under a barrage of enemy fire, an intrepid special agent in a suspended container is lowered steadily into an ominous shaft. Down, down, inexorably down, through the many strata of ruin and residue bearing enigmatic witness to time's passing. At last, the pod touches down on terra firma, and its occupant emerges, map in hand and mission in mind. The surrounding landscape is a broken place of corruption and decay, of casual horror and degradation. Our hero will not be deterred, though the path ahead holds only more horrors, so many to behold."
The 12 Day Tale of the Monster That Died in 8
I have a thing for screen life, which is why there is another such film on this list. THE 12 DAY TALE OF THE MONSTER THAT DIED IN 8, directed by Shunji Iwai, is a film about boredom in isolation meshed with a kaiju movie, which is right up our alley. A recently laid-off man channels his influx of free time into raising capsule monsters to defeat COVID-19. It sounds ridiculous and therefore the perfect summer film.
Beyond the Infinite Two Minutes
According to Fantasia's website, "BEYOND THE INFINITE TWO MINUTES is like ONE CUT FROM THE DEAD meets TENET," which is an instant selling point. A lonely cafe owner (Kazunori Tosa) one day realizes that he is stuck in a very limited time loop: he is able to talk to himself two minutes in the future. As he tries to wrap his head around the phenomenon, he and his friends learn how to use this small glimpse into the future to their advantage. It is a low-budget, yet high-concept, time-looping movie entirely shot on an iPhone. This is the debut film for not only director Junta Yamaguchi, but for the entire Europe Kikaku theatre group who make up the cast.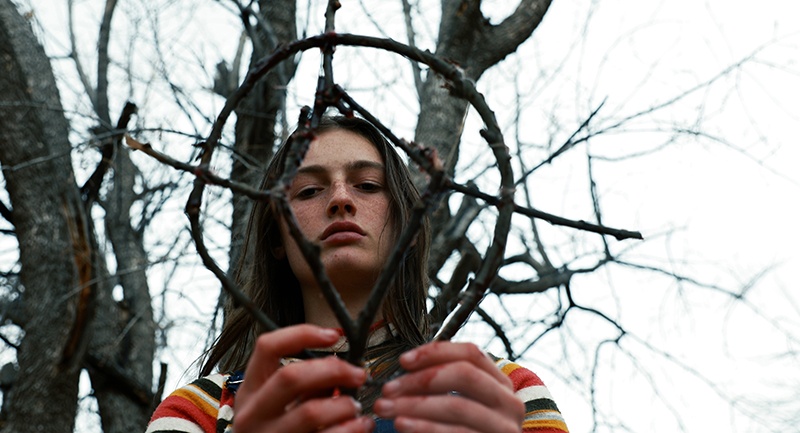 HELLBENDER is the latest film from the extraordinary filmmaking family made up of mother Toby Poser, father John Adams, and their daughter Zelda Adams. They are the directors, producers, performers, everything, which makes their films beautiful labors of love. In their follow-up to THE DEEPER YOU DIG, Zelda Adams plays Izzy who lives a secluded life with her mother (Toby Poser). But as Izzy gets older and more curious about the world around her, she begins to learn more about her family's mysterious history and involvement with witchcraft.
The directors of the 2007 New French Extremity film INSIDE, Alexandre Bustillo and Julien Maury,  have come to Fantasia with THE DEEP HOUSE, which is a haunted house movie that takes place underwater. Yes, this is both aquatic horror and haunted house horror. Two YouTubers with a passion for exploring abandoned places decide to venture into a house that lies at the bottom of a lake. And it's also a found footage movie. Enough said.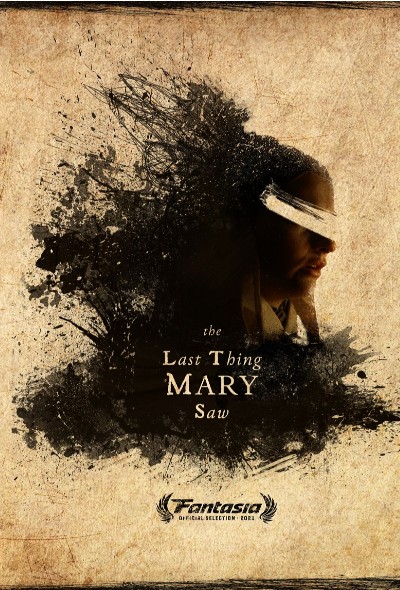 THE LAST THING MARY SAW has it all: lesbians, period piece, witchcraft, flashbacks. The occult period piece directed by Edoardo Vitaletti follows Mary (Stefanie Scott) as she develops a romantic relationship with her housemaid Eleanor (Isabelle Fuhrman). But as they try to keep their love a secret, they begin to realize that something evil is afoot with the arrival of a mysterious stranger (Rory Culkin).
In a dystopian world, a stranger stumbles into the sealed-off home of Mother (Adrienne Pearce) and her three daughters Bee (Jessica Alexander), Evie (Anja Taljaard), and Daisy (Kitty Harris). They live in such a bubble as to protect themselves from a dementia-inducing toxin called the Shred that's already claimed the mind of their brother. But the introduction of the stranger into their family dynamic causes massive disruption and forever alters their way of life. The film contains "aspects of dystopian science fiction with notes of folk horror and perverse brooding Gothic melodrama."
In Lee Haven Jones' Welsh eco-horror film, a rich family gets their comeuppance in the face of landing a deal to mine a local forest. But, what they don't know is that supernatural forces live in the forest and those forces won't let such destruction happen. THE FEAST is described as "a modern fairy tale for greed-fueled end-times" and it sounds like a thrilling addition to the ever-expanding world of folk horror. 
---
Tags: Alexandre Bustillo, Andy Milonakis, Angela Sarafyan, Anna Zaytseva, AnnaLynne McCord, Aubrey Plaza, Barbara Crampton, Emily Chang, Fantasia Film Festival, Festivals, Isabelle Fuhrman, japan, John Adams, Johnny Pemberton, Josh Fadem, Julien Maury, Junta Yamaguchi, kaiju, Kate Comer, Matthew Gray Gubler, Nelson Franklin, Phil Tippett, Ray Wise, Richard Bates Jr., Rory Culkin, Shane Brady, Shunji Iwai, Swati Kapila, Takashi Miike, Timur Bekmambetov, Toby Poser, Wales, Zelda Adams