I read HELTER SKELTER for the first time just a couple years ago. While I was aware of the name Charles Manson and knew some of what happened, I wasn't ready for what I considered to be one of the most gruesome and nightmare-inducing books I've ever read. Turning page after page made me shift in my seat, and I had a difficult time readjusting to my days after reading what Manson and his cult did. I felt dirty and sad, and ended up switching to a reality star's celebrity memoir afterwards to recover. When I saw the title of this episode as I flipped on FX, I instantly felt dread, as past episodes have reenacted historic murders such as Jonestown. While I love horror and get a thrill sometimes out of the most insane onscreen violence, real life tragedies get under my skin, and AMERICAN HORROR STORY really hit that nerve with the latest episode.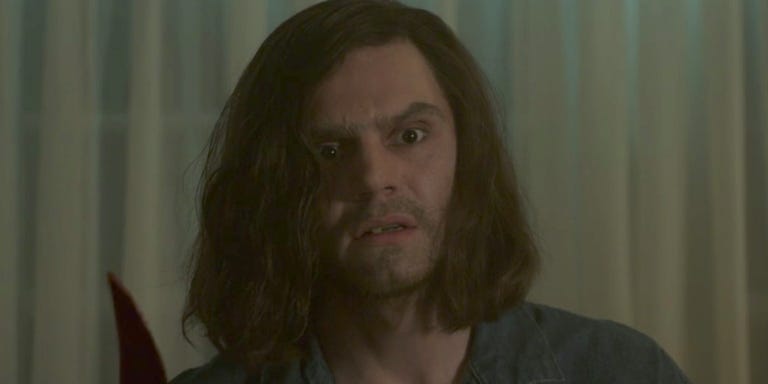 Utilizing their established cast, we are forced to watch what happened the night Sharon Tate was murdered in graphic detail. I give props to the creators for not treating this as some pop culture gimmick for the sake of clickbait, as the event is presented as bleak as it truly was. It was definitely an interesting turn for both Billy Eichner as Tex Watson and Sarah Paulson as Susan Atkins. Eichner, known primarily for his more comedic side, gave a glimpse into a psychopath under the spell of a false god who brutally stabs his victims. Paulson takes a breather from her mental breakdowns and lets viewers know what the devil can do when he gets under your skin. I'm probably being dramatic with my choice of words, but I seriously felt like I was taking a view into hell with this sequence. It was hard to watch, but Murphy and crew did not treat it as any joke. This serves as an inspiration for Kai, who views himself as a modern day Manson, and even sees him as a counterpart aiding in him in his mission to conquer the world.
These murders serve as one of Kai's popular bedtime stories for his cult, and he now wants to give the world "a night of 1000 Tates." This really is the darkest season yet, but also the most grounded. I give props to avoiding anything supernatural this season and keeping it all about how we all have some crazy inside of us.
This includes Ally, who is still participating in the cult after killing her wife in the last episode. Only Kai knows of what she did, but my guess is she's playing along and willing to do anything to get her son back. She knows she has to get rid of those close to him in order to finish not only him off, but also the message he sends out to society. He's built an impressive following, and it's scary to think there's some way too much resemblance to real life events and public figures. She even sets up Winter as the possible mole who Kai suspects is setting up their plan for failure. Kai strangles Winter to death, leaving no one safe from his wraith, but Ally is his biggest opponent and he doesn't even know it yet.
Kai has reached a breaking point, and went from just ignorant to completely out of his mind. He's popping pills left and right and his mental state is more than questionable. This new set of murders was supposed to involve getting the names of women waiting to get abortions, and we all know what he was going to do with that. This is a trap for Gary (Chaz Bono, who has been a great this whole season) as he ends up being a sacrifice to send an anti-abortion message out in attempt to make Kai look to be some kind of martyr.
There's one episode left of CULT, and I'm looking forward to hopefully seeing Kai go down and then maybe Ally can finally find some solace.
---
Tags: American Horror Story: Cult, Billie Lourd, Billy Eichner, Charles Manson, Chaz Bono, Evan Peters, Ryan Murphy, Sarah Paulson, TV