Well, that tears it.  I'm putting death itself on notice:  You went too far today.  I feel like I've been writing (or choosing not to write because it was too sad) way too many of these damn things in 2013.  Roger Ebert.  Jonathan Winters.  Richie Havens.  George Jones.  Ray Harryhausen.  James Gandolfini.  Jim Kelly.  And now Dennis Farina?  It's too much.  It's just too much.  I'm angry, death.  All you do is take.  And you are taking way too many of the people we too badly need.
In an industry full of talented people, of big screen presences, of precious flowers, Dennis Farina stands out.  Most people, upon hearing of his death, will go, "Oh, that guy? I love that guy!"  He's the kind of actor most people don't even realize how much they love until a day like this comes.   I'm different from most people only in that I'm the type who generally finds the character actors more interesting than the leads, so to a guy like me, a guy like him is a gift.  Dennis Farina is an alpha-character-actor.  He has an un-fake-able realness, a toughness that is earned, not learned.  If you find him intimidating, it's because you realize, "Shit, not only can this guy clearly kick my ass seven different ways before breakfast, but it appears he's smarter than me too."  Think about how unusual that is.
He was a Chicago cop for nearly twenty years before he got into movies.  He got into acting through the side door, while working as a police consultant for Chicago's own Michael Mann, a master-caster who saw what he had and gave Farina a small role as a hood in 1981's THIEF.  That may or may not have been a bit of an in-joke, but it led to a healthy string of gangster and crime-boss roles, across films as different as JO JO DANCER YOUR LIFE IS CALLING, MIDNIGHT RUN, GET SHORTY, and SNATCH.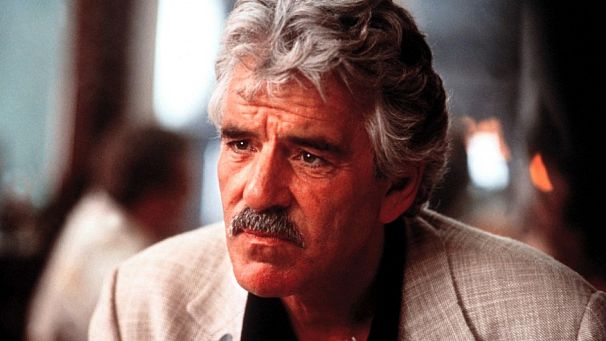 Thing is, there are charismatic bad guys and then there's this.  Dennis Farina was always a little too charismatic to be a villain: He was believably threatening, moreso than most actors by triple, but he was always a bit too likable.  That unmistakable voice, similar to George Clooney's in tenor but just a touch more nasal and with the distinct sound of Chicago to it.  The tremendous dexterity with language of the four-letter variety.  The mustache, easily one of the all-time greats.  That's why he transitioned so well to comedy, where he could play off the intimidation factor in a fun way — see how he reduces Michael Keaton, no slouch in the charisma department himself, to a stammering wreck in OUT OF SIGHT, where Farina plays the scariest possible father of a girl you were interested in up until that moment.
For my money, Dennis Farina was best in heroic roles, where he projected a kind of mean decency.  He was perhaps the consummate Michael Mann actor:  Intense, compelling, industrious, lacking a moment's time to even contemplate the existence of bullshit.  As an actor he seemed incapable of hitting a false note.  He was the perfect Jack Crawford in 1986's MANHUNTER, both a caring friend to the troubled profiler Will Graham, but willing to put his friend back in harm's way if it means saving the lives of the innocent.  I have watched MANHUNTER more times than almost any other movie, and the hotel-room argument between Dennis Farina and William Peterson's characters continues to be an electric, indelible moment in a hugely under-recognized classic film.  An arc on Mann's MIAMI VICE TV series showed Farina was clearly ready for his starring role, and he got it, as the leader of a squad of 1960s-era detectives on the period TV show CRIME STORY.  That show is both heaven and haven for great character actors of the time and for stars of the future.  If you haven't seen it, my guess is that you will love it.
Mann and Farina reunited in 2011 for HBO's short-lived series LUCK, about perpetrators of petty and major crimes surrounding a California racetrack.  Farina played Gus Demetriou, personal valet and sidekick to Dustin Hoffman's career con Ace Bernstein, who gets out of prison and into horse ownership.  Gus is the muscle (and try to name another 67-year-old actor who would be this believable as a bodyguard) and also the sounding board for Ace's scheming.  Some of the best scenes in LUCK are not much more than the two of them kicking back over drinks and shooting the shit.  Dustin Hoffman, a classically-trained theater actor and forty-year-movie-star, and Dennis Farina, who came to acting far later in life but who left a mark nearly as indelible.  It's a supreme pleasure.  It's magic.  This is another series to seek out.
Today we are down another irreplaceable talent.  The movies will be a wimpier place without him.  The true loss belongs to his loved ones and friends, to whom Daily Grindhouse extends our sincerest sympathies.
Latest posts by Jon Abrams
(see all)
---
Tags: Dennis Farina, Tributes