Still reeling from the loss of Elmore Leonard, I go on Twitter last night only to find out that Ted Post died the same day.  At least I heard the news from Vern.  Ted Post was a prolific director of film and television who made several movies that are of substantial interest to Daily Grindhouse readers, whether or not you have his name at the top of your need-to-know directors list.  A Brooklyn native and contemporary of Sidney Lumet, Post transitioned from theater to television, where he racked up an insane-by-today's-standards amount of directing credits.  Post's experience directing TV Western series such as Gunsmoke and in particular, Rawhide, led to what has clearly gone down in history as his most pivotal professional collaboration.
On Rawhide, Clint Eastwood played second fiddle to Eric Fleming.  It wasn't until he took a gamble and shot some movies overseas that he became a huge star.  HANG 'EM HIGH is the first movie Clint starred in after THE GOOD, THE BAD & THE UGLY was released.  A much more conventional movie, watchable but hardly revolutionary, the primary value of HANG 'EM HIGH was to show that Clint could be a star in America as much as he was under Sergio Leone.  Ted Post's direction, honed over hundreds of episodes of television, is not as artful or as individualistic as that of Leone, but it did the job and served its star well.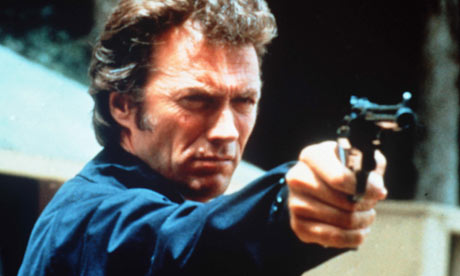 Ted Post was Clint's transitional director.  Not only did he follow Sergio Leone, but he also had follow Don Siegel, having directed MAGNUM FORCE, the second Dirty Harry adventure.  Once again, Post was handed a tough act to follow, and it's probably true that his professional, workmanlike direction didn't have the same fizzy forcefulness of Siegel's work on DIRTY HARRY.  "A man's got to know his limitations," right?  But between the solid premise, excellent casting, the return of Lalo Schifrin on the tunes, and a script from John Milius, Post put together a film that I'd argue is the best of the Dirty Harry sequels.  MAGNUM FORCE was released in 1973, the same year Clint released his second and third films as director, HIGH PLAINS DRIFTER and BREEZY.  The Hollywood Reporter piece on Ted Post indicates that Clint's ambitions as a director in his own right led to the dissolution of their partnership, which is a shame.  If all Ted Post did was play a pivotal, unheralded role in the cinematic career of Clint Eastwood, that would be plenty, but it turns out he did plenty more than that.
Clearly not a man afraid of a challenge, Ted Post hopped into the director's chair for the follow-up to another instant classic.  BENEATH THE PLANET OF THE APES is the second film in the beloved sci-fi series.  It picks up immediately where the first one left off, and features some of the characters from the original, including Zira, Dr. Zaius, and sentimental favorite Nova.  Its plot involves another astronaut landing on the title planet and discovering that humanity has gone underground (and developed telepathy).  I'm not sure that the movie ever totally lives up to the promise of subterranean telepaths battling armies of talking apes in tunnels and sewers, but it does have an admirably, extraordinarily dire ending, which you saw variations of with RETURN OF THE LIVING DEAD and TERMINATOR 3.  Ted Post may have been a journeyman director, but that doesn't remotely mean that all of his movies were conventional.
Certainly the weirdest movie Ted Post ever made, and possibly one of the weirdest movies anyone ever made, was THE BABY.  This is the story of a social worker dispatched to a home where a mother and two sisters are treating their twenty-something adult brother like a baby.  That means a grown man in diapers, sleeping in a crib.  It's exactly as weird as it sounds, if not moreso, and creepy also.  We've covered the movie here on the site before (and here also), so I won't go into it.  I can't go into it, really.  That would be no kind of obituary.  I do have to say that I love and admire how Ted Post released THE BABY the same year he released MAGNUM FORCE.  This is clearly an interview opportunity that far too many of us missed the boat on entirely.
Ted Post only made a few more theatrical films after the early 1970s, returning to TV and TV movies to direct the likes of Columbo (with episodes featuring Sal Mineo and Ricardo Montalban), Future Cop, a show starring Ernest Borgnine which I am suddenly very curious about, and the pilot for Cagney & Lacey.  He probably will never be considered an auteur director, but his career was an interesting one, interspersed with greatness-adjacency and moments of actual greatness.  Without question he should be better remembered by television enthusiasts, but we movie fans have plenty to thank him for also.
Jon Abrams is a New York-based writer, cartoonist, and committed cinemaniac whose complete work and credits can be found at his site, Demon's Resume. You can contact him on Twitter as @JonZilla___.
Latest posts by Jon Abrams (see all)
---
Tags: Apes, Babies, clint eastwood, Dirty Harry, Don Siegel, Movies, Sergio Leone, Ted Post, Tributes, TV, Westerns