LAWRENCE OF ARABIA.  Well now.  The first time I saw this movie was on the big screen.  Don't let anyone tell you I'm an unlucky guy.  I saw it a few years ago, at the reconstructed Cinerama Dome in Los Angeles.  Pretty spectacular.  That's how it should be done, if there's only one way to do it.
What is there to be said that hasn't been?  That widescreen photography by Freddie Young, that vast, sweeping look, obviously such an influence on Steven Spielberg and RAIDERS OF THE LOST ARK in particular.  Without question LAWRENCE OF ARABIA has plenty of merits worth re-iterating.  The vision of David Lean.  The script by Robert Bolt (A MAN FOR ALL SEASONS) and Michael Wilson (PLANET OF THE APES).  The editing by Anne V. Coates (THE ELEPHANT MAN, OUT OF SIGHT, RAW DEAL, WHAT ABOUT BOB? — I'm serious.) The orchestral score by Maurice Jarre. The production design by John Box (who later designed THE KEEP!).  The performances.  Omar Sharif. Anthony Quinn. Alec Guinness, still fifteen years away from STAR WARS.  All of them, really, but particularly the central performance by Peter O'Toole, otherworldly and spiritual, disturbing, impenetrable and unknowable, with the kind of almost shocking male beauty that could prompt even the straightest of straight guys take notice and make mention.  That's a good-looking man.
What struck me on my latest viewing was the history of it — the fact that white people are still to this day messing around in a corner of the world that still hasn't changed all that much from the period LAWRENCE OF ARABIA depicted. Whether it be imperialism or democracy, maybe we should keep it to ourselves.  But what do I know.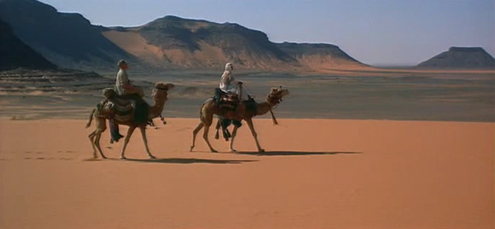 Mostly, I'm impressed with myself to have sat through a four-hour (!!!) movie.  How did I do that?  There's a built-in intermission, sure, and all that desert scenery doesn't exactly scream "bathroom break' but still, I don't care how well-regarded a movie is, that's a long time to sit in the dark.  Worth doing every once in a while, though.  Especially for this film.  Not a lot of long movies earn their runtime but this one assuredly does.
Latest posts by Jon Abrams
(see all)
---
Tags: Alec Guinness, Anthony Quinn, Arthur Kennedy, Camels, Claude Rains, David Lean, History, Horses, John Box, Jon Abrams, José Ferrer, Maurice Jarre, Michael Mann, Omar Sharif, Peter O'Toole, Religion, Steven Spielberg