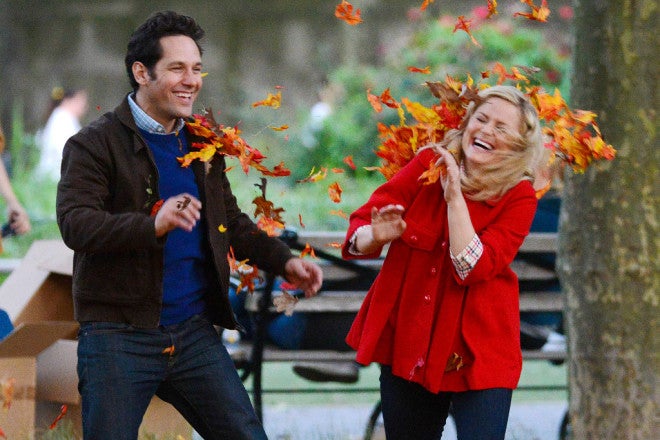 By any standard, 2014 was a good year for movies. While the future of distribution (and the theatrical experience) is still looking like the wild west, never before has our access to wonderful, diverse cinema been easier. We no longer have to rely on a local independent cinema or video store possibly bringing in a renowned international or indie film. The continued rise of online video sites like YouTube and Vimeo has given sustained life to previously voiceless short filmmakers and no-budget auteurs. Larger film-centric networks like Netflix and Hulu represent occasionally troubling, but unquestionably exciting, glimpses of what is to come. The larger issues of sustainability and preservation are still to be answered, but… well… I guess we'll worry about that later.
My Top 10 is a little funny. You see, I don't much cater to going by strict release dates. I know that the justification is that a Top 10 featuring films that readers won't see for a year (or more) isn't very useful, but.. hell.. just check out the Top 10 lists that are already out there for 2014! Is anyone outside a major metropolitan area going to be able to see half of those films until they pop up on Netflix six months from now? So, here's what I'd like you to do. Go back and check out my list from last year (most of those movies are easily available right now. Some of them quite cheaply), and if there's anything on THIS list you can't currently see, write it down for later. Believe me, they are all worth it.
So, let's do this:
10. JOHN WICK
LUCY was awful. I know that a strange thing to start a paragraph about JOHN WICK with, but I just wanted to get your attention. LUCY was the sort of braindead, flashy garbage that has plagued action cinema over the past decade. The natural extension of overwrought, xenophobic nonsense like TAKEN or THE EXPENDABLES.
JOHN WICK takes an unproven director and pairs him with a star that I find unwatchable at worst, and bland at best, and somehow comes out with the most original and exciting American action picture in years. Packed with impeccably choreographed combat that is more reliant on the physical abilities of the cast than editing, the film builds a fantastical world of hitmen that could sustain an entire series, and then tells a startlingly tight tale of a man and his dog. Often hilarious and consistently ludicrous, it's also wonderfully crafted and acted. Including by Keanu Reeves, who commits to the concept and the character entirely.
An incredibly accomplished first film by Chad Stahelski, and here's hoping his unique — for 2014 — style isn't quashed by the Hollywood machine. I want ten more.
9. KUNG FU ELLIOT
Yeah, I've raved about this enough already, but some of you still haven't found your way to seeing KUNG FU ELLIOT, and that's unacceptable. Often described as a Canadian spin on AMERICAN MOVIE, it's actually a much more complex and surprising tale featuring a lead who sees himself as Canada's heir to Chuck Norris. A major twist turns the film – and the audience's expectations – on its ear, and makes a re-watch absolutely fascinating. The crowd at Fantastic Fest lost their minds for it, and there's little wonder why. It's a hilarious, shocking, depressing, fascinating look at a man sustained by a mixture of ego and delusion, and the way it affects those drawn in by his sphere of self-confidence. Often cringeworthy, but entirely unmissable.
8. THEY CAME TOGETHER
Hey! Wait! Don't run away! Somehow this David Wain/Michael Showalter joint got overlooked by a hell of a lot of people, despite being both writer's best comedic cinema effort since WET HOT AMERICAN SUMMER. A gag-a-minute mockery of romantic comedies, except with shit-filled superhero costumes, gratuitous Michael Shannon cameos, and New York as a third main character, THEY CAME TOGETHER was my favorite straight comedy of the year and a future cult classic that absolutely deserves a bigger audience. Paul Rudd and Amy Poehler are perfect as the leads, and the supporting cast is absolutely packed with ringers — Bill Hader, Jason Mantzoukas, Michael Ian Black, Ken Marino, Melanie Lynskey, Ellie Kemper, and more.
It also has the best repeated gag of the year that makes you feel like you're a member of a special club when quoted.
7. BLUE RUIN
Full confession. I just saw BLUE RUIN two days ago during my annual HOLY-SHIT-I-FORGOT-TO-WATCH-ANYTHING-THIS-YEAR cram session. Therefore, it's possible that I'm currently enjoying some post-coital bliss from the film. Oh, and I managed to not see it at the 2013 Toronto International Film Festival, which makes me a bad person. With that out of the way, holy FUCK is this a good movie. Positioned somewhere between a dark, dark revenge tale and an even darker comedy, the film features one of the best performances of the year (from Macon Blair) and the sort of restrained film-making you almost never see in an indie. It makes for violent, engrossing entertainment, and somehow finds something new to say about the nature (and cycle) of revenge — particularly between (and among) families. A revelation if there ever was one, and a must-see.
6. THE GRAND BUDAPEST HOTEL
Look, I know you just read the word "twee" for the first time and you're itching to use it, but just keep that shit in your back pocket. Wes Anderson is the real deal. His style is his style, and he isn't going to fuck with it just because you're tired of looking at futura typefaces. My wife — who hates anything that gives me even the smallest amount of pleasure — absolutely despises Anderson, and likes to mock me for talking about my favorite scenes from RUSHMORE or THE ROYAL TENENBAUMS. It's an interesting existence. Even SHE managed to wring some enjoyment out of THE GRAND BUDAPEST HOTEL. So there.
Anyway, those accusing Anderson of not evolving haven't really been paying attention, because THE GRAND BUDAPEST HOTEL tells a sprawling tale well beyond the scope of his earlier projects, and features perhaps his largest (and most accomplished) cast yet. Inspired by the writings of Stefan Zweig (a fact that I DEFINITELY did not take from Wikipedia), the film switches between time periods (and aspect ratios) to tell the tale of concierge Monsieur Gustave H. (Ralph Fiennes, who is hilarious and profane), as well as lobby boy Zero (Tony Revolori) and, of course, the hotel itself. It's hilarious, visually stunning, and thoroughly satisfying from beginning to end.
5. THE BOXTROLLS
Ok. Stop what you're doing and go watch PARANORMAN. Good, right? Despite stop-motion studio Laika consistently making some of the best animated films in the world, they just can't get any (immediate) respect. CORALINE is great. PARANORMAN is great. and THE BOXTROLLS is great. Even if you can separate yourself from the otherworldly amount of skill and patience it takes to make these films (and you really shouldn't), they are also beautifully written and directed, and have a soul and intelligence that is well beyond most so-called children's entertainment.
I should address the – quite reasonable – accusations that a certain character in the film is transphobic. My own beliefs are more in line with this article from The Mary Sue, but I wouldn't dare suggest that those who DO take offense are in any way wrong. I'll admit that it didn't register strongly as offensive when watching the film, but can certainly see how it might be interpreted as problematic. I suggest checking it out and deciding for yourself.
4. GONE GIRL
I feel very conflicted when it comes to David Fincher. While I generally — and genuinely — like many of his movies, I also find many of his habits as a filmmaker to be extremely irritating. Particularly his over-reliance on flashy effects (looking at you, digital steam-breath in THE SOCIAL NETWORK) that too often distract rather than engage. I found this almost intolerable in his dreary adaptation of THE GIRL WITH THE DRAGON TATTOO, and was expecting similar flash here.
Instead, I was rather shocked – though delighted – to discover that his adaptation of Gillian Flynn's suspense novel had Fincher working at his most restrained level since ZODIAC (still his best film). The mid-film twist is probably old news to most people, but it still hits like a juggernaut thanks to naturalistic performances and unexpected shifts in tone. Ben Affleck is thoroughly capable in the lead, but it's Rosamund Pike who just off-the-charts wonderful. Those disappointed by the messiness of the ending should give it a second watch.
3. CALVARY
Look. I'm not religious. Unless I get a terminal disease and start panicking, it's unlikely I'll ever be religious. But there was no bigger cinematic gut-shot for me this year than John Michael McDonagh's beautifully realized CALVARY, featuring the always incredible Brendan Gleeson as a well-meaning priest in a small Irish town. Marketed — entirely incorrectly — as a black comedy, it's actually a pointed, clever, devastating character portrait of a good man battling against his own beliefs while taking the blame for those who have corrupted his chosen profession. Featuring beautifully restrained performances from Dylan Moran, Chris O'Dowd, and M. Emmet Walsh, and beautiful cinematography from Larry Smith. It'll be available in the New Year, and it's worth going out of your way to catch up on. Just bring some tissues.

2. THE LOOK OF SILENCE
I know you haven't had a chance to see THE LOOK OF SILENCE yet, so just take my word for it. It's extraordinary. However, its very much a companion piece to Joshua Oppenheimer's earlier documentary THE ACT OF KILLING, so if you've yet to see that (and if so.. shame on you), you might want to get that taken care of first. While that earlier film focused on the perpetrators of the mass killing of accused communists in Indonesia throughout the 1960s (many of whom still hold positions of power), THE LOOK OF SILENCE focuses instead on the victims of that violence. Much time is spent with Adi, a village optometrist who uses his position to interrogate those who murdered his brother many years earlier, and in the process puts himself and his family in danger. Startlingly raw and haunting, there are moments that will live with you forever.

1. BOYHOOD
I tried my best not to give in. I wanted to be cynical. The concept of a film made over a 12 year span with little in the way of pre-planned narrative sounded like something that could easily feed into Richard Linklater's worst instincts. A formless, meandering mess of a film that relies too heavily on its gimmick. But it's not. I was not only charmed by the evolution of Mason and his family (and the film is as much about that family as it is about Mason), but I also found the trials and tribulations to be moving, even when I couldn't directly recognize myself or my experiences in the characters. Yes, it's a monumental achievement, but it's also towards a purpose. When you get to the final scenes, you really do feel like you've grown with this family, and perhaps have even grown a bit yourself. Stunning and unforgettable.
HONORABLE MENTIONS
Because of my fucked-up, backwards way of choosing my best of the year, you're probably wondering where a few usual suspects are on my list. Yes, you should definitely see JODOROWSKY'S DUNE and WHY DON'T YOU PLAY IN HELL? They were both on my list last year, and you are a bad person if you haven't already seen both multiple times.
But there are a few other films that either just missed my list or deserve recognition for other reasons. While I wasn't as high on SNOWPIERCER as some, it's still a hugely entertaining sci-fi film from one of my favorite contemporary directors, and deserves to be seen. THE RAID 2 was overstuffed, but was an improvement upon the original in almost every possible way. Violent, thrilling and full of memorable sequences.
The world was briefly entranced by a short film (yeah, I'm calling it that) called TOO MANY COOKS which introduced us to Smarf (RIP) and a theme song that will never, ever leave your head. A deliriously twisted concoction that could only have come from the maniacs at Adult Swim.
While GUARDIANS OF THE GALAXY was the most pleasant superhero surprise, CAPTAIN AMERICA: THE WINTER SOLDIER was my favorite Marvel film of the year. Successfully melding a 70s conspiracy thriller with the continuity (and massive action set pieces) of modern blockbusters, the film is an absolute wonder.
Finally, if there was a #11 on this list, it would have went to James Gray's beautiful THE IMMIGRANT, which may have more legs than any other film I've mentioned. Meticulously crafted, and with a collection of beautiful performances, it's one you should go out of your way to see.
Latest posts by Doug Tilley
(see all)
---
Tags: Best of 2014, Blockbuster, Blue Ruin, Boxtrolls, Boyhood, Calvary, captain america, doug tilley, Gone Girl, Guardians of the Galaxy, Indie, Look of Silence, No-Budget, They Came Together