In 1980, twenty-something director Sam Raimi, producer Rob Tapert, and star Bruce Campbell (among others) went into the woods and came back with THE EVIL DEAD (1981), the story of college students who are picked off by malevolent demons in a cabin in the woods. The one survivor is one Ashley J. Williams, known colloquially as "Ash." This movie was such a massive cult success that it led to a sequel, EVIL DEAD 2: DEAD BY DAWN (1987), which was, essentially, a remake of THE EVIL DEAD, although the glory of it is how it's almost a one-man show, with Campbell's lovable jerk Ash fending off the forces of evil alone for much of the film. "Just Bruce in a cabin, man," to paraphrase one or another of the Coen Brothers. Raimi, Tapert, and Campbell somehow convinced mega-producer Dino DeLaurentiis to help finance a third film in the series and in 1992 the world was gifted with ARMY OF DARKNESS, which was more of a comedy and less of a horror movie than either of its predecessors but no less wonderful and fun.
Now, after twenty years of producing television and starring in it in Campbell's case and directing huge features in Raimi's, the trio have reconvened, along with original series composer Joseph LoDuca and even the trusty 1973 Oldsmobile Delta 88 that has been a feature of almost every last thing Sam Raimi has directed.
The upcoming Starz television series ASH VS EVIL DEAD finds an aging Ash (who is so cartoonishly old he's apparently wearing dentures) back in the Deadite-fighting game, with characteristic griping and groaning. Tapert is producing — and his wife, Lucy Lawless, has a significant role — and according to IMDb, Raimi has directed at least one episode. That's the part that excites me most, honestly, since I dug Raimi's 2009 return to directing horror, DRAG ME TO HELL, and I wanted to see more, and now here it is, with Bruce Campbell obviously easing back into the role of Ash like a drunken Judy Garland trying on her old ruby slippers.
Check out the trailer:
Right? Looks like fun. Clearly there are a bunch of repeated beats there, if you're familiar with the original films, but since the original films themselves repeated a bunch of beats, that's not exactly a travesty. They're good beats. You can dance to them. And I liked the concluding gag. And really, if you're going to support a not-exactly-original TV franchise, what are you gonna support — CSI: Detroit? NCIS: Michigan?
Or Ash Vs Evil Dead? Yeah I fuckin' thought so.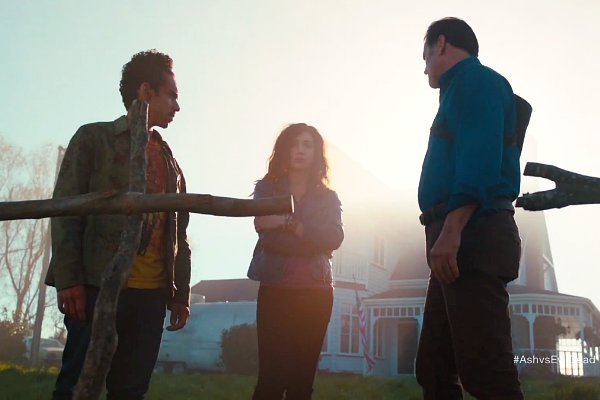 Latest posts by Jon Abrams
(see all)
---
Tags: Bruce Campbell, comedy, Horror, Lucy Lawless, Rob Tapert, Sam Raimi, TV