Okay, this is it! Last day! The 14th New York Asian Film Festival concludes after a firework-finale of screenings. We hope by posting these schedules, you've managed to find a movie you've never heard of before. That's what it's all about!
The NYAFF is being presented by Subway Cinema (visit them here), and all of the screenings today are being held at the SVA Theatre at the School of Visual Arts.
Here are today's screenings, with pictures & summaries courtesy of the festival:
Beatrice Theatre
1:00pm

Like ROCKY except for billiards instead of boxing, and also if Rocky Balboa was a Type-A, overachieving schoolgirl, this flick offers up a stylish twist on the sports movie, getting you to pump your fist for break shots, high runs, and head strings. Like FULL STRIKE, it's another movie about a washed-up champ who teams up with a younger player for a second chance, this time a young girl who might lose her house after the death of her parents. With charm to burn, a giddy 80s movie love for the underdog, a who's who of billiards stars making cameos, and super-stylishly shot matches, it's the summer billiards blockbuster you didn't know you needed.
Part of TAIWAN CINEMA NOW! Presented with the support of the Taipei Cultural Center of TECO in New York.
3:15pm

New York Premiere
When a schoolgirl takes a swan dive off her balcony, she hits the street at the feet of three classmates who are total strangers. Convinced that there's more to her suicide than meets the eye, these kids team up Veronica Mars-style to investigate her to suicide. But instead of being a whodunit, the bottom falls out, one death leads to another, and life becomes a nightmare. Shot through with sudden flashes of light, set in a high school inexplicably located in the middle of a steaming jungle, PARTNERS IN CRIME is what would happen if David Lynch directed RIVER'S EDGE. Much more than the sum of its parts, the mystery at the heart of this story isn't why did a kid kill herself, but why do we all feel so alone even when we're in a crowd.
Part of TAIWAN CINEMA NOW! Presented with the support of the Taipei Cultural Center of TECO in New York.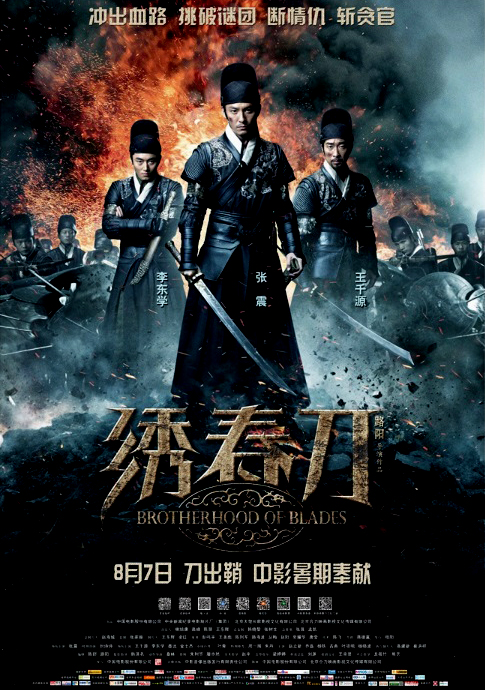 5:45pm

A one-in-a -million wu xia movie with all the reach, and none of the extravagance, of the biggest epics, BROTHERHOOD OF BLADES leaves behind the genre's flying swordsmen, weightless fantasy wirework, and dull speeches about brotherhood to deliver magnificent period action, drama, and characters that are swayed by cold cash and slain by cold steel rather than honor and the hard line of duty. Rich in historical detail, brutal in its depiction of violence, this dark blockbuster demands to be seen on the big screen.
It's 1627: the Ming Dynasty is dying. The new emperor has exiled the almighty Chief Eunuch, who controls not just the secret police but a shadow society consisting of pretty much all the court officials. Three Imperial assassins are tasked with a late-night murder party to get rid of the Eunuch and his loyalists, but money corrupts… soon, one of them gets handed a bribe big enough to allow Wei to escape. Schemes within schemes follow, as gold flows like a poison and bodies fall like autumn leaves.
The swordplay in this film is all earth-bound, leg-breaking, elbow-to-the-chin, blade-to-the-guts action as 70-lb. steel cleavers chew through soft flesh and long, swooping Steadicam shots follow fighters through chaotic battles. The imperial assassins include Chang Chen (one of Taiwan's great actors, best known for his work with Ang Lee, Wong Kar-wai, and Edward Yang) and actor Zhou Yi-wei is on hand as a honey badger of a blackmailer who just doesn't give a damn. As old-school as GUNGA DIN or THE FOUR FEATHERS, this is the wu xia movie with the dust blasted off and the rust scraped from its edge. It cuts to the bone. It slices through brains. It delivers.
8:15pm

A nearly dialogue-free gangland visual tone poem, shot in just four days in the slums of Manila by master cinematographer Christopher Doyle, and directed by the king of Filipino digital filmmaking, Khavn de la Cruz (MONDOMANILA along with 47 other features, and over 100 shorts!). Starring Japan's indie icon Tadanobu Asano (ICHI THE KILLER) and one of Mexico's best new actresses Nathalia Acevedo (POST TENEBRAS LUX), RUINED HEART defies easy explanation. The basic plot is simple: Asano's gangster rescues Acevedo's whore and they go on the run. Along the way there is a Godfather (poet-playwright Vim Nadera) who is "the world's poem", dance parties, dream parades and carnivals, orgies, and murder. All of this is accompanied by wild visuals and an even wilder soundtrack. Acevedo's exuberant acting and eye popping costumes along with Asano's raw physicality (sequences where Asano runs through the back alleys holding the camera are some of the most striking in recent cinematic memory) create an emotional center to the film that gives the chaos a joyful tenderness that stays with the viewer long after the film is over.
Silas Theatre
2:00pm

Following LINDA LINDA LINDA, and TAMAKO IN MORATORIUM, director Yamashita helms a uniquely emotional "how-did-I-get-here?" movie about memory, identity, and the healing power of rock & pop music. Shibutani plays Shigeo who is beaten up to the point of memory loss following his release from prison. Discovering his singing skills (Shibutani is the lead singer of the popular Kanjani Eight), Kasumi (Fumi Nikaido, WHY DON'T YOU PLAY IN HELL?) takes him in and puts him to work cleaning the recording studios where they live and fronting the band she represents. As his memory begins to return he is caught between his dark past as a small-time gangster, and the new life he has found. Tackling redemption, second chances and the power of music, this film is a romantic comedy that steers clear of stereotypes and allows the extremely human characters at the center of the film to reveal themselves slowly.
4:30pm

International Premiere
Steeped in the culture of 1980s Japan, Yukihiko Tsutsumi's adaptation of Kurumi Inui's novel is cinematically playful and emotionally sophisticated in its coming-of-age tale of a young man navigating his responsibilities as an adult and his confused emotional attachments to two women. As a young man, Takkun finds the girl of his dreams in his Shizuoka hometown in the form of Mayu, a pretty, simple and always-sunny girl-next-door type. But when he is transferred to Tokyo by his office, he finds himself in a more sophisticated world and attracted to his well-bred colleague Miyako. The title refers to a question posed by Miyako to Takkun. Is his feelings for Mayu merely "initiation love", a puppy love that does both a disservice as the years pass. As he slips into an affair with Miyako, he has to make a series of difficult choices that will define him as a man. The Japanese promotion of the film emphasises the twist in the film's final five minutes that takes a radically different course from the novel. The film's ending is not just a cinematic coup d'etat, it also reveals a painful truth about love that is a lesson for all men and women.
Part of New Cinema from Japan. Presented with the support of Japan Foundation New York
6:45pm

Just when you thought that Sion Sono's work can't get any crazier and more imaginative after 2013's WHY DON'T YOU PLAY IN HELL?, here comes TOKYO TRIBE – a berserk rap musical action drama about warring gangs in the near-future Tokyo, almost entirely told in rhyme, populated by a gallery of off-beat, super-fueled, and extreme characters, all competing for the control of the dystopian megalopolis, eventually having to unite to fight a bigger evil. Based on the popular manga series "Tokyo Tribe 2? by Santa Inoue, the film's large cast includes Shota Sometani as the film's MC, Riki Takeuchi (Takashi Miike's DEAD OR ALIVE) as the sleazy Lord Bubba, Ryohei Suzuki (HENTAI KAMEN: FORBIDDEN SUPERHERO) as a blond-haired testosterone-charged gang leader, Nana Seino (DANGER DOLLS) as the main heroine, and rapper-actor Dais Young. So let Master Sono transport you to a world full of killer rhymes, B-boy battles, high-kicking girls, pervy silliness, wild action (choreographed by Tak Sakaguchi, working under a pseudonym), and filled with so many baroque visual flourishes that the entire movie feels like Versailles stabbing you in both eyes, as you keep asking for more.
9:00pm

Closing Film
North American Premiere
"A stylish, confident directorial debut for screenwriter Han Jun-hee (who wrote Kweon Ho-young's sci-fi mystery THE GIFTED HANDS), this glowering crime thriller set in Incheon's Chinatown district is powered mightily by the combustible performances of its two leads, major star Kim Hye-soo as a deadlier-than-the-male female mobster and rising ingénue Kim Ko-eun as an orphan she has reared to do her dirty work but who finally turns against her adopted mother." – The Hollywood Reporter.
"Han Jun-hee's debut seeks not to redefine the thriller genre in Korea so much as it tries to update it to reflect a new Korea, one in which people are beginning to resist patriarchal norms, and where immigrants can no longer be brushed aside as an afterthought (it's no accident that the story takes place in Incheon's Chinatown, the Korean title of the film). – Twitchfilm.
Straight outta Cannes comes this high velocity mash-up of MOMMIE DEAREST and GOODFELLAS, Veteran Korean diva, Kim Hye-Soo (THE THIEVES), has won 33 "Best Actress" awards since her career kicked off in 1986, and she brings all that high caliber thesping to her star turn as the most toxic mommy on earth. Back in 1996, a corrupt cop in her employ found Il-Young (Kim Ko-Eun, recipient of Rising Star Award at NYAFF 2013) abandoned in a coin locker, and he brought her to the criminal queen bee played by Kim Hye-Soo. Discovering that the foundling has a talent for mayhem, mom raises her up and trains her to go after the people who owe her money and snap their fingers like breadsticks. But, one day, her kid meets a guy she'd rather not mutilate, and so she defies her adoptive mom's orders. Hell hath no fury like a mother scorned, and soon they're tearing the city apart as they work out their mother-daughter issues with fists, guns, and knives.
Director Han Jun-Hee will attend the screening. Presented with the support of Korean Cultural Service in New York. 
See you next year!
Latest posts by Jon Abrams
(see all)
---
Tags: Angel Yao, Asian Cinema, Atsuko Maeda, Cecilia Liu, Chang Chen, Chang Jung-chi, Cheng Kai-Yuan, China, Christopher Doyle, Dais Young, Elena Kazan, Ethan Li, Fumi Nikaido, Fumino Kimuro, Germany, Han Jun-Hee, Hong Kong, japan, Jason Wang, Katsumi Kawahara, Khavn De La Cruz, Kim Hye-Soo, Kim Ko-Eun, Lu Yang, Mika Kano, Nana Seino, Nathalia Acevedo, New York, Nie Yuan, Nobuhiro Yamashita, NYAFF, P.J. Huang, Riki Takeuchi, Ryohei Suzuki, Ryuta Sato, Sarina Suzuki, Screenings, Shoko Nakagawa, Shota Matsuda, Shota Sometani, Shunsuke Daito, Sion Sono, South Korea, Subaru Shibutani, Tadanobu Asano, Taiwan, Takuya Ishida, Teng Yu-Kai, The Philippines, Vim Nadera, Wang Qianyuan, Wen Shang-Yi, Wen-Yen Kung, Wu Chien-Ho, Yao Ai-Ning, Yui Ichikawa, Yukihiko Tsutsumi