Day Three of the New York Asian Film Festival is martial-arts madness! BEHIND THE CAMERA plays at 1pm, but after that the gloves are off and the feet start flying.  ARAHAN and IP MAN: THE FINAL FIGHT (not to be confused with yesterday's THE LEGEND IS BORN: IP MAN) look super-rad, and then, maybe best of all, at 9:15pm there will be a special 40th-anniversary screening of ENTER THE DRAGON featuring a talk between MC Yan and New York legend Fab Five Freddy!
The NYAFF is being presented by Subway Cinema (visit them here), and all of today's  screenings are taking place at the Film Society Of Lincoln Center (find a more complete rundown here).
Here are today's screenings, with pictures & summaries courtesy of the festival:
E J-Yong's meta-movie centers on a group of Korea's best film technicians and actors who have assembled in order to shoot a 10-minute smartphone promo, with some of the actors playing themselves and some playing other actors. Adding another meta-layer, E J-Yong plays himself directing them remotely via Skype.

Ryoo Seung-Beom in person for Q&A!
A high-flying martial arts action date movie set in modern day Seoul. When a thief driving a motorcycle snatches a purse, the clumsy, naive and honest rookie policeman Sang-hwan runs after him—but martial arts specialist Eui Jin captures the criminal and Sang-hwan is severely injured. She brings him to her home, where the six Masters of Tao heal him and conclude that he has a powerful Qi, the spiritual energy of the universe, with the potential to become a powerful warrior. Sang-hwan begins his training to ascend to a Maruchi. Meanwhile, the evil and ambitious Heuk-woon is accidentally released from his prison and launches an attack on the masters, searching for a key that they protect, which would permit him to become an Arahan and dominate the world. When the masters are defeated, Sang-hwan and Eui-jin are mankind's last hope.
North American Premiere! Director Herman Yau and screenwriter Erica Li in person for Q&A!
Director Herman Yau teams up with his favorite actor, Anthony Wong (UNTOLD STORY, EBOLA SYNDROME), to deliver a slyly subversive send-up of the current craze for Ip Man movies. Packed with some of Hong Kong's best stars of the 80s and 90s, including Eric Tsang, Ken Lo (DRUNKEN MASTER), and Xiong Xin-xin (THE BLADE, ONCE UPON A TIME IN CHINA 3), this Ip Man movie is not just an action flick but a love letter to Hong Kong's volatile history of political protest.
Fab 5 Freddy and MC Yan in person for conversation!
Warner Brothers and the New York Asian Film Festival are teaming up to present the screening along with a panel discussion on the relationship between Kung Fu and Hip Hop culture featuring Hong Kong's MC Yan (LMF) and Hip Hop pioneer and fine artist Fab 5 Freddy, and the North American debut / opening of a body of work recently exhibited in Hong Kong and Shanghai, "Kung-Fu Wild Style", featuring Bruce Lee inspired post-graffiti paintings by the two artists.
Fab 5 Freddy and MC Yan will attend the screening. The 40th Anniversary Ultimate Collector's Edition gift set of ENTER THE DRAGON from Warner Bros. Home Entertainment will be available June 11 on Blu-ray.
Here's what Subway Cinema had to say about this straight-up classic, because I couldn't say it any better:
In 1973, Bruce Lee's ENTER THE DRAGON split the world in half with its fists of fury and a high-pitched scream of rage. Now, to celebrate the most famous martial arts movie ever made, Warner Brothers and the New York Asian Film Festival are teaming up to present a screening of ENTER THE DRAGON followed by a panel discussion on the relationship between kung fu and hip hop featuring MC Yan and Fab 5 Freddy, as well as the North American debut of a gallery exhibit called "Kung Fu Wildstyle" featuring Bruce Lee-inspired grafitti art. Truly, this is an event that will kick your head off.
Directed by Robert Clouse and starring Bruce Lee, ENTER THE DRAGON is a punchdrunk ride through exploitation heaven that shaped the pattern for the thousands of martial arts movies that followed in its wake. Bruce plays a martial arts champ who goes undercover for British intelligence on the island of Mr. Han (longtime Hong Kong star Shih Kien) where he'll fight in an underground tournament where the world's best martial artists try to kill each other to earn a job with Mr. Han.
Competing against him are American exploitation star John Saxon and blaxploitation hero Jim Kelly. Lee is especially hacked off that his sister (Hong Kong martial arts heroine Angela Mao) was recently beaten to death in the streets by Mr. Han's bodyguard. Bruce Lee is a beautiful animal in this flick, burning like a super nova as he dishes out beatdowns and neck breakings like candy at a Shriner's parade. This was his one shot to show the world why everyone should know his name, and he seizes it with both hands and takes a big, bloody bite out of it.
Tragically, six days after the movie was released in Hong Kong, and just 3 weeks before it was released in the United States, Bruce Lee died. He never lived to capitalize on the fame he earned with ENTER THE DRAGON, but the movie went on to earn $200 million around the world. Watching this film again, 40 years later, you can understand why. It's still that good. 40 years later as Warner Brothers, the original producers of ENTER THE DRAGON, release their Ultimate Collector's Edition Blu-Ray (on sale June 11), the power of this movie survives.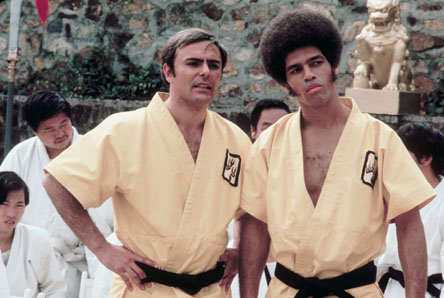 Latest posts by Jon Abrams
(see all)
---
Tags: Asian Cinema, bolo yeung, Breakdancing, bruce lee, Carnage, Fab 5 Freddy, Graffiti, Hip-Hop, Jim Kelly, John Saxon, Jon Abrams, kung fu, Lalo Schifrin, martial arts, New York, Sammo Hung, Shitkicking