In my humble opinion Danny Boyle is one of the world's great film directors, and while he seems to have been better recognized as such recently, what with the awards for SLUMDOG MILLIONAIRE and 127 HOURS and the Olympics gig, his back catalog still has some lesser-parsed zones. A LIFE LESS ORDINARY is probably Danny Boyle's least loved movie. I remember all the way back in 1997, a local New York critic (pretty sure it was Marshall Fine) callously dismissed the movie with the easiest possible dig: "LIFELESS, ORDINARY." That's not just a cheap shot – it's objectively wrong.

Here's a quick touch of recapping for your ass: A janitor (Ewan McGregor) is replaced at his job by a robot, and in a moment of impulsive revenge, he takes the heiress daughter (Cameron Diaz) of the company's owner (Ian Holm) hostage. But it turns out she hates her father more than he does, and takes over her own kidnapping. Meanwhile, Holly Hunter and Delroy Lindo play an odd couple of bounty hunters who chase the duo across country… although they're not just hired guns, they're really angels from Heaven sent to get the two fugitives to fall – and stay – in love.
The cinematography (courtesy of Brian Tufano) and the editing (overseen by Masahiro Hirakubo) in this movie are as colorful and as snappy as anything Boyle's ever done, which is saying a lot. In fact, if he hadn't made this movie first, it's unlikely SLUMDOG MILLIONAIRE or 127 HOURS would have been as good as they are. The anything-goes musicality and love-it-or-don't sincerity of A LIFE LESS ORDINARY predated movies like MOULIN ROUGE! (also starring Ewan McGregor) and even darker omni-pictures such as HOLY MOTORS. The two leads are as likable as they've ever been, and they are supported by a wide cast of character acting greats including Dan Hedaya, Stanley Tucci, Tony Shalhoub, Maury Chaykin, and (very briefly) Timothy Olyphant. The soundtrack collection is clever, buoyant, and vintage Boyle: Bobby Darin, Underworld, The Supremes, Orbital, The Shirelles, Beck, Elvis, REM, and Gladys Knight (among others). The movie is bold, swift, and heart-on-sleeve sincere.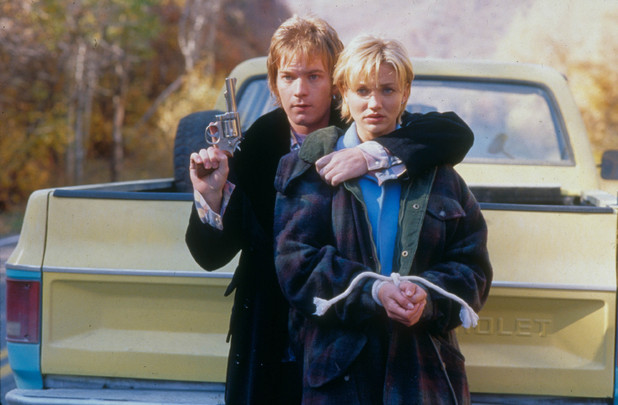 A LIFE LESS ORDINARY is a whole lot of things and all of them at once, but "lifeless" and "ordinary" are just about the only two things it isn't. If this movie strikes you as lifeless and ordinary, then you may be high on cocaine, with a heart about to explode and not from love. It may be a little too much for some people but my GOD would I rather have something unique and adventurous and daring like this than any thousand remakes or routine rom-coms. I like a movie who really means it.
And there is claymation at the end. #VICTORY
Latest posts by Jon Abrams
(see all)
---
Tags: Bobby Darin, Cameron Diaz, comedy, Dan Hedaya, Danny Boyle, Delroy Lindo, Ewan McGregor, Holly Hunter, Ian Holm, Maury Chaykin, music, Netflix, Romance, Stanley Tucci, Timothy Olyphant, Tony Shalhoub