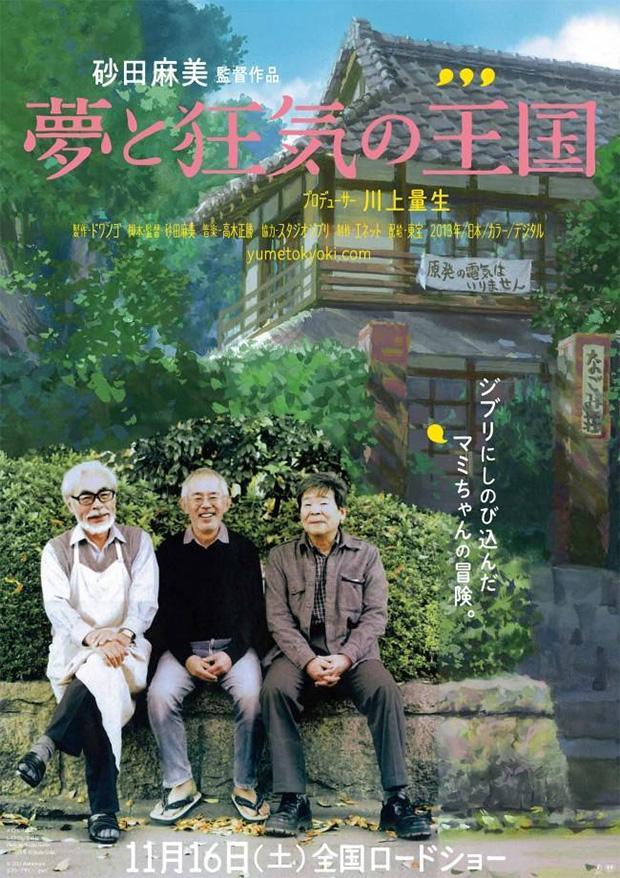 A recent viewing of Hayao Miyazaki's latest (and likely last) film THE WIND RISES had me contemplating the man's life and influence at length. It's not that his newest film is impenetrable – it, like all of his work, is incredibly accessible for both young and old – but the themes of the film seem to have personal resonance even more potent than most of the great director's features. The creation of the film, and Miyazaki himself, are the focus of the documentary THE KINGDOM OF DREAMS AND MADNESS, which serves as a revealing tribute to the great artist and his eccentric, captivating working methods. It also captures something much deeper; a creator feeling detached from the age in which he's living, and the way in which that influences his life and personal relationships.
Much of THE KINGDOM OF DREAMS AND MADNESS focuses on the seventy-two year old animator sitting at his modest desk, surrounded by younger artists all working on various stages of animating his dreams. His creative process is quite extraordinary, abandoning any semblance of  script to instead piece together the story through storyboards he draws himself. This allows for a very organic method of storytelling, but makes for a frustratingly slow development. Animation starts well before the master finishes his story, so animators often have to guess at the direction of the film. We follow the bespectacled, apron-wearing artist as he picks out posters, helps choose his cast — including lead "actor" Hideaki Anno, best known for creating NEON GENESIS EVANGELION, as well as a former animator for Miyazaki — and smokes like a chimney. While often presented as playful and childlike, he's alternately morose about Studio Ghibli's place in the future, and oddly pragmatic about his own career.
But the documentary isn't solely about Miyazaki. It's partially concerned with the people he surrounds himself; specifically his producer Toshio Suzuki, as well as his colleague, mentor and professional rival Isao Takahata, who was working on his own final movie THE TALE OF PRINCESS KAGUYA at the time of filming. Takahata is rarely seen in the film, but his existence seems to haunt the margins throughout. Miyazaki has some choice words about the man's work (including suggesting he doesn't actually want to finish his latest film), but there's an obvious deep respect that exists between the two. Suzuki serves as a business manager and public face of Studio Ghibli, and he's a warm, very funny presences that seems adept at relieving tension and giving great soundbites. A final, chance meeting between the three men may not be revelatory, but it's hard not to feel a certain sense of awe in seeing such talented men standing — or sitting — together.
While often (rather insultingly) referred to as "the Walt Disney of Japan", the documentary is able to capture a candid portrayal of Miyazaki that Disney certainly would have never allowed. It's these moments of humanity which reveal just why his films retain so much resonance, as his mixture of extreme passions, depth of emotion and workmanlike attitude makes him a truly unique artist. One particularly affecting moment involves a letter that Miyazaki receives which relates an anecdote regarding his father's kindness during World War II. He waits until finishing the film before replying to the letter, but the timing is prescient, as THE WIND RISES is very much about his father's experiences before and after the war — even if it's in the form of (real life engineer) Jiro Horikoshi. It doesn't take seeing a tearful Miyazaki after a screening of the film to realize that this is an extremely personal work.
Those not already fans of Miyazaki may have difficulty with the stubborn pace of the documentary, but director Mami Sunada's obvious reference of the man and his work will delight those who revel in his filmography. It might not be the definitive documentation of the legendary artist, but it captures him at a very vulnerable and interesting time in his incredible career, and those curious about his creative process will be in heaven. While Miyazaki seems to have much much doubt regarding the future of Studio Ghibli, one can only hope that — even in the face of retirement — we might yet see one more animated dream.
Latest posts by Jon Abrams
(see all)
---
Tags: Animation, anime, documentary, Hayao Miyazaki, Hideaki Anno, Isao Takahata, japan, Jiro Horikoshi, Miyazaki, Studio Ghibli, The Tale of Princess Kaguya, The Wind Rises