Hi! Welcome to the column! You picked a great week to drop by — a great week. There aren't a ton of new Blu-Ray and DVD releases today, but the few that are worth getting are really super-damn worth it.  And assuming your wallet can take the strain, please remember yesterday also was the official release of John Carpenter's first orchestral album, Lost Themes. No doubt regular Daily Grindhouse readers don't need the reminder, but we get new drop-ins all the time and we love you all equally.
THE ABCs OF DEATH 2 (2014)
Anthology movies are always going to be a mixed bag, but this one, involving reflections on death according to the 26 letters of the alphabet, has more highlights than most. I'm going to recuse myself from reviewing it in much more detail — although we did run a review on the site — because one of our contributors, Little Miss Risk, stars in one of the segments, 'T is for Torture Porn,' directed by Jen & Sylvia Soska, who last rocked our socks off in AMERICAN MARY. If I told you this short was one of the best of the already-strong batch, would you think I was being biased? In my defense, I can't help it if our awesome contributors do awesome things. Here's the deal: Check it out and then tell me I'm wrong.
I also really dug A is for Amateur, F is for Falling, L is for Legacy, Q is for Questionnaire, and W is for Wish.
ABOUT SCHMIDT (2002)
Not my favorite Alexander Payne movie, really. Jack is great in it, and really, this is one of the last times in quite a while we've seen him get to be great in a film. For that reason alone it might be worth it for me to revisit it, particularly since it's been 13 years, and holy shit about that by the way.
THE BEST OF ME (2014)
We can do better by Michelle Monaghan. We must.
DEAR WHITE PEOPLE (2014)
Picked this up already because I want to take another look. I mean I fairly well loved it the first time, but I want to think about it some more. I like a movie that will challenge its audience, as this one does. DEAR WHITE PEOPLE isn't the tidiest movie, but it's a movie that chases after ideas. For more reasons than subject matter, I'd compare it to the best of Spike Lee, who has made one perfect movie and three-fourths of a second perfect movie and has otherwise been willing in his work to frustrate and do battle with audience expectations. If this is what Justin Simien's first movie looks like, I can't wait to see his next one. Already he has written and directed a movie that is not as much "comedy" per se as true satire, the way cranberry juice without added sugar is aggressively tart. DEAR WHITE PEOPLE is studdeed sharp-toothed nips at the heels of a still-racist society. Yes, America is still very much lousy with racism, and no, electing a black president twice, while a great step, didn't cure it. In many ways, it only complicated things. This movie gets that, and it gets at that. But its great strength is that, while its young characters make bold and assertive statements about race in America that often make a whole lot of sense, they all quite believably show varying levels of doubt. So much talk about race in America is hollered, with absolute certitude. That happens here, but we also get to see people thinking, "Am I right? Am I full of shit? Can I make any difference either way?" It's sharp work from Justin Simien as a writer, but also his direction elicits tough and tender performances from a promising young cast, with Tyler James Williams, Teyonah Parris, and maybe most of all Tessa Thompson making frustrating, crush-worthy, indelible impressions. I'll take a daring, questing movie like this one over just about any of 2014's Best Picture candidates.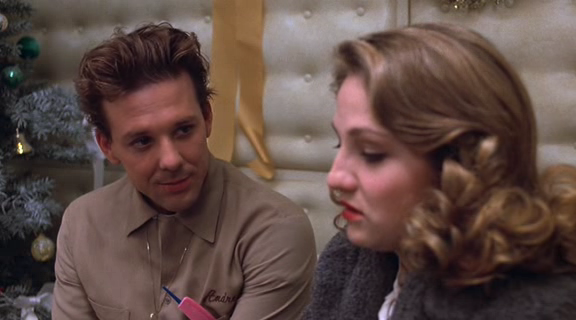 DINER (1982)
That's what Mickey Rourke used to look like. It's okay if you need a minute to reflect upon what's happened since then.
THE DISAPPEARANCE OF ELEANOR RIGBY (2014)
Did you know Bill Hader is in this? I didn't until just this moment.
DRACULA UNTOLD (2014)
Truth in advertising. DRACULA remains untold by the time this movie ends.
DRAGON: THE BRUCE LEE STORY (1993)
Love Bruce Lee, but haven't actually seen this film. Heard it's good, but I also know it's directed by the same guy who this calendar year brought us THE BOY NEXT DOOR, and have I told you lately that I love your mother's cookies?
EVERY MAN FOR HIMSELF (1980)
I really haven't seen enough Godard films, obviously.
JOHN WICK (2014)
Buy this. Do it. Go now. I don't care how you get the money. Get it. You'll hear more from me on it when my Best of 2014 piece finally drops. This was the best action film of 2014. That's all anyone need know.
KULL THE CONQUEROR (1997)
JOHN WICK is so full of ass-kickery that it could only be followed alphabetically by something
LOVE & BASKETBALL (2000)
Screenwriter Gina Prince-Bythewood made her directorial debut with this film, which is coming to Blu-Ray now probably since her latest film, 2014's BEYOND THE LIGHTS, is due in the upcoming weeks. LOVE & BASKETBALL has a cast full of then-and-future stars, and a truly unbeatable soundtrack. I've heard nothing but great things about BEYOND THE LIGHTS, but I guess I'll have to wait a bit more to catch up with it — it was in theaters for less than a minute, which is so lame. We need to do a better job of protecting movies like these. At this point I'm not even talking about movies directed by women, or non-patronizing movies about black people — I'm talking about movies about people, period. There are more than enough movies about cartoons. Movies about people? An endangered species.
LUST FOR LIFE (1956)
Worth a look at the very least for the Metrocolor cinematography by Russell Harlan (RED RIVER, RIOT IN CELL BLOCK 11, RIO BRAVO, HATARI!, TO KILL A MOCKINGBIRD).
MY BEST FRIEND'S WEDDING (1997)
This came out during a summer when I went to see almost every last studio release that I could, and this was no exception. I'm not normally a Julia Roberts romantic comedy kind of guy, to say the least, but I liked the fact that her character in this movie is pretty much a huge asshole up until the last scene, I liked Rupert Everett's performance, and I really liked the fact that both Julia Roberts and Cameron Diaz were running around after Dirty Steve from YOUNG GUNS. That shit is hysterical.
NAS: TIME IS ILLMATIC (2014)
** DVD ONLY **
This is a documentary about the 1994 album Illmatic, which is regarded as one of the best and most important hip-hop albums of all time, and a portrait of Nas, the artist who recorded it when he was barely 21. I still can't get over that. Nas is only 41! He put out a stone-classic more than twenty years ago. That's some humbling arithmetic.
OUIJA (2014)
I repeat: There is no way to make teenagers moving a planchette around a piece of cardboard remotely scary. And even if there were, it still couldn't top WITCHBOARD for pure entertainment value. Because few movies, scary or otherwise, truly can.
THE OVERNIGHTERS (2014)
I hadn't heard of this documentary about a pastor amidst a community of North Dakota oilmen until Doug mentioned it on the site a few weeks back, but Drafthouse Films hasn't released a dud yet.
THE RETRIEVAL (2013)
The summary: "During the Civil War, a boy (Ashton Sanders), who has been sent to lure a freedman (Tishuan Scott) back to the South, forms an unexpected bond with the man." That sounds heavy, but certainly worthy, and man — every still frame I've seen so far from this film is just gorgeous. I'm a guy who really takes in movies as moving pictures. How a picture looks matters a lot to me. So I'm in.
RICHARD PRYOR: OMIT THE LOGIC (2014)
A documentary about Richard Pryor isn't a thing I've never seen before, but hell, I will watch another without any hesitation. Here's a piece I wrote a while back about Richard Pryor's comedic brilliance and his scattered success in films.
STARRY EYES (2014)
This horror film, with the logline "A woman's pursuit of Hollywood stardom puts her on a collision course with a satanic cult," has gotten many raves and some shoulder-shrugs (from a couple of our writers in fact). But the raves mean that I, as an incorrigible horror head, will need to see for myself.
AND NOW, HERE ARE THREE FROM STUDIO GHIBLI:
POM POKO (1994)
PORCO ROSSO (1992)
TALES FROM EARTHSEA (2006) 
Who needs my words when you've got their pictures?
Latest posts by Jon Abrams
(see all)
---
Tags: Blu-ray, dvd, New Releases