We're back again! Welcome to Daily Grindhouse's weekly listing of all that's new and available to purchase on Blu-Ray and DVD. Everything you see featured here is available in stores or online as of today.
As always, if you're inclined to buy anything you see here, you can get to the Amazon listing by clicking through the cover icons. It helps our site if you can do that, so please do it if you can.
The synopsis goes as follows: "Daisy is the all-American girl next door with a hunger for true love and an appetite for murder. Then one day Daisy meets the man of her dreams, only to discover that his own lust for killing might make her his next victim." That makes the film sound a bit to me like NATURAL BORN KILLERS, but it might be an interesting twist if they go hard on that second sentence plot twist and turn the Mallory against the Mickey. That would be an unusual spin.
BARELY LETHAL (2015)
The story here: "Seeking a normal adolescence, a special-operations agent (Hailee Steinfeld, from TRUE GRIT) fakes her own death and enrolls in high school as an exchange student." Sam Jackson plays the mentor character and Jessica Alba plays the super-villain. One thing you can never say is that you weren't told.
BIG HOUSE, U.S.A. (1955)
Still getting my plot recaps off Google: "Jerry Barker finds a lost boy whose rich father is extorted into paying a ransom for his return, but the boy accidentally dies and Jerry goes to prison." Lon Chaney Jr. and a young Charles Bronson play a couple of the gang of criminals he meets there.

BLACK AND WHITE:
THE DAWN OF ASSAULT (2012) 
This Taiwanese nailbiter continues the propulsive action and pyrotechnics established by the first film in the series that began with the film BLACK OR WHITE, starring Kevin Costner. This sentence may or may not have any truth at all in it.
BLACKBIRD (2014)
Back to Google, since me making things up doesn't seem to work out: "Randy, a devout high school choir boy, struggles with his sexuality while living in his conservative Mississippi town. His mother (Mo'nique) blames him for his sister's disappearance as his father (Isaiah Washington) guides him into manhood."
BLAST FROM THE PAST (1999)
From the director of the first POLICE ACADEMY movie comes this romantic comedy starring Alicia Silverstone as a young woman who meets and falls in love with the Brendan Fraser character, who has grown up in a fallout shelter and been raised like a veal. His parents are played by Christopher Walken and Sissy Spacek. How  Christopher Walken and Sissy Spacek combined to produce a Brendan Fraser is a funky movie-genetics thing, another weird detail you just have to go with, assuming you buy into this premise. BLAST FROM THE PAST represents that rare classification of movies I may or may not have seen and can't for the life of me remember either way. But this I do know: if you're making a megamix of Christopher Walken dancing, don't miss this one.
BROTHER'S KEEPER (2013)
I don't watch as many faith-based films as I could, but I will say this much: Ray Wise has played so many evil creeps, cronies, and demons in his career, it's about time he finally gets to play a man of the cloth. Justice is balance, which is something I got from Ra's al Ghul, which is a character Ray Wise easily could have played.
CHILD 44 (2014)
It's fun to look at that picture up above and imagine that either of those two guys just said "Kiss me" to the other one.
*** PICK OF THE WEEK !!! ***
THE DEAD LANDS (2014)
This is one of the more refreshing films I've seen so far this year, a well-choreographed, brisk, compelling action film from New Zealand, set amidst the pre-colonial native M?ori culture. The dialogue is exclusively in the M?ori language, and if any, the only actor you might recognize is Lawrence Makoare, who had multiple roles in the LORD OF THE RINGS films — but the storytelling is so clearly-rendered and the themes so universal that you'll gladly go wherever it takes you. There are deeper films out there, but there's a lot to be said for one that takes pains to conjure up an indigenous culture that is unknown to most of the world. We've seen a billion hero's journeys set on this side of the world — this is a nice change of pace.
DO YOU BELIEVE (2015)
Oy.
FAR FROM THE MADDING CROWD (2015)
Isn't it kind of nice that in this day and age, where movies are dominated by D-list superhero characters and Minions and sequels and prequels, that there are still people out there keen to make movies out of Thomas Hardy novels? The director here is Thomas Vinterberg, a founder of the Dogme movement along with Lars Von Trier. Haven't seen this film, but I like this lead actor, Matthias Schoenaerts, who I first saw in BULLHEAD and was bowled over by in THE DROP, his follow-up with BULLHEAD director Michaël R. Roskam — from his performance in that film alone, you'd never know the guy was from Belgium and not Brooklyn. And that film has a deep and impressive roster, so to make an impression is a feat.
FOREIGN INTRIGUE (1956)
This film is based on a now-largely-forgotten TV series, which in a way makes it the MISSION: IMPOSSIBLE of its day. Part of me feels like if it were that worth seeing, I'd have heard about it before now — all the other parts of me know I'm a dope who learns something new every day and who loves Robert Mitchum movies and who would take a look no matter what.
FREE WILLY (1993)
In today's post-BLACKFISH climate, wouldn't you love to see Michael Madsen make another killer-whale kids' movie?
FREETOWN (2015)
Quoth the internet: "A group of native Liberian missionaries make a desperate cross-country trip through their war torn country to save one of their own." This is based on a true story, and it certainly sounds like a worthy subject. I hadn't heard a peep about this movie before this moment, but that's not necessarily a bad sign.
HE RAN ALL THE WAY (1951)
TCM says: "A crook on the run (John Garfield) hides out in an innocent girl's apartment." Assuming the latter is played by Shelley Winters, there is probably more to the story.
HITMAN (2007)
This has been on Blu-Ray before, but now comes the Unrated edition, in advance of a new theatrical film in the franchise. HITMAN is what Timothy Olyphant was doing in between Deadwood and Justified. As much as I can remember about it, it wasn't in any way better than either of those things, but to be fair, not much is. One thing I do remember is that this was the first time I saw Olga Kurylenko, who is surely the only eye-candy-from-a-video-game-movie who has gone on to work with Terrence Malick.
INNERSPACE (1987)
The Joe-Dante-directed INNERSPACE is great fun, a staple of my childhood HBO multiple-viewing habit and a phenomenal showcase for Martin Short, a comic genius. This is his Buster Keaton movie.
INSURGENT (2015)
Again, some promotional stills exist primarily to make you want to invent your own dialogue. I know those two dudes aren't arguing over their lunch but that's exactly what I keep picturing.
THE LAST SURVIVORS (2014)
"A teenage girl fights to protect the last working well in a drought-stricken valley from a greedy water baron." That plot is literally the plot of MAD MAX: FURY ROAD, but de-aged. However, that is a novel enough spin (and I adore MAD MAX: FURY ROAD enough) that I will allow it — and maybe even watch it!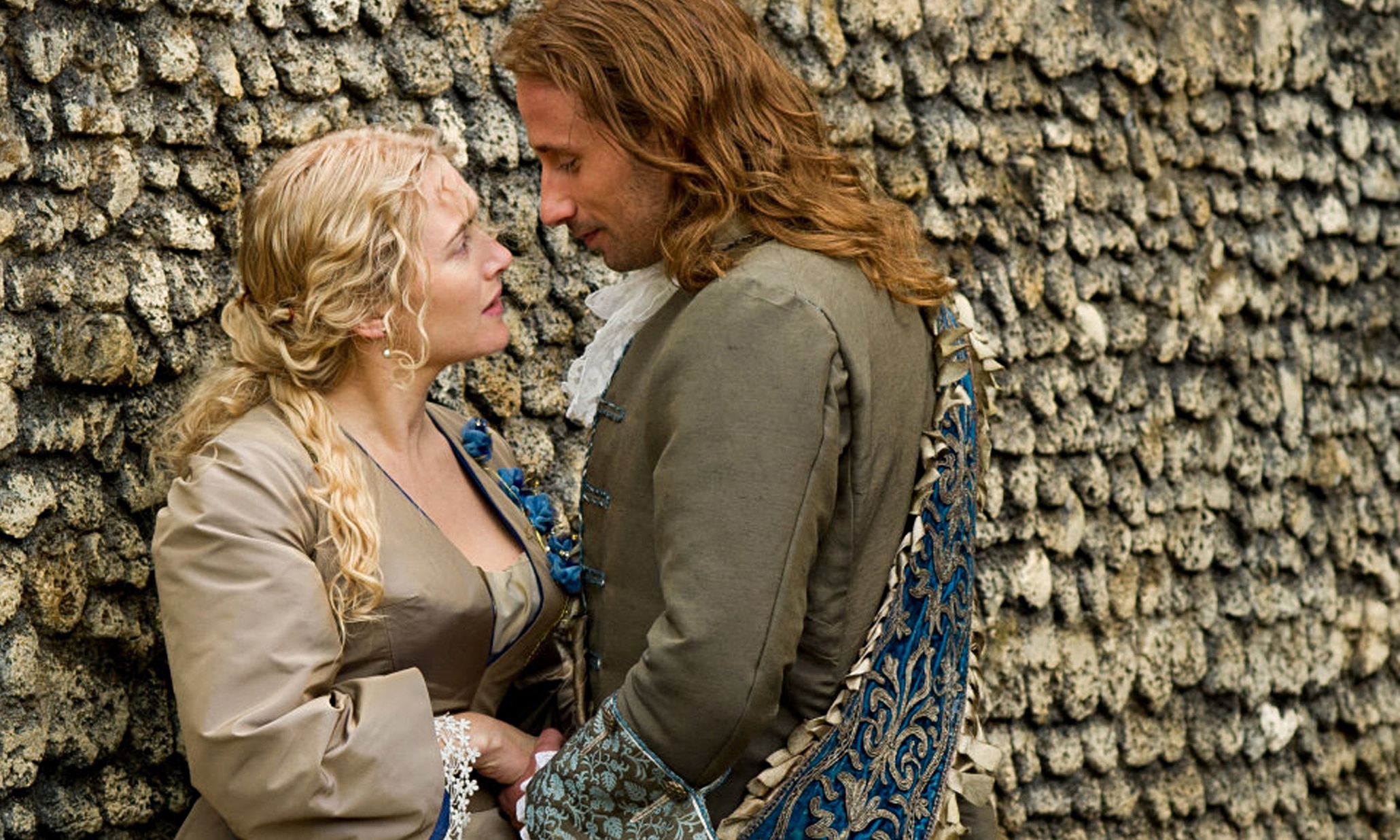 A LITTLE CHAOS (2014)
Well, clearly anyone who's been wanting to see Matthias Schoenaerts in a period-piece romance with an award-friendly British lady has hit the motherlode this week. Unlike FAR FROM THE MADDING CROWD, though, this is not a Thomas Hardy adaptation, and also unlike that film, this one was directed by Alan Rickman. Yeah, the guy you're thinking of. 
MADAME BOVARY (2014)
One might be forgiven for being mistaken, but MADAME BOVARY does not have Matthias Schoenaerts in it. It does, however, have Paul Giamatti, so that's an automatic must-see, bottom line, period, enough said.
MAN ON FIRE (2004)
As far as I can tell, this is slightly new packaging (and maybe a fresh digital copy) for a title that has been on Blu-Ray before — but if you haven't seen it, you totally better. This is one of the best of the Tony Scott/ Denzel Washington collaborations. Denzel plays a very cruel man who's hired to guard the young daughter of a couple living in Mexico City. Maybe predictably, she eventually lightens his heart, but when the girl is kidnapped, he becomes the thing in the title. Brian Helgeland's adapted screenplay (this came from a novel that was also made into a less-famous movie starring Scott Glenn) and Denzel's committed performance make this story hit home a lot harder than its routine-sounding plot might suggest it might.
*** PICK OF THE WEEK !!! *** 
NIGHT AND THE CITY (1950)
Recently re-watched this film, which was dumb, maybe, since I ought to have waited for this new Criterion version. They've put this title out before, but this is a new digital restoration. To you, what does this mean? It means that an incredibly striking film is now even more so. I've been on a Jules Dassin kick all year — he's one of the most infrequently mentioned of all great directors — and NIGHT AND THE CITY is one of his many career highlights. This noir tale centers around a low-level con man trying to make a career leap by becoming a pro-wrestling promoter, which — this being noir — doesn't work out well for anyone. Richard Widmark, a well-regarded human being off-screen by all counts, once again displays his mastery of mining the depths of mortal venality and sneakiness. Gene Tierney is a gorgeous phantasm in her few scenes. But noir fans can pretty much expect greatness from those two stars. The film's most unforgettable and surprising performances come from a pair of palookas — one, Mike Mazurki, a noir mainstay getting more to chew on than usual as a heel known as The Strangler, and the other, Stanislaus Zbyszko, a real-life pro-wrestler who is possibly the film's most tragic figure, wrenching in pretty much his only big-screen role. You need this movie in your diet. 
THE NIGHTMARE (2015)
The follow-up from the makers of ROOM 237 is a documentary about the phenomenon of sleep paralysis. Have a look at the trailer. It's really impressive.
ORPHAN BLACK: SEASON THREE
The most painful thing about people constantly recommending TV series which I never get time to watch is watching helplessly as the seasons continue to pile up.
Mads Mikkelsen and Eva Green in a Western. That's an easy sell to me personally. Here's what Matthew Monagle had to say about it.
SNOW GIRL AND THE DARK CRYSTAL (2015)
For some reason this is making me think of that 1980s Marvel comic, Cloak & Dagger. But I don't remember them fighting some giant PACIFIC RIM hell-monster. Either way, this goes straight to the top of the queue.
STORM FEAR (1955)
TCM says "A wounded bank robber takes over his brother's home." Presumably the bank robber is Cornel Wilde, who also produced and directed. He's not a guy I know much about — I recognize his name from ROAD HOUSE (no, not that one), in which he co-starred with Ida Lupino and my man Richard Widmark. But nobody can know everything, so here's another thing I have plenty to learn about.
STRIKE BACK: SEASON THREE 
Another TV show I've been curious to check out, another third season…
TOOLBOX MURDERS 2 (2013)
No thanks.
TRUE STORY (2015)
Even though I know it isn't, this still looks like a totally fake movie to me.
WYRMWOOD: ROAD OF THE DEAD (2014)
Heard great things. Will always watch an Australian horror flick, will almost always watch anything with zombies. Excited to get a look at this one, which is currently streaming on Netflix Instant. Maybe tonight! You know this guy's down…
HAPPY CONSUMING,
Latest posts by Jon Abrams
(see all)
---
Tags: Blu-ray, dvd, New Releases