We're back again! Welcome to Daily Grindhouse's weekly listing of all that's new and available to purchase on Blu-Ray and DVD. Everything you see featured here is available in stores or online as of today. This week's major picks are almost all Pam Grier vehicles, which are as vital and as fierce as ever and are all new to Blu-Ray. There's other great stuff too, and some crap as always, but really, what matters most is Pam Grier, Pam Grier, Pam Grier, Pam Grier, and Pam Grier.
As always, if you're inclined to buy anything you see here, you can get to the Amazon listing by clicking through the cover icons. It helps our site if you can do that, so please do it if you can.
ABSOLUTE BEGINNERS (1986)
Sex Pistols confederate Julien Temple directed this cult musical that features David Bowie, Sade, Ray Davies of The Kinks, and Steven Berkoff, the villain from BEVERLY HILLS COP. And also it's got this lady doing this:
I'd honestly never heard about this movie before today but now all of a sudden it's something I want to see very badly.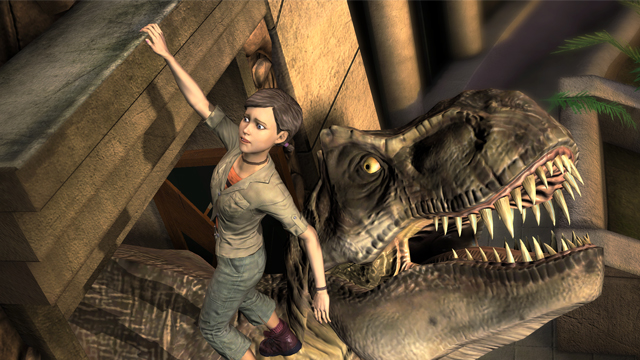 BACK TO THE JURASSIC (2012)
Melanie Griffith, Jane Lynch, Louie's Pamela Adlon, Stephen Baldwin, and William Baldwin are only a few of the names I recognized in the voice cast of this random cartoon that I'd otherwise never heard about and can safely assume you hadn't either.
*** PICK OF THE WEEK !!! ***
BONNIE'S KIDS (1973) +
THE CENTERFOLD GIRLS (1974)
While I haven't seen BONNIE'S KIDS yet, I made it one of my picks of the week solely because it was written and directed by Arthur Marks, who fulfilled one or both duties on so many incredible films of the 1970s, including THE ROOMMATES,  DETROIT 9000, BUCKTOWN, A WOMAN FOR ALL MEN, FRIDAY FOSTER, and THE MONKEY HU$TLE. I'm just so damn down with what this dude was putting down. He was putting out a bunch of interesting, unusual, distinct sort-of-exploitation/sort-of-brainy films that were all different from each other in various ways. BONNIE'S KIDS looks like a revenge picture, focusing around two sisters who fight back against an evil stepfather and hit the road.
On the other hand, THE CENTERFOLD GIRLS has only a "story by" credit for Arthur Marks, but its IMDb summary is irresistible to any of us who love brilliantly trashy premises: "A depraved religious fanatic sets out to punish all the "immoral" women who have posed for the center-fold of a men's magazine." By-then old pros and old-school tough guys like Aldo Ray and Mike Mazurki round out the cast, but really they're just gravy: There's no way I'm not going to see this movie. 
*** PICK OF THE WEEK !!! ***
COFFY (1973)
Well now, here it is. Arguably the first essential Pam Grier movie, making its debut on the Blu-Ray format. COFFY was directed by Jack Hill, who'd used Pam in supporting roles in several exploitation flicks before this one, and who finally puts Pam front and center as the solo lead. Coffy (her name in the film) is a nurse out to introduce heartless drug dealers to a whole lot of excrutiating pain. This is not only an incredibly entertaining film, but also one that is interesting for how it puts sex and violence so close together — most American films keep the two very much separate. Of course COFFY has its dated elements, but there is a rocky morality to the movie that makes it very compelling still. And even if the movie around her were devoid of value, it would still be worthwhile as a showcase for its star, who is justly cherished and adored by neo-grindhouse audiences but I think still profoundly under-acknowledged by mainstream big-brains. Without overstating the case, Pam Grier is one of the single most important American film stars in the history of the medium. COFFY is essential.
DARK VICTORY (1939)
Bette Davis stars in this vintage women's picture described thusly by IMDb: "A young socialite is diagnosed with an inoperable brain tumour, and must decide whether she'll meet her final days with dignity." Humphrey Bogart (before he was a star) and Ronald Reagan (before he was an arch-Hellbeast) are among Ms. Davis's co-stars.
THE DEATH KING (1990)
That title is so phenomenal it almost distracted me from the fact that the director's name has a butt in it. I'm an absolute idiot, but this is a seven-part German experimental horror film dealing with themes of suicide, murder, and bodily decomposition, which I'm sure almost makes one pine for the infantile humor I enlisted in the previous sentence.
DER SAMURAI (2015)
Meanwhile, this is a more recent German film with a samurai in it, and also evidently a wolf. The Germans are broadcasting some mixed messages this week.
DODGE CITY (1939)
Haven't seen this one in quite a while, but I do remember it to have one of the great bar fights I've ever seen in a Western or in any other genre, and keep in mind this is coming from a man who has seen more than his share of cinematic (and real!) bar fights. This movie is available individually or as part of a five-film collection spotlighting the films of 1939, widely acknowledged to be one of the greatest years in film history.
*** PICK OF THE WEEK !!! ***
FOXY BROWN (1974)
Pam's follow-up to the success of COFFY, again collaborating with Jack Hill. Pam plays an avenging angel in a ridiculously entertaining series of events, with the level of violence arguably higher and even more vicious this time around. This time Pam squares off not only against some thoroughly horrible men, but also against a vindictive female puppet-master. That kicks FOXY BROWN into a new stratosphere of an already-pioneering action-film career for Pam Grier. Again, sex and violence are effectively uncomfortably intertwined, and a new sociopolitical dimension begins to creep in. As thrilling as FOXY BROWN is as a film, the score by Willie Hutch is invaluable on its own. If you buy the Blu-Ray, you're going to want to download the music too, which — warning — means this is getting to be a pricey week!
*** PICK OF THE WEEK !!! ***
FRIDAY FOSTER (1975)
Arthur Marks directs Pam Grier! Amazingly, and somewhat disappointingly, Pam's dazzling winning streak as an above-the-title action film star only really lasted a couple years and a few films. After COFFY, FOXY BROWN, SHEBA, BABY, and FRIDAY FOSTER, Pam quickly moved into supporting and character roles. Even during that time, in films like THE ARENA and BUCKTOWN, Pam either shared billing with another star or was second-billed. It would be tempting to describe this brief window as a missed opportunity except for the fact that Pam absolutely made the best of every minute of screen time as a heroic lead. She was as appealing, sexy, and feminine as she was athletic, intimidating, and convincing as a real-deal shit-kicker of the first order.
I'm due for a rewatch of FRIDAY FOSTER, which, as the title may suggest, was based on a newspaper comic book strip of the time (!), but true to Arthur Marks' sensibilities, it diverges somewhat from the Jack Hill pictures, COFFY and FOXY BROWN. While the film doesn't skimp on the violence, it has a slightly lighter tone, more of a thriller and less of a rip-roaring grindhouse flick. Part of what lightens the mood (to me, anyway) is a supporting cast of great black talent — most of whom were better known for more comedic fare — including Eartha Kitt, Godfrey Cambridge, Scatman Crothers, Ted Lange, and Thalmus Rasulala. Carl Weathers and Yaphet Kotto are in there too, in case you worried this thing was getting a little too light.
F/X (1986)
Never saw this movie, but it's clear that with a bug-eyed monster like that guy in it, I really should have done.
THE GIANT SPIDER INVASION (1975)
Look, it's a low-budget movie about giant spiders, but if you don't mind I'm going to pretend it's more interesting to talk about how this movie co-stars Alan Hale Jr., since this week's column already featured DODGE CITY, which co-stars Alan Hale Sr.! I know, right? Coincidences! Crazy shit. Astrology! Yeah!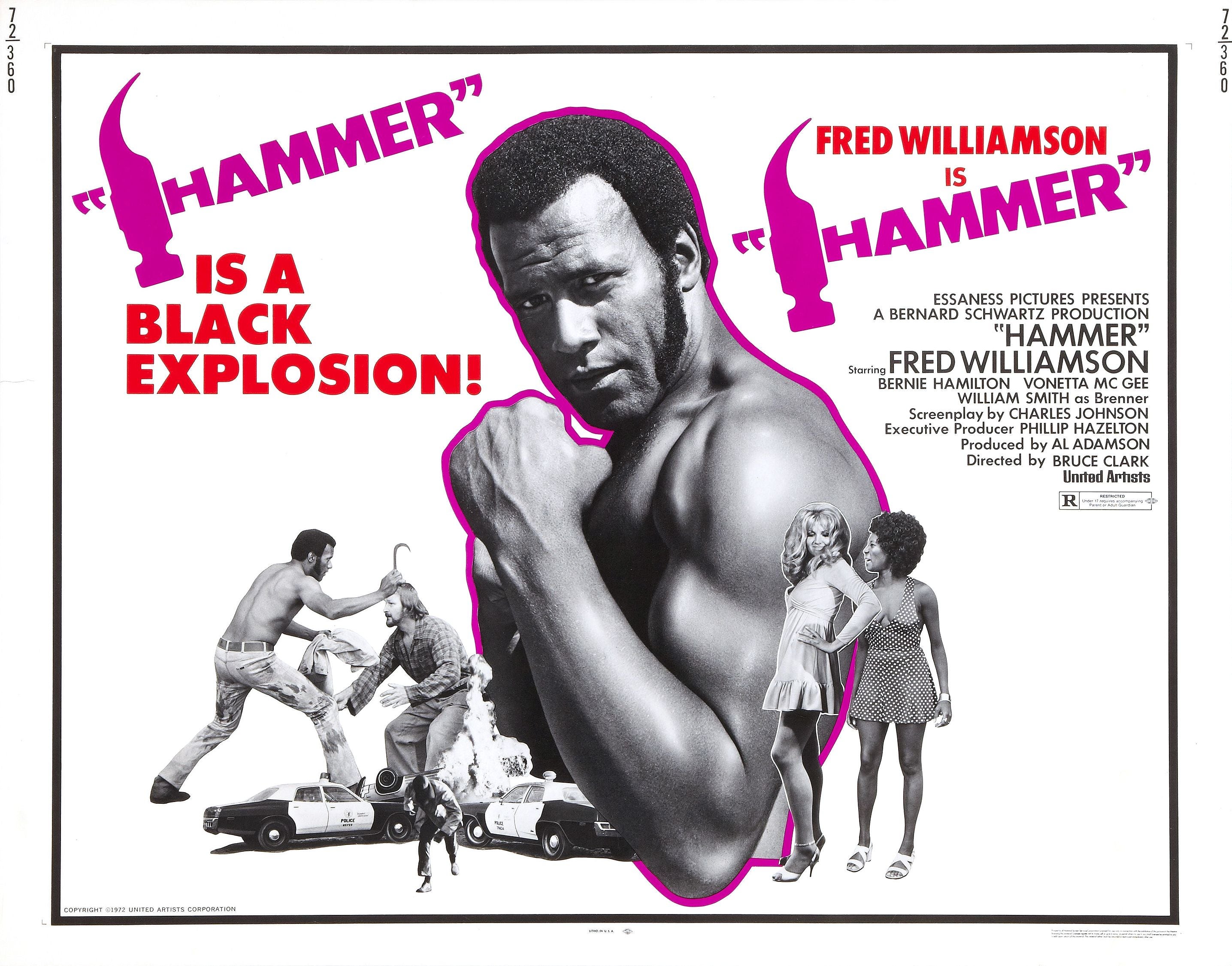 HAMMER (1972)
This week has been heavy on the Pam Grier, but let's not forget the greatness that is Fred Williamson. Originally firmly established as a football star, Fred Williamson's first movie was M*A*S*H (not bad for a start!) and his first as a movie hero was this, HAMMER, the one that gave him his immortal nickname. Later cinematic efforts were more bombastic, to match this inimitable star's undeniable charisma, but HAMMER is still perfectly entertaining, a solid start to a legendary grindhouse career and really, an important one. Fred Williamson is never anything less than an absolute blast to watch, and as a bonus, his co-star here is Vonetta McGee, one of the all-time loveliest ladies to ever walk across a movie screen.
THE HUNCHBACK OF NOTRE DAME (1939)
Much as I love the Lon Chaney version, I have to admit this one more than makes its claim to existence with its epic emotionality and its impressive vertical vistas. The cathedrals where this story is set appear both lonely and thrillingly majestic, and it's a lot of fun to watch the cast climbing and swinging their way around them. Again, this is part of that 1939 five-pack.
KINGSMAN: THE SECRET SERVICE (2015)
Haven't seen it. Should I? Kind of intrigued to see Sam Jackson doing what looks to me to be a fairly obvious Spike Lee impression.
THE LAST SHIP: SEASON ONE
So the world has been almost entirely wiped out by some mysterious virus, and this Naval warship contains some of the few survivors, who desperately sail around looking for a remedy. Everything's real serious. No aliens or robots. Real pretty scientist though.
THE LAST UNICORN (1982)
This movie is chock full of shit I was just not ready to see as a kid. In point of fact I surely hope I never have to revisit it for any reason. Let's move on please. Please.
MISSISSIPPI MERMAID (1969)
Catherine Deneuve. This was actually my first Truffaut film, and I saw it at a time in my life when all I could walk away thinking about it was: Catherine Deneuve. This column is meant as a service to everyone equally, no matter your orientation, and I've already spent plenty of space rhapsodizing over Pam Grier, so I'm not about to get into too much mooning over Catherine Deneuve, but I'm only human. And honestly, that's partially what the movie's about. Catherine Deneuve can mesmerize a fellow.
NASHVILLE GIRL (1976)
A little-discussed Roger Corman production about a country singer. Can't tell from this angle if it's for Corman completists only. Anyone a fan?
THE NIGHT OF THE GENERALS (1967)
Peter O'Toole is great, but goddamn that's a disturbing image. I mean, I went to Hebrew school. Despite the presence in this film of all-time favorites of mine like Donald Pleasence and Christopher Plummer, I don't know how high on my catch-up list this one can go.
NINOTCHKA (1939)
Ernst Lubitsch is all but forgotten today by all but hardcore enthusiasts and film majors, but he was a tremendous influence on Billy Wilder (a co-writer on this film), who in turn has influenced just about everybody. His comedies were remarkably, impossibly precise, the writing fizzy and clear and the framing delicate and definite. Yet another example of how good it was to be a moviegoer in 1939, NINOTCHKA provided an epochal role for Greta Garbo, who only made one more film after this one.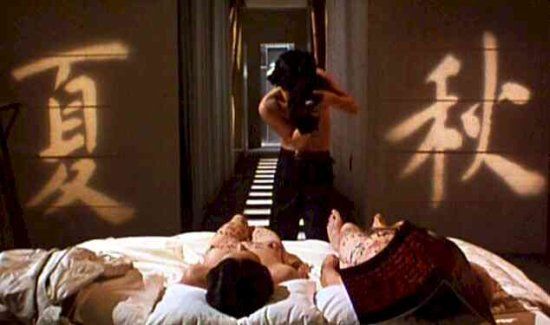 THE PILLOW BOOK (1996)
Lots of sex stuff here. I mean, I Google-imaged that above still frame, and maybe I'm a total rube, but I can't be sure what's even going on up there. Guesses?
PROJECT ALMANAC (2015)
It's a found-footage time-travel movie. So many ways for that to go wrong.
THE RAIN KILLER (1990)
A thriller about a killer who murders single rich ladies — but only when it's raining out. The hero is a meteorologist. Made that part up. What does he do when it's drizzling? Does he kill more during a torrential downpour? How do sleet and snow affect his murder schedule? Also, the cover art says "Not since PSYCHO have showers been so terrifying." Does this maniac think taking a shower counts as rain? So many questions. So many dumb questions.
RED ARMY (2014)
Documentary about the former Soviet Union's hockey team, and all the stuff leading up to their defection attempts, produced by Jerry Weintraub and Werner Herzog. No dumb jokes here, this sounds really interesting.
THE SADISTIC BARON VON KLAUS (1962)
From IMDb: "When violent crime strikes a tiny hamlet, the townsfolk suspect the distant relative of a sadistic 17th century baron who cursed the village." Reasonable suspicion. Not too familiar with Franco, really. Good place to start? Help me, internet.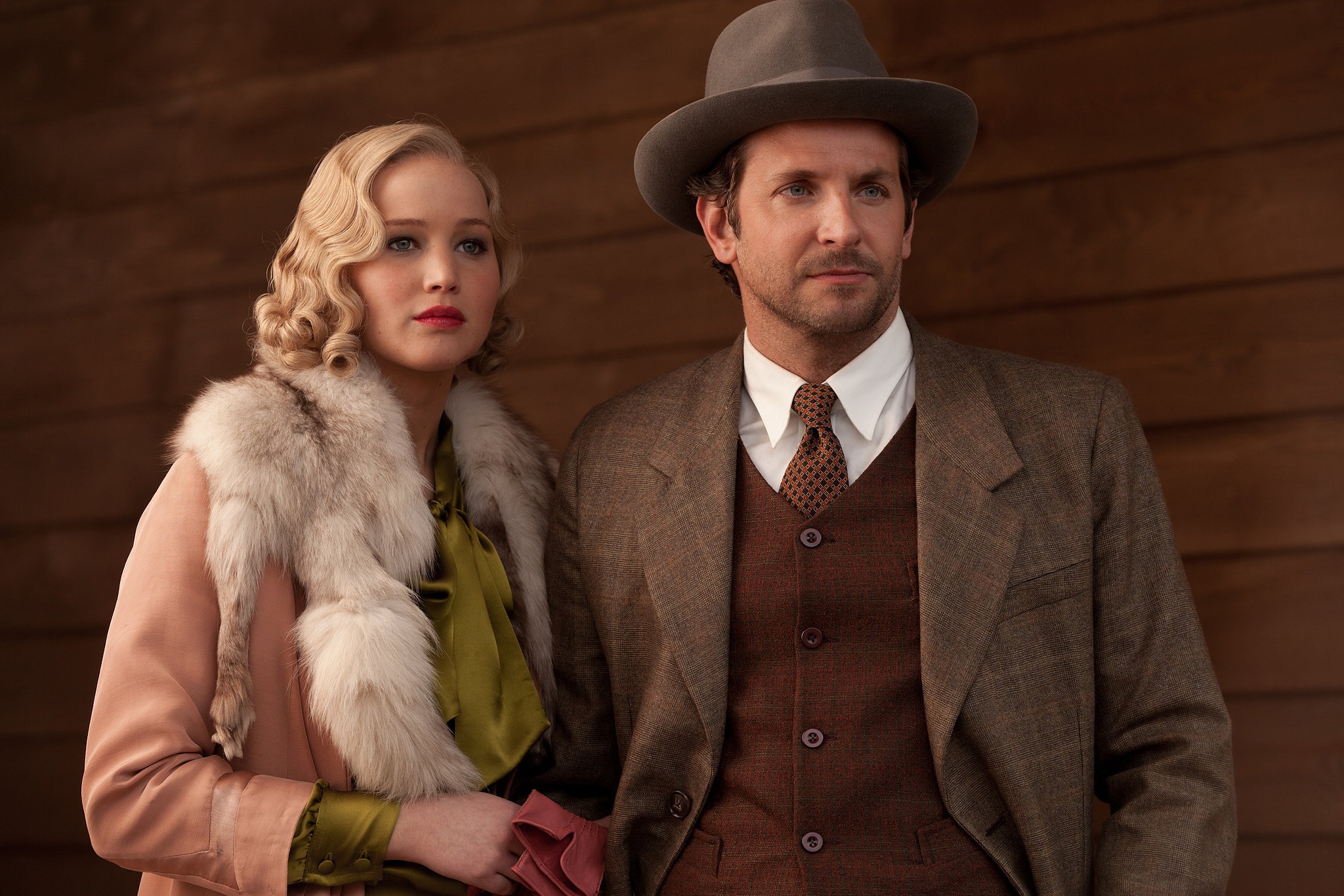 SERENA (2014)
Prefer the sister film: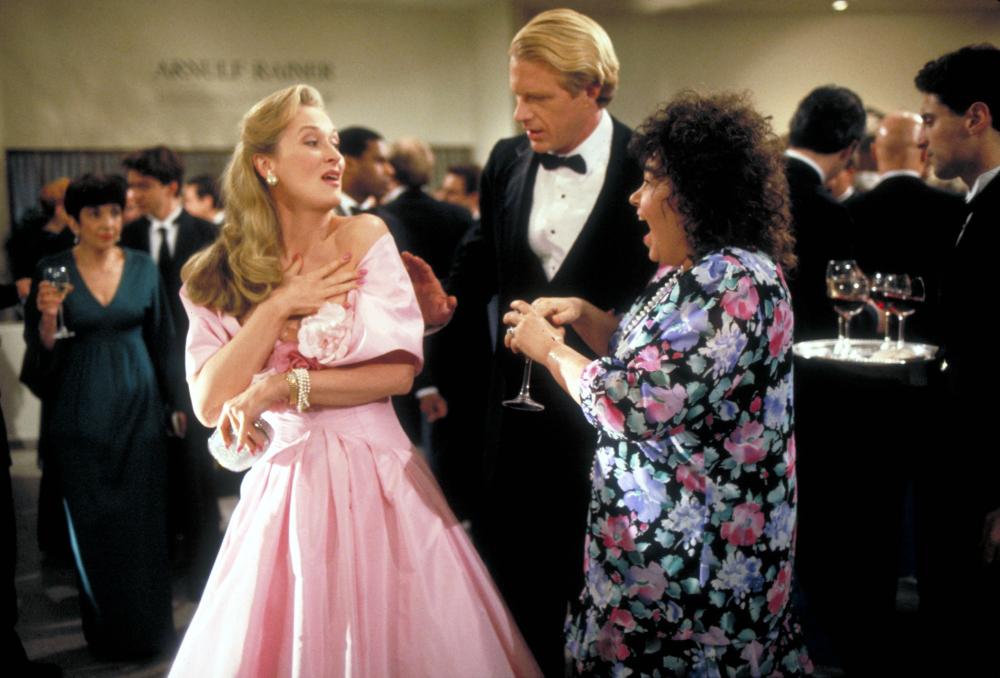 SHE-DEVIL (1989)
Penny for Ed Begley Jr.'s thoughts.
SLEEPAWAY CAMP II:
UNHAPPY CAMPERS (1988)
SLEEPAWAY CAMP III:
TEENAGE WASTELAND (1989)
Only seen the first one. Have to admit I'm curious to see where that story goes.
SOCIETY (1989)
One of the most amazingly grotesque films you're ever likely to see. (The above image is the only one I could find that won't give you really weird nightmares.) This edition is everything a fan could or should want or need.
SPIDER BABY (1967)
This is what Jack Hill was up to before all those movies with Pam Grier. Wild, crazy, deranged late-night horror, the only one I know of to feature both Lon Chaney Jr. and Sid Haig. Without Pam Grier in it, I've been slow to catch up, but it feels like it's almost time.
STATE OF GRACE (1990)
There are bigger fans of this movie than me, but there's not much arguing with that cast list. And this movie qualifies for a simple moviegoing rule: Anything with Ed Harris.
THE STRAIN: SEASON ONE
This show's been out on Blu-Ray and DVD for a while, but if you want to buy it along with a bust of that unfortunately comical-looking evil monster villain, here you go.
THUNDERBIRDS:
THE COMPLETE SERIES
Nope. Naw. No. Can't do it. Nope. Just can't.
THE YOUNG LIONS (1958)
Hey, that's pretty cool. Marlon Brando, Dean Martin, and Montgomery Clift. In CinemaScope, directed by Edward Dmytryk, shot by Joe Macdonald (MY DARLING CLEMENTINE, HOUSE OF BAMBOO, more). Sure, Brando is playing a Nazi sympathizer, but that can't be half as upsetting as Peter O'Toole as the ultimate Aryan avatar, can it? And what's Dean doing in there? Compelling!
But let's be honest, as interesting as anything else may look, the moral of this column's story is — all together class — Pam Grier.
BANG.
BANG.
BANG.
Happy consuming,
Latest posts by Jon Abrams
(see all)
---
Tags: Blu-ray, dvd, New Releases