Welcome to Daily Grindhouse's weekly listing of all that's new and available to purchase on Blu-Ray and DVD. Everything you see featured here is available as of this past Tuesday. If you're inclined to buy anything you see here, you can get to the Amazon listing by clicking through the cover icons. Happy scrolling!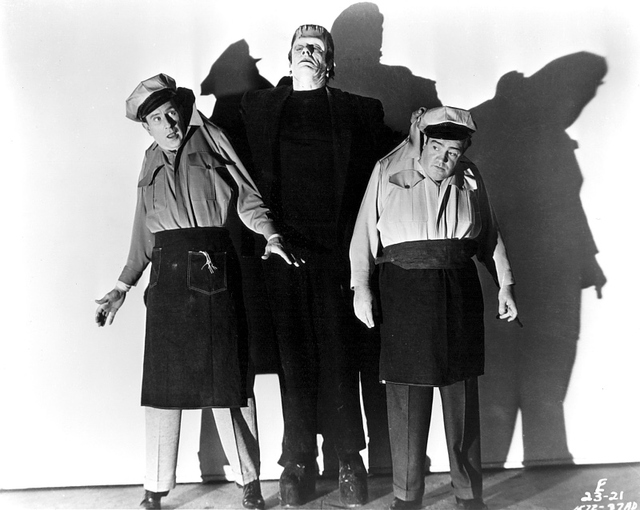 ABBOTT & COSTELLO MEET FRANKENSTEIN (1948)
It occurs to me I haven't done a deep dive into the history of humor and horror. With all the thinking I do about movies like GHOSTBUSTERS and EVIL DEAD II, I haven't thought all that much about how far back the trend of mixing up the genres goes, or attempted to trace the timeline of how the comedy-horror mash-up movie has developed over the year. BRIDE OF FRANKENSTEIN is the oldest movie I can think of that's at least as funny as it is scary, if not more, but to me that film is more camp than anything — there's not a lot in it to scare you. I'd have to watch ABBOTT & COSTELLO MEET FRANKENSTEIN again to tell you if it has any intentional scares in it. It's been a while. What is interesting is the fact that two of the great Universal stars reprise their horror roles in this film, which has Dracula, the Invisible Man, and the Wolf Man in addition to Frankenstein's Monster. Béla Lugosi appears as Dracula and Lon Chaney Jr. appears as the Wolf Man. Vincent Price (not Claude Rains) does the voice of the Invisible Man. But they couldn't get Karloff — this is one of the films where Glenn Strange played the Monster. Still, that's kind of big, especially when you factor in the success of Abbott & Costello at the time. What's the appropriate point of comparison? Maybe if Eddie Murphy appeared in a Freddy Vs. Jason movie — in 1985. Hard for me to say. Regardless, this is a movie to see — after making the rounds seeing all the original Universal horror pictures, of course, for maximum impact.
ACE VENTURA: PET DETECTIVE (1994) &
ACE VENTURA: WHEN NATURE CALLS (1995)
I loved that first movie, man. Back in the day? Got no idea how the hell it could possibly hold up. Maybe it's best to leave it where it is.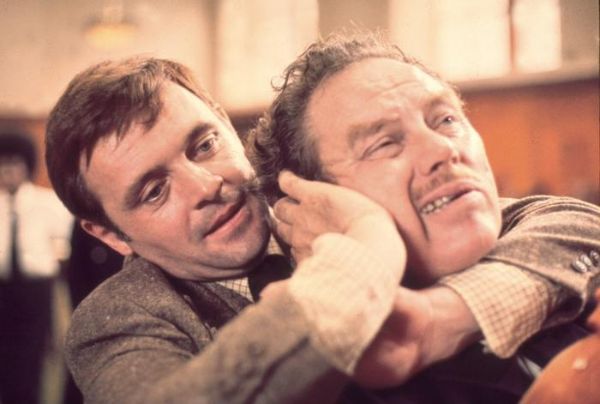 AUDREY ROSE (1977)
Don't make Anthony Hopkins have to choke a bitch.
THE BELIEVERS (1987)
You had me at "co-starring Robert Loggia as Lt. Sean McTaggert."
THE BLOB (1988)
This is a limited-edition Blu-Ray, and many of them have been snatched up already, but there's still time. Otherwise, there are still DVD copies floating around out there at reasonable prices. I really recommend this one. It's a whole lot of fun — mulleted motorcyclists, cheerleaders toting heavy weapons, deranged preachers, gooey deathtraps, pink slime, any and all the reasons we go to the movies in the first place.
Click here to read my longer take on THE BLOB!
THE CHINA SYNDROME (1979)
Holy Mary Mother Of Yanni, look at Michael Douglas on that cover artwork.
CAULDRON OF BLOOD (1970)
Hard to find out too much information about this title, but Karloff kompletists will want to get their hands on this one. The IMDb summary makes me want to do that myself: "A blind sculptor works on his magnum opus, unaware that the skeletons he has been using for armatures are the remains of the victims of his evil wife and that he is the next target."
THE DEER HUNTER (1978)
Probably a movie you've heard about before. This has already been out on Blu-Ray from Universal in a two-disc 100th-year-of-the-studio edition, but now it's available in a simpler one-disc edition.
DESPERATELY SEEKING SUSAN (1985)
Mid-1980s Rosanna Arquette is such a sweet spot for me, I can't believe I never saw this movie. It's a highly-regarded New York farce from female filmmakers with a pretty fantastic cast — nothing about that doesn't interest me. Just plain never had occasion to see it, before now that is.
THE DEVIL'S BUSINESS (2011)
Here's IMDb again: "At the house of their target, two hit men bide their time waiting for the kill, only to find death already arrived in the shape of black magic, devilish spirits and the occult."
DRACULA: SEASON ONE (TV)
Haven't seen this yet. Should I?
DRAGONFLY SQUADRON (1954)
FARGO: SEASON ONE (TV)
Got this at home already. Haven't dug into it yet.
GUILTY OF ROMANCE (2011)
Sion Sono! Gotta see it. Putting it on my list. Here's my piece on the director's most recent release.
HIMIZU (2011)
More Sion Sono. If you haven't had the pleasure, I encourage you to seek out this guy's work. "Never the same movie twice" is a supreme understatement. If you appreciate the unique, you'll find much to revel in.
JENNIFER (1978)
I always conflate this film in my head with PHENOMENA — there are several superficial similarities and the main character's name is the same — but as far as I know JENNIFER has no insect detectives or vengeful chimpanzees.
JUAN OF THE DEAD (2011)
I'm on record as saying I prefer this movie to SHAUN OF THE DEAD. Sure, one would not exist without the other. It's not as much a dig at the earlier movie than an enthusiastic endorsement of the newer one. JUAN OF THE DEAD is a lot of fun, and in some ways it's kind of important too.
Click here to read my longer take on JUAN OF THE DEAD!
KINGPIN (1996)
#TrueDetectiveSeasonTwo.  Seriously.  Just get Vince Vaughn and his galactic forehead out of there and bring Woody back, with Bill Murray and that glorious 1970s perm.  Or don't.  We'll always have KINGPIN, far and away the greatest accomplishment the Farrelly Brothers ever touched.
This is an Australian thriller "about a psychotic handyman." SOLD. It's as if Schneider from One Day at a Time had finally had enough. And you don't want to mess with that guy — he's got the most famous utility belt since Batman.
LAST EMBRACE (1979)
Not only is this a Jonathan Demme movie I have yet to see, but clearly it is also one in which Roy Scheider is awesome in various ways. That is a subgenre I avidly endorse.
THE LAST SUPPER (2012)
This played the New York Asian Film Festival recently. I missed it then, but noted the striking promotional imagery. Gonna check this one out if I can.
LOS ANGELES PLAYS ITSELF (2003)
This documentary about Los Angeles and the way it's been shot and presented throughout the decades in film has been so consistently name-checked by some of the more highbrow critics I follow on Twitter that I need to see it just to feel a little less dumb. But it's a subject anyone who loves movies should be intrigued by — there's no more-photographed city on the planet, not even New York. As somebody who's lived in both places, I've been privileged and in some ways spoiled. Sometimes my familiarity with the geography of both cities trips up my movie-going. I imagine that's something this film covers in detail.
MARRIED TO THE MOB (1988)
Speaking of Jonathan Demme…
MERCENARIES (2014)
This is the first of the "female EXPENDABLES" projects which I've seen many people criticize as copycats or Johnny-come-latelies, but I'm a huge fan of the gender swap and I'll see whatever they put out. In other words, I still haven't seen BOYHOOD and I will almost certainly see this movie before that happens.
MORTAL KOMBAT: LEGACY II (TV)
MR. PEABODY & SHERMAN (2014)
*** PICK OF THE WEEK !!! ***
MY DARLING CLEMENTINE (1946)
One of the most beautiful films in the history of American film, and please watch it tonight if you think I exaggerate, this is one of the dozens of tellings of the Wyatt Earp/ Doc Holliday story, the shoot-out at the OK Corral. Henry Ford plays Wyatt and Victor Mature plays Doc and John Ford, one of the most macho film directors who ever lived, shoots it like a love story between them, even though both men have female love interests as well. Joseph MacDonald provides the immaculate black-and-white cinematography — at this point in time Hollywood filmmaking was well on its way to switching over to color, but the deliberate portrayal of Ford's Monument Valley stomping grounds as almost a film noir backdrop gives the story an added doom and melancholy it could not have had in color. Victor Mature played strapping strongmen in plenty of Technicolor epics, and his portrayal here of the tubercular Holliday, a dead man walking, would have been unconventional and unexpected at the time and is even now. Fonda is steady as ever, bringing an interesting reserve to a character who has reason to be brimming over with revenge, and Ford regular Walter Brennan is phenomenally loathsome in an unconventionally villainous role. A Western with a barroom Shakespeare performance, MY DARLING CLEMENTINE is a stand-out in a great American genre that is studded with stand-outs. I can only imagine how pristine the picture will look when presented by Criterion. I can't wait to find out.
MYSTERY ROAD (2013)
Terrible title, lovely promotional images. I'm such a sucker for the American Western, which is basically dead in this country, that I am totally warm on the Australian Western, which still lives. I'll give this a chance for sure.
NOTHING BAD CAN HAPPEN (2013)
Great title, by contrast. And if it's a Drafthouse Films release, it's a sure bet it's a good if unconventional and potentially challenging movie. This is a German film about a participant in a Christian cult which takes a turn into the horrific, if I'm ascertaining things correctly, and it also sounds as if that doesn't even begin to cover it.
PENNY DREADFUL: THE COMPLETE FIRST SEASON (TV)
When they asked, "Hey kid, do ya love Josh Hartnett?", I was forced to answer "No." Their next question:  "But could you love him if you found out he could turn into a werewolf?" And it was then I had to stop and consider.
PERSECUTED (2014)
Well, that's definitely how the people who made this movie feel. I can't help it if it makes me laugh out loud.
STEVEN SPIELBERG DIRECTOR'S COLLECTION
This set has DUEL, THE SUGARLAND EXPRESS, JAWS, 1941, E.T. THE EXTRA-TERRESTRIAL, ALWAYS, JURASSIC PARK, and THE LOST WORLD. No doubt you own a few of those in your home collections already. No doubt you, like me, may not even have seen one or two of them. As one of the most successful American filmmakers in the history of the medium, Steven Spielberg certainly has earned the consideration of a top-to-bottom examination of his work. Meaning: The film fanatic who wants to understand the man who made JAWS or E.T. should probably do themselves and their hero the service of looking at all the rest of his films. This is a great way to start to dig into the Spielberg filmography.
P.S. Apropos of maybe nothing, you're talking to a guy who loves 1941. Belushi in a biplane. Glorious.
40th Anniversary Black Maria Limited Edition
Surely I've written enough words on this film already. And there have been a few versions of the Blu-Ray in previous weeks of this column alone. BUT this version comes in a little mock-up of the truck from the final scenes! So if you want a copy of this classic horror film that comes in a little cardboard truck, and I don't want to know you if you wouldn't, then this is now a thing that exists.
UNDER FIRE (1983)
Nick Nolte, Gene Hackman, Ed Harris, and Joanna Cassidy from BLADE RUNNER. Have I heard of this before today? No sir. Do I want to see it? Oh God yes! (Better hurry: This is another limited printing deal.)
VAN DAMME 5-MOVIE ACTION PACK
This set has HARD TARGET, THE QUEST, STREET FIGHTER, SUDDEN DEATH, and LIONHEART. This set is worth it for SUDDEN DEATH and the scene in which JCVD battles a woman in a mascot costume alone. If you're a JCVD fan, this is a no-brainer — almost literally, but there's a place for that too.
THE VANISHING (1993)
I could've chosen a better still frame, I think. Looks like Kiefer has Reed Richards arms. This is a much more serious film than that, and a well-respected cult thriller for that matter. But I can't go back in time.
WHITE CHRISTMAS (1954)
Who keeps putting the Christmas in October? KEEP THE CHRIST OUT OF HALLOWEEN!
WHITEY: UNITED STATES OF AMERICA VS. JAMES J. BULGER (2014)
Fun fact: "WHITEY" was the working title of that movie THE HELP. It's a much more fitting title for this documentary, from Joe Berlinger of PARADISE LOST fame, about James "Whitey" Bulger, the notorious mob figure who topped the FBI's most wanted list for years and who enjoyed the unearned pleasure of being portrayed in fictionalized form by Jack Nicholson in a Martin Scorsese picture. Our national fascination with vicious bastards like this guy is a subject constantly worth exploring, so put this one on your list.
X-MEN: DAYS OF FUTURE PAST (2014)
It's a relatively unpopular opinion, but I'm pretty cold on the Bryan Singer X-Men movies. I understand why Wolverine has to be tall and handsome (where he never had been in the comics) but I can't forgive Wolverine being the unrelenting focus of every story, not when you've got more compelling characters available like Kitty Pryde (perfectly cast but under-used), Rogue (miscast and under-used) and Storm (mis-directed and unforgivably sidelined). These films are also subject to the whims of contemporary stardom — they may have made Hugh Jackman a star, but they're not what made Jennifer Lawrence a star, and nonetheless they're now forced to focus on a tertiary character like Mystique because she IS one. This movie bends over backwards more times than a possessed girl doing a spider-walk — not only so it can make a bunch of movies of wildly-varying quality fit together, but also so it can attend to characters who no reasonable comic fan (or moviegoer, I'd argue) would care about were they not played by stars. I mean, why can't these movies find anything to do with Colossus? Where'd Nightcrawler go? Why the blue furry fuck does this movie give even a split-second's attention to Kelsey Grammer? Was I supposed to laugh when Bishop exploded? These last few questions may be nitpicks, but this movie doesn't give you much else to do BUT nit-pick. Otherwise you'd have to focus on the story. And if I did that, I'd be spending all day writing about this movie's off-the-cuff insinuation that John F. Kennedy was a super-powered mutant, and nobody wants a trip down that particular rabbit-hole.
YANKEE DOODLE DANDY (1942)
James Cagney is better known for his tough-guy roles, but he was one of the great virtuosos of the first several decades of Hollywood films, a triumphant song-and-dance man who I nonetheless did not picture above since I first found that still frame of an old man in the process of clicking his heels. (That old man may actually be Cagney in costume, but I'm a troglodyte lesser verse in the ways of musicals, so I couldn't confirm that fact beyond a shadow of a doubt.)
ZOOLANDER (2001)
I forgot David Bowie was in this movie. How did I forget something like that? Guess I haven't seen ZOOLANDER since it first came out. That was a weird time. Maybe I can be forgiven. Anyway, don't get too excited to see this here — as I write this, Amazon is out of stock. It's popular! Hopefully they'll replenish their supply soon enough.
In the meantime, I trust there's more than enough here to keep one indoors watching movies for quite some time. For my part, I'm going to go take a walk. See you back here next column!
Jon Abrams is a New York-based writer, cartoonist, and committed cinemaniac whose complete work and credits can be found at his site, Demon's Resume. You can contact him on Twitter as @JonZilla___.
Latest posts by Jon Abrams (see all)
---
Tags: Blu-ray, dvd, New Releases