SpectreVision is the production company founded by Elijah Wood, Daniel Noah and Josh C. Waller. [Visit them here!] The films SpectreVision have produced and released so far include TOAD ROAD and the upcoming OPEN WINDOWS, COOTIES, and A GIRL WALKS HOME ALONE AT NIGHT. Already that's an intriguingly diverse slate of horror films. It's an awesome start for a young company, and now SpectreVision is co-presenting a film festival with the Cinefamily in Los Angeles which spotlights not only SpectreVision's output, but looks at some vintage horror from interesting angles.
Since I've been asleep at the wheel, I didn't pick up on this series in time to feature it here during its September dates, but there's plenty to see in October. There's lots more information over at the Cinefamily site but just because I like looking at these posters, let's take a quick glance at the October line-up.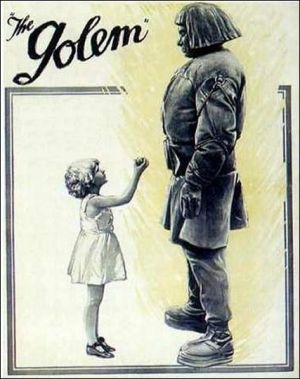 SEPTEMBER 30th: THE GOLEM (1920)
The Golem is a mythological archetype you don't hear mentioned too often these days, but there are faint echoes of him still scattered throughout the pop culture of the past century, from places as seemingly unlikely as Marvel Comics (The Thing is totally Golem-esque) to The Sopranos (those Hasidim in Season One call Tony a "Golem", not inaccurately). THE GOLEM is the story of a rabbi who conjures up a clay monster to defend a besieged ghetto — right there is an echo of FRANKENSTEIN, of course, but the motive in the creation is different. Theoretically the Golem is a good guy, but that's still a majorly creepy image, and this screening will have live musical accompaniment by an experimental musician. If you've never done a silent screening with live music, I really recommend it.
OCTOBER 4th: OPEN WINDOWS (2014)
In OPEN WINDOWS, Elijah Wood plays Sasha Grey's biggest fan. Godard said all you need is a girl and a gun, but that premise doesn't even have a gun and it already sounds interesting. I like this Elijah Wood 2.0, from SIN CITY and MANIAC and GRAND PIANO, playing creeps and weirdos. His screen persona is so entrenched in decency and likability that to me it never gets boring when he goes off-script, so to speak. Looking forward to this movie.
OCTOBER 9th: DEAD SNOW (2009) & DEAD SNOW 2 (2014)
Everybody keeps telling me to see DEAD SNOW. Guess they know there's not much I love more than a dead Nazi. Haven't seen it yet, but I have seen HANSEL & GRETEL: WITCH HUNTERS, which is the film this director made in between these two DEAD SNOW movies. It's definitely more watchable than you may have heard (Gemma Arterton counts for plenty towards that end.) A filmography consumed with witch hunting and Nazi zombies: Interesting world view.
OCTOBER 16th: NIGHTBREED (1990) DIRECTOR'S CUT
Another one I've never managed to see, this is high up on my list. Just look at that cast photograph. I want to meet those people.
OCTOBER 23rd: METROPOLIS (1927)
One of the most influential films of all time, period, METROPOLIS has had an ongoing second life on the silent circuit, often being accompanied by live orchestration. In this case, the honors are done by talented electronic artist Chrome Canyon.
OCTOBER 25th: JERRY BECK'S CARTOON SPECTACULAR
Jerry Beck is an animation historian who frequently curates cool cartoon line-ups for film festivals and revival houses. The cartoons featured here will all fit the Halloween theme — no word on which cartoons are playing exactly, but I can tell you that the still frame above is from The Skeleton Dance from Disney, which dates all the way back to 1929 and still makes me happier than just about anything.
OCTOBER 29th: TALES FROM BEYOND THE PALE
The Cinefamily site doesn't offer much detail on this event just yet, but from what I can tell it relates to a radio show co-presented by prolific indie-horror godfather Larry Fessenden (HABIT, WENDIGO, THE LAST WINTER, BENEATH). My guess is that this evening's show will be a live performance of that program.
OCTOBER 30th: GREMLINS (1984)
Celebrate the thirtieth anniversary of one of the all-time great horror-comedies, GREMLINS, which is the best kind of fairy tale — immensely lovable, enthusiastic, silly, somewhat eerie, and extremely demented. Director Joe Dante, a Cinefamily omnipresence, will be on hand at this screening.
I never have written at length about GREMLINS, but here is what I wrote about its even more gleefully demented sequel.
For Spectrefest ticket information and screening times, please visit the Cinefamily website.
Jon Abrams is a New York-based writer, cartoonist, and committed cinemaniac whose complete work and credits can be found at his site, Demon's Resume. You can contact him on Twitter as @JonZilla___.
Latest posts by Jon Abrams (see all)
---
Tags: Film Series, Horror, Los Angeles, Screenings