The 14th New York Asian Film Festival kicked off here in New York City this past Friday, June 26th, and true to form, your pals at Daily Grindhouse were sleeping it off until now, but we'll do a bunch of catch-up tonight and from here on out we'll be posting the line-ups for the festival's screenings daily.
The NYAFF is being presented by Subway Cinema (visit them here), and all of today's  screenings are taking place at the Film Society Of Lincoln Center (find a more complete rundown here).
Here are Sunday's screenings, with pictures & summaries courtesy of the festival: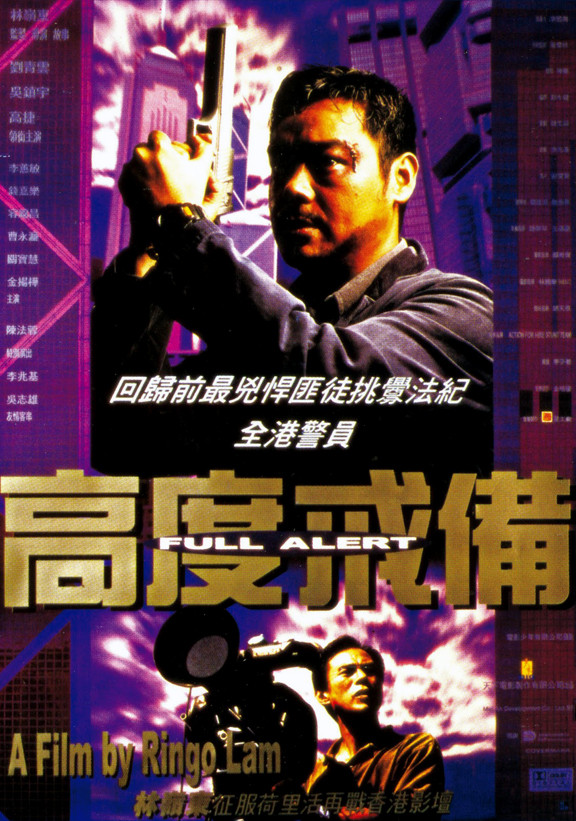 2:00pm

RINGO LAM, 1997
HONG KONG | CANTONESE WITH ENGLISH SUBTITLES | FORMAT: 35MM | 98 MINUTES
Introduction by Ringo Lam
Ringo Lam's last truly "important" movie before his 12-year retirement is a dark, glittering gem of a police procedural that doubles as a masterclass in understatement. Lam doesn't need to batter audiences over the head with the drama, instead finding it in setting up two gangs – a bunch of cops and a bunch of crooks – making sure we understand how intelligent and ruthless they both are, and then letting them confront each other on the streets of Hong Kong.
Arresting a failed architect (Francis Ng) for a routine murder, Lau Ching-wan's gang of cops realize that something bigger is going on here. After all, if Ng is just a bad-tempered loser, what's he doing with all this bomb-making material? It turns out that Ng is planning a massive heist with some cold-blooded Mainland criminals (and he may even have another plan concealed within that one) and it's up to Lau and Co. to keep him under surveillance. The only flaw with this plan is that Ng and his hired guns are a lot smarter, and much more ruthless, than anyone anticipated.
Deceptively simple, FULL ALERT was shot right before Hong Kong's handover to China, and it has an elegiac tone, even as cars hurtle down busy streets at 90mph and gunfire erupts in apartment buildings. Many of its locations have been bulldozed and replaced with Starbucks and bank branches. What you wind up with is a movie that is a high caliber tombstone to not only Hong Kong, but also to action filmmaking, and human kindness. An incredible motion picture that hits audiences hard, FULL ALERT is a masterpiece in any country.
Director Ringo Lam will attend the screening. Part of HONG KONG PANORAMA. Presented with the support of Hong Kong Economic and Trade Office New York.
4:30pm

DEREK LEE, 2014
HONG KONG | CANTONESE WITH ENGLISH SUBTITLES | FORMAT: DCP | 99 MINUTES
North American Premiere
In this psychological thriller produced by Derek Yee (THE GREAT MAGICIAN, ONE NIGHT IN MONGKOK), a psychiatrist Chow Ming-Kit (Huang Xiaoming) is lured to the dark side of the mind by his patient and convicted murderer Fan Kwok-Sang (Lau Ching-Wan). Three years before the film starts Fan was committed to a psychiatric hospital after his paranoia and violent temper led to the accidental death of his wife Wai-Ling (Michelle Ye). Now he's up for release and Chow vouches for him against the objections of his seniors and quickly finds his career on an upward swing. Fan isn't doing as well, and after a terrible incident Chow finds himself desperate to defend Fan and his career. Lau Ching-Wan is wonderful here as he ravishes this role and goes from anger to contrition to plotting in rapid fire sequences causing a sort of audience whiplash in the process.
Part of HONG KONG PANORAMA. Presented with the support of Hong Kong Economic and Trade Office New York. 
6:45pm

EMILY TING, 2014
HONG KONG/USA | FORMAT: DCP | 78 MINUTES
Q&A with Emily Ting, Jamie Chung, and Bryan Greenberg
Set among Hong Kong's expat community, where foreigners can live for 10, 20, or even 30 years without ever putting down roots, IT'S ALREADY TOMORROW IN HONG KONG is a look at a world that isn't the West, but it isn't the East either. Starring Bryan Greenberg (One Tree Hill) and Jamie Chung (SUCKER PUNCH, EDEN, THE MAN WITH THE IRON FISTS) as two kids in their early 30s who cross paths in Hong Kong one night and walk and talk, it's that rare movie about the spaces in between: they're in Hong Kong, but not of Hong Kong; they're flirting, but not dating; they're in relationships, but not bound to them; they're adults, but they act like kids. Like Hong Kong, they exist in a constant state of uncertainty where it feels like at any minute, everything will suddenly change forever, but not yet. Maybe tomorrow. Maybe in Hong Kong.
Director Emily Ting, Actors Jamie Chung, and Bryan Greenberg will attend the screening. Presented with the support of Hong Kong Economic and Trade Office New York.
9:15pm

JIN MO-YOUNG, 2014
SOUTH KOREA | KOREAN WITH ENGLISH SUBTITLES | FORMAT: DCP | 85 MINUTES
Jo is 98. Kang is 89. An elderly couple of modest means living in a mountain village, they have been married for 76 years. Even now, they are playful. They are devoted. They have never been more in love. But age is inexorable, and as the days tick away at least one of them is going to cross the river. MY LOVE, DON'T CROSS THAT RIVER wasn't supposed to be a blockbuster, but it was a smash hit, knocking INTERSTELLAR out of the top spot week after week, and becoming the highest grossing Korean documentary of all time, the highest-grossing Korean independent movie of all time, and the best love story of the 2010's (Sorry, A Fault in Our Stars.)
They may be pushing a century, but Jo and Kang still know how to have fun, picking sunflowers for each other's hair in spring, clowning around amidst the falling leaves in autumn, having snowball fights in winter. "I look old and gray but you haven't aged a day," Kang marvels, but the weight of encroaching of time is clear. Their lives are encapsulated in a series of simple, beautiful moments: a weathered hand caressing a face, buying baby clothes for the children they never got to raise. You'll never see another love story like it; you can only hope to be lucky enough to live it.
Presented with the support of Korean Cultural Service in New York.
So that's Day Three. We're all caught up now! See you back here tomorrow morning for Day Four, 
Latest posts by Jon Abrams
(see all)
---
Tags: Alex Fong, Amanda Lee, Asian Cinema, David Lee, documentary, Emily Ting, Fiona Sit, Francis Ng, Hong Kong, Huang Xiaoming, Jack Kao, Jamie Chung, Jin Mo-young, Jo Byeong-Man, Kang Kye-Yeol, Korea, Lau Ching-Wan, Monica Chan, New York, Nina Paw, NYAFF, Ringo Lam, Romance, Screenings, South Korea