Tickets are now on sale for the 2015 New York Asian Film Festival, one of the city's best annual cinematic events. As per tradition, we will be running the schedule for each day of the festival, since even if you can't make it, we hope you will find plenty to add to your must-watch lists for the future. Even those of us based in New York are hard-pressed to see even a quarter of what we want to see! As always, there is so much great stuff in this batch it'll make your head spin.
From June 26th through July 8th, all NYAFF screenings are held at the Walter Reade Theater in New York City. On the closing weekend, July 9th-July 11th, the screenings move to SVA Theatre's Beatrice and Silas Theatres.
Here is the full — and I do mean full — line-up, courtesy of Subway Cinema:
Film Society of Lincoln Center's
Walter Reade Theater
Friday, June 26

6:00pm A FOOL (105 min)
Chen Jianbin's directorial debut is a harsh noir about an honest farmer's efforts to help a young homeless man that instead set off a chain of disasters, serving as a reminder of man's inhumanity when faced with greed.

8:30pm PORT OF CALL (120 min) + guest appearance by Aaron Kwok (Star Asia Award presentation)
A police detective (Aaron Kwok, in a career-defining role) tracks down the murderer of a young prostitute in this brutal thriller directed by Philip Yung and shot by master cinematographer Christopher Doyle.
Saturday, June 27

12:30pm COLD WAR (102 min)
Winner of nine Hong Kong Film Awards, including Best Film, Best Director, Best Screenplay, Best Actor, and Best New Performer, COLD WAR  was Hong Kong's 2012 box-office sensation. This cop thriller stars Aaron Kwok and Tony Leung Kar-Fai as two high-ranking officers whose rivalry leads to an intense power struggle over an explosive rescue operation.

3:00pm PORT OF CALL (120 min) + guest appearance

6:00pm EMPIRE OF LUST (113 min)
A gorgeous period actioner set during the founding days of Joseon Dynasty in the early 14th century, EMPIRE OF LUST follows three men who engage in a power struggle within the palace walls, caught in the whirlwind of love, lust, greed, betrayal, and revenge.

8:30pm CITY ON FIRE (100 min) + guest appearance by Ringo Lam (Lifetime Achievement Award presentation)
Ringo Lam's classic heist-gone-bad flick is the movie that made Chow Yun-fat (playing an undercover cop) a star and provided Quentin Tarantino with the basis for RESERVOIR DOGS. The film features heartbreak to spare for the little people trying to eke out a living at the end of a gun.
Sunday, June 28

2:00pm FULL ALERT (98 min) + Introduction by Ringo Lam
Ringo Lam's last great movie before his 12-year retirement is a dark, glittering gem of a police procedural that works both as a heist flick and as a tombstone for both pre-handover Hong Kong and the action genre.

4:30pm INSANITY (99 min)
In this psychological thriller produced by Derek Yee (THE GREAT MAGICIAN, ONE NITE IN MONGKOK), a psychiatrist (Huang Xiaoming) is lured to the dark side of the mind by his patient and convicted murderer (Lau Ching-Wan).

6:45pm IT'S ALREADY TOMORROW IN HONG KONG + Q&A with Emily Ting, Jamie Chung, and Bryan Greenberg
This compelling walk and talk romance à la Richard Linklater, centered on two Hong Kong expats who randomly cross paths one night, is as much about the attraction between the leads as it is about the love of Hong Kong.

9:15pm MY LOVE, DON'T CROSS THAT RIVER (85 min)
In Jin Mo-young's critically acclaimed documentary—which is also the most successful independent film in Korean history—a couple who have been married for 76 years face death with dignity and the strength of love.
Monday, June 29

6:00pm FUNUKE, SHOW SOME LOVE YOU LOSERS! (112 min) + Introduction by Daihachi Yoshida
Seduction, persecution, prostitution, suicide, and more greet the Wago family's three siblings who return home for their parent's funeral after they're killed while trying to save a kitten. Yoshida's twisted, smart, and deftly handled first film is as black as a comedy can get, yet wrapped in a lighthearted exterior.

8:30pm PALE MOON (126 min) + guest appearance
A housewife turns to a sophisticated embezzlement scheme to support an affair with a college student in NYAFF director-in-focus Daihachi Yoshida's mesmerizing fantasy-drama.
Tuesday, June 30

6:00pm LITTLE BIG MASTER (112 min)
Hong Kong's runaway box-office hit is a powerful drama based on the true story of a principal assigned to a failing rural kindergarten with only five students: if one of them drops out, the school must close.

8:30pm MEETING DR. SUN (94 min) + Q&A with Yee Chih-Yen
A deadpan high-school noir about two gangs of impoverished boys competing to steal a statue of Dr. Sun Yat-sen so they can sell if as scrap metal. Schoolyard slapstick becomes a call to action for Taiwan's youth to wake up.
Wednesday, July 1

6:00pm THE MAN WHO STOLE THE SUN (147 min)
A ballsy satire about a high-school science teacher (rock-star Kenji Sawada) who builds an atomic bomb at home and uses it to try to get The Rolling Stones to play in Japan, all the while playing cat and mouse with a police detective sporting a buzz cut (Bunta Sugawara).

9:00pm REVIVRE (93 min)
Legendary 78-year-old Korean filmmaker Im Kwon-taek (BEYOND THE YEARS, CHIHWASEON: PAINTED FIRE) delivers a powerful and vital film—his 102nd!—about the indignities of old age and the inferno of suppressed desire, anchored by a commanding performance from veteran actor Ahn Sung-gi (NOWHERE TO HIDE) as a marketing director who finds himself attracted to a younger employee while dutifully tending to his dying wife.
Thursday, July 2

6:00pm TAKSU (97 min)
Two couples find their needs and desires driving them further apart in this erotic and melancholy drama set in Bali.

8:00pm LA LA LA AT ROCK BOTTOM (103 min)
From Nobuhiro Yamashita (director of LINDA LINDA LINDA and TAMAKO IN MORATORIUM) comes this romantic comedy about an amnesiac man who, as the memory of his criminal past slowly returns, tries to find redemption and love through rock music.

10:15pm RUINED HEART: ANOTHER LOVE STORY BETWEEN A CRIMINAL AND A WHORE (73 min)
Neon-smeared pop poetry materializes on screen in this (almost) dialogue-free gangland art flick shot in the slums of Manila and starring Tadanobu Asano (ICHI THE KILLER) and shot by longtime Wong Kar Wai cinematographer Christopher Doyle.
Friday, July 3

12:30pm RED AMNESIA (115 min)
BEIJING BICYCLE director Wang Xiaoshuai's latest film is a blood-curdling mystery about the harassment of an elderly widow, and her haunting by a mysterious young boy who brings back ghosts of past choices, moral compromises, and the long shadows of the Cultural Revolution.

2:50pm RIVER ROAD (103 min)
Bartel and Adikeer, two Yugur ethnic minority brothers, set out with their camel across the deserts of northwestern China in search of their parents in this masterfully lensed nomadic road movie.

5:00pm ABASHIRI PRISON (92 min)
The first entry in Toei's hugely successful Abashiri Prison yakuza film series, directed by Teruo Ishii, established Ken Takakura's superstar status. If you want to understand Ken's enormous popularity, this is the film that started it all. In many ways, this is the invention of the Japanese man.

7:00pm BATTLES WITHOUT HONOR AND HUMANITY (99 min)
Quite possibly the ultimate yakuza movie, Kinji Fukasaku's dark, gritty classic stars Bunta Sugawara (in the role that made his career) as a former soldier who turns to organized crime and claws his way up the yakuza underworld in postwar Japan.

9:00pm COPS VS. THUGS (100 min)
Bunta Sugawara plays a cop so corrupt he's basically a member of the yakuza—delivering witnesses to his criminal buddies and looking the other way when they murder rivals. But now a war is breaking out and this bad lieutenant is going to have to choose sides.
Saturday, July 4

12:00pm FULL STRIKE (108 min)
Racquet sport becomes martial art when a down-and-out gang of has-beens form a badminton team to win back their self-respect in this hyperactive, totally surreal comedy from Derek Kwok, the co-director of Stephen Chow's JOURNEY TO THE WEST.

2:15pm PERMANENT NOBARA (99 min)
A happy-go-wacky relationship film about a recently divorced woman (Miho Kanno) who returns with her young daughter to her tiny hometown. There, she reunites with her mother (Mari Natsuki) who runs the only hair salon in town, Permanent Nobara, an extraordinary place that provides a signature perm and a shame-free confessional for the local women to discuss their most personal love and sex issues.

4:15pm SOCIALPHOBIA (100 min)
Four friends track down a cyberbully only to find that she's hung herself. But two of them are convinced it's murder, and the film becomes a grungy, realistic murder mystery set in the twitchy world of social media.

6:30pm KABUKICHO LOVE HOTEL (136 min) + Q&A with Ryuichi Hiroki and actor Shota Sometani; Sometani will be presented with the Screen International Rising Star Award
Taking place over 24 hours in a Tokyo love hotel, this steamy and poignant character-driven ensemble drama from director Ryuichi Hiroki (VIBRATOR) looks at ordinary people as they experience life-changing events.

10:00pm TOKYO TRIBE (116 min) + Introduction by actor Shota Sometani
Told almost entirely in hip-hop, Sion Sono's berserk rap musical about warring gangs in Tokyo is full of tanks, B-boy battles, and so many baroque visual flourishes that the entire movie feels like Versailles stabbing you in both eyes.
Sunday, July 5

1:00pm ROBBERY (90 min)
An absurdist blood-soaked Grand Guignol with attitude to burn, Fire Lee's indie black comedy about an overnight shift in a convenience store starts with a simple robbery, then moves on to mass murder, terrorist bombings, police shoot-outs, and even the afterlife.

3:00pm SOLOMON'S PERJURY PART 1: SUSPICION (121 min)
In the first of a twisty two-parter, high-school students find the dead body of one of their classmates in the snow. Not convinced by the conclusion that he killed himself, they begin an investigation that eventually leads them to conducting a mock trial at school.

5:30pm TWO THUMBS UP (102 min) + Q&A with Lau Ho-leung
Old-school Hong Kong action-comedy at its finest, TWO THUMBS UP stars Simon Yam and Francis Ng as ex-cons who disguise themselves as policemen to pull a heist. But it turns out they kind of like being cops…

8:15pm THE LAST REEL (106 min) + Q&A with Kulikar Sotho
This engaging drama about a rebellious Cambodian girl determined to shoot the missing ending of a 40-year-old movie starring her mother is a meditation on Cambodia's past and present, and the power of art.
Monday, July 6

6:30pm THE PRESIDENT'S LAST BANG (104 min) + Introduction by Shim Jae-myung
One of the most controversial Korean movies of all time, Im Sang-soo's black comedy tells the tale of the 1979 assassination of military dictator President Park by the head of the Korean CIA. It's all the more relevant today because Park's daughter is currently president of Korea.

8:45pm CART (103 min) + Q&A with Boo Ji-young and producer Shim Jae-myung
In this pro-union flick, the 99% rise up after a bunch of female employees at a chain retail giant (think Wal-Mart) get laid off via text message. When they decide to go on strike, management calls in the thugs…
Tuesday, July 7

6:30pm WAIKIKI BROTHERS (109 min) + Introduction by Yim Soon-rye
In this modern Korean classic, a failed cover band returns to the lead guitarist's hometown to try to get a fresh start, but the past, women, booze, and drugs threaten to break them apart.

8:45pm WHISTLEBLOWER (113 min) + Q&A with Yim Soon-rye
The ALL THE PRESIDENT'S MEN of bioresearch, Yim Soon-Rye (one of Korea's few female directors) turns in a sharply suspenseful powerhouse thriller based on the true story of one of the biggest scientific frauds of the 21st century
Wednesday, July 8

5:30pm WOLVES, PIGS AND MEN (95 min)
Kinji Fukasaku's first yakuza masterpiece is an angry tale of three brothers who walk and work the mean streets of a postwar Tokyo slum and buy themselves a world of trouble over a bag of stolen cash.

7:30pm CHASUKE'S JOURNEY (105 min) + Q&A with Sabu
An angel descends to Okinawa in order to save a young girl, falls in with a gang of losers, enjoys ramen, finds a bit of celebrity, and fights against predestination written by heavenly hacks who steal from Hollywood blockbusters.

10:00pm VIOLATOR (115 min)
The sole horror movie in this year's lineup, VIOLATOR sees five men become trapped at a police station during a typhoon with a young man who claims to be Satan. A barebones indie that achieves a kind of monumental evil majesty as it progresses
SVA Theatre's Beatrice and Silas Theatres
Thursday, July 9
Beatrice Theatre: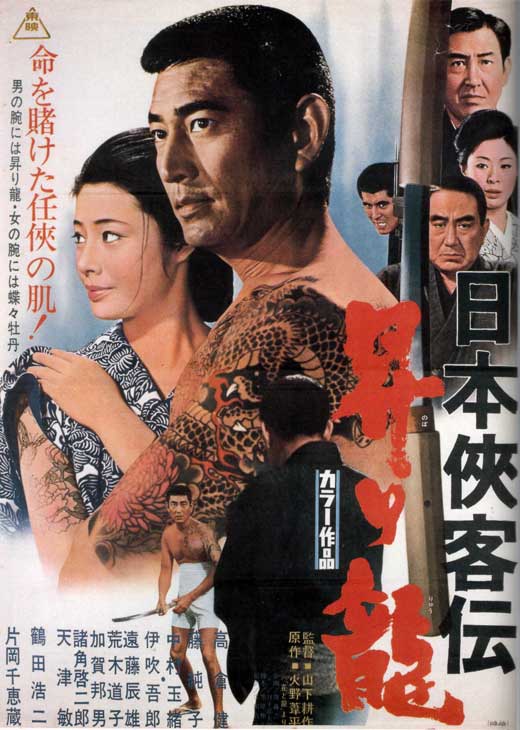 5:30pm NIHON KYOKAKU-DEN (98 min)
The first film in Toei's immensely popular ninkyo film series chronicles a bitter feud that brews and breaks out between two rival yakuza clans. Honor is stained, blood is shed, hilarity does not ensue.

7:30pm CAFÉ. WAITING. LOVE (120 min)
Three years after his record-breaking debut, YOU ARE THE APPLE OF MY EYE, writer-director Giddens Ko penned this irresistibly zany romantic comedy, based on his book of the same name—but this time with Chiang Chin-lin in the director's seat.

10:00pm THE ISLE (102 min)
Kim Ki-duk helped put Korean cinema on the map with this art-house exploitation shocker about a cop on the run who winds up at a floating hotel owned by a woman who might be insane, or just really in love. You are not prepared.
Silas Theatre:

6:00pm TWENTY (115 min)
Three friends enter their twenties with sex on the mind, easy access to soju, and absolutely no clue how to navigate college, money, or women… or really anything else in the world. A painfully hilarious reminder about how awkward the transition into adulthood can be.

8:30pm THE ROYAL TAILOR (127 min) + guest appearance by director Lee Won-suk
An eye-popping historical comedy about the king's tailor (played by Korean icon Han Suk-kyu) encountering a younger rival. It's a stylish fashion showdown as the queen favors the younger needle-slinger, while the king sticks with his more stately (and stodgy) designer.
Friday, July 10
Beatrice Theatre:

6:00pm VENGEANCE OF AN ASSASSIN (99 min)
The final film from action legend Panna Rittikrai (the ONG-BAK films)—the kinetic master of mayhem—pulls out all the stops to deliver a rough-and-ready action flick sporting everything from badass games of soccer to gun fu.
8:00pm BANGLASIA (91 min) + guest appearance by director/actor/singer Namewee
From the director of festival fave foodie flick NASI LEMAK 2.0 comes this wild and crazy Western full of musical numbers and humor so slaphappy it'll leave your head spinning. It was banned in Malaysia for being too political, so we're proud to screen it.
Silas Theatre:

6:00pm SOLOMON'S PERJURY PART 2: JUDGEMENT (149 min)
Wrapping up the multitude of mysteries from the first part, the second film focuses on the trial, where both shocking and subtle revelations send irrevocable tremors through the high school and the adults surrounding the case.

9:00pm TAKING OF THE TIGER MOUNTAIN 3D (141 min)
Tsui Hark (DETECTIVE DEE AND THE MYSTERY OF THE PHANTOM FLAME) is back doing what he does best: delivering a popcorn thrillride. This adaptation of Qu Bo's adventure novel, set in the late 1940s, mixes elements of spy movies, Chinese civil war sagas, and Mainland People's Liberation Army actioners into a 3D blockbuster spectacle that was custom-made for the big screen.
Saturday, July 11
Beatrice Theatre:

1:00pm SECOND CHANCE (105 min)
Like ROCKY except for billiards instead of boxing, and if Rocky Balboa was a Type-A, overachieving schoolgirl, this flick features a who's who of billiard champs as it becomes a fist-pumping sports movie.

3:15pm PARTNERS IN CRIME (88 min)
Director Chang Jung-chi's second feature and follow-up to TOUCH OF THE LIGHT (Taiwan's foreign-language Oscar entry in 2012) is an atmospheric and taut high-school mystery-drama centered on the apparent suicide of a student.

5:45pm BROTHERHOOD OF BLADES (106 min)
One of the best Chinese period action films in recent memory, this overlooked blood-red gem is packed with superbly choreographed fight scenes, riveting drama, and performances to match.

8:15pm RUINED HEART (73 min)
Neon-smeared pop poetry materializes on screen in this (almost) dialogue-free gangland art flick shot in the slums of Manila and starring Tadanobu Asano (ICHI THE KILLER) and shot by longtime Wong Kar Wai cinematographer Christopher Doyle.
Silas Theatre:
12:40pm to be announced
4:30pm to be announced

6:45pm TOKYO TRIBE (116 min)
9:00pm Closing Night Film (to be announced)
See you there!
Latest posts by Jon Abrams
(see all)
---
Tags: Aaron Kwok, Adrian Kwan, Ahn Sang-Hoon, Ahn Sung-gi, Asian Cinema, Boo Ji-young, Bunta Sugawara, Chang Chen, Chang Jung-chi, Chen Jianbin, China, chow yun fat, Christopher Doyle, Daihachi Yoshida, David Lee, Derek Kwok, Derek Yee, Dodo Dayao, Fire Lee, Francis Ng, Fumi Nikaido, Guns, Han Suk-kyu, Hong Kong, Hong Seok-Jae, Huang Xiaoming, Im Kwon-taek, Im Sang-soo, Jamie Chung, japan, Jin Mo-young, Kazuhiko Hasegawa, Ken Takakura, Kenji Sawada, Kim Ki-duk, Kinji Fukasaku, Korea, Kulikar Sotho, Lau Ching-Wan, Lau Ho-leung, Lee Won-suk, Li Ruijin, Lu Yang, Malaysia, Narushima Izuru, New York, Nobuhiro Yamashita, Panna Rittikrai, Philip Yung, Ringo Lam, Ryuichi Hiroki, Sabu, Screenings, Shim Jae-myung, Shota Sometani, simon yam, Sion Sono, South Korea, Sunny Luk, Tadanobu Asano, Taiwan, Teruo Ishii, Thailand, The Philippines, Tony Leung Kar-Fai, Tsui Hark, Wang Xiaoshuai, Yee Chih-Yen, Yim Soon-rye