July 8th! Last week of the New York Asian Film Festival. We're more than halfway through, but there's still plenty to look at. All three of today's selections hail from Korea, with one of them being the hugest hits ever to hit in that part of the world. Take a look…
The NYAFF is being presented by Subway Cinema (visit them here), and almost all of the screenings are taking place at the Film Society Of Lincoln Center (find a more complete rundown here).
MONDAY
2:00PM
 
PUBLIC ENEMY (2002)
Kang Chul-joong (Sol Kyung-gu) is a bad cop, and in typical bad cop fashion he is stealing from drug dealers, taking bribes, ignoring his family, slapping suspects upside the head, and trying to get internal affairs off his ass. Cho Kyu-hwan (Lee Sung-jae) is a remorseless killer. After a meet cute in which Cho (fresh from his first murder) slashes Kang with a knife in an alleyway, the rest of the movie finds Kang relentlessly pursuing Cho, no matter the lack of evidence or the cost to his career and personal safety. In addition to all of the graphic violence are equally graphic jokes, and the audience comes away with one of the grittiest social satires to come out of Korea. Both characters are the titular PUBLIC ENEMY, and Sol Kyung-gu's dedication to the role (he gained over 40 pounds) and his easy chemistry with Lee Sung-jae carry this fiercely intelligent, darkly funny, and well-crafted film into classic territory.
Actor Sol Kyung-gu will attend the screening. Presented with the support of Korean Cultural Service in New York.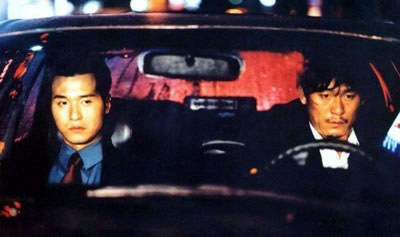 5:15PM
THE FACE READER (2013)
THE FACE READER, which beat IRON MAN 3 at the Korean box office last year, is a lavish period drama with high-level cast at the top of its game, juicy dialogue, and a smooth mixture of low comedy and high drama. The film spins on the contradictions between outward appearances and inner feelings in its story of a professional physiognomist, hired to weed out corrupt officials at Joseon dynasty court, who becomes entangled in a power struggle for the throne. The script cleverly weaves a fictional character into real-life events and creates a fine platform for Song Kang-ho to shine in the role of a face reader who finds himself caught up in the same kind of government machinations that originally ruined his father. But ultimately, it's Lee Jung-jae that steals the show with his superb portrayal of the king's ruthless younger brother, Su-yang. His character dominates the film's second half, as the story moves away from the original premise of a buffoon at court toward something darker.
Actor Lee Jung-jae will attend the screening. Part of Korean Actor in Focus: Lee Jung-jae. Presented with the support of Korean Cultural Service in New York.
8:45PM

COLD EYES (2013)
"Remember everything," Hwang (one of this year's guests, Sol Kyung-gu), the chief of the Special Crimes Unit surveillance squad tells a fresh young recruit (Han Hyo-joo, who has won two Best Actress awards for her performance). That could go for the audience, too. Rocketing by at 500 plot points per second, this is a high-tension thrill ride where one glance away from the action unfolding on screen can leave you flailing in the dust, three plot twists behind. It's a three-way race against time between Hwang, the rumpled middle-aged surveillance guru; James, the no-excuses criminal efficiency expert who's pulling off a string of super-sophisticated heists before he retires; and Ha, the nervous new recruit who's eager to prove she's got what it takes, even if that means she having to take dumb risks. A remake of Johnnie To's Hong Kong hit EYE IN THE SKY (2007), it became a surprise box-office smash last summer, turning To's taut low-budget thriller into an epic of nonstop suspense. Watch for a cameo by EYE IN THE SKY star, Simon Yam, right before the credits roll.
Actor Sol Kyung-gu will attend the first screening and will be presented with Star Asia Award. Presented with the support of Korean Cultural Service in New York.

Stay tuned for daily updates from us here at Daily Grindhouse, and hey, if you'd like to find out which screenings I'll personally be attending, you know how to find me …
– JON ABRAMS.  
Latest posts by Jon Abrams
(see all)
---
Tags: Asian Cinema, Bad Cops, Choi Eui-seok, Crime, Han Hyo-joo, Johnnie To, Korea, Lee Jung-jae, New York, Screenings, simon yam, Sol Kyung-gu, Suspense