A powerhouse day at the New York Asian Film Festival spotlights the newest thriller from Hideo Nakata (who made RINGU and DARK WATER, to name two), another straight-up classic martial-arts epic with Jimmy Wong Yu, a Korean crime blockbuster, and an all-star drama from China of the sort we rarely see on these shores anymore. Everything's excellent. Good luck choosing between them!
The NYAFF is being presented by Subway Cinema (visit them here), and almost all of the screenings are taking place at the Film Society Of Lincoln Center (find a more complete rundown here).
SUNDAY
1:00PM
 
MONSTERZ (2014)
Japanese horror master Hideo Nakata (RING and DARK WATER) returns with the remake of the 2010 South Korean film HAUNTERS (directed by Kim Min-seok), a somber paranormal thriller that offers an original, exciting variation of the tale of two men with supernatural abilities, locked in a duel to the death. The nameless villain of the tale is an elfish-faced, brooding loner (Tatsuya Fujiwara) who uses his mind-control power to rob banks and fund his solitary, misanthropic lifestyle. He is thrown off guard when all-around nice-guy deliveryman Shuichi Tanaka (Takayuki Yamada) remains unaffected by his power, even after everyone standing in a public square has been placed under the control of his menacing sapphire-glow eyes. The malevolent mind-bender, feeling threatened by the stranger, sends a speeding truck at Shuichi and leaves him for dead. But he miraculously recovers, and even finds a job working for the offending driver, Mr. Kumoi (Tomorowo Taguchi), a kind-hearted guitar-shop owner, who offers him modest wages as compensation for the accident. Things seem to be going well, but when he finds out Shuichi is still alive, the nameless mind-bender comes back to kill Shuichi for good. From there, it is a merciless war between the two men.
Presented with Japan Cuts: The New York Festival of Contemporary Japanese Cinema.
 3:30PM
THE CHINESE BOXER (1970)
When you talk about movies that changed the world, THE CHINESE BOXER unquestionably has to take its place among them. Jimmy Wong Yu was already an established superstar in Hong Kong and Asia, but THE CHINESE BOXER, his first film as director, wasn't just the first open-handed martial-arts film from Hong Kong to become a worldwide blockbuster, its influence on all martial-arts films since, especially Bruce Lee's, cannot be understated. And like many influential films, it remains a classic because it's terrific, still incredibly exciting and fun, with fight scenes (including a fantastic climatic battle between Wong Yu and Lo Lieh) that are some of the best in movie history. The story may seem like a like bunch of clichés, filled with scenes you've seen in other movies, but keep in mind that this is the movie those films took it from. THE CHINESE BOXER is one of the true martial-arts classics, as amazing now as it was in 1970.
Jimmy Wong Yu will attend the screening. Part of Sir Run Run Shaw Tribute. Presented with the support of Hong Kong Economic and Trade Office New York and Celestial Pictures.
Note: Due to unforeseen circumstances, actor Jimmy Wong Yu is no longer able to attend.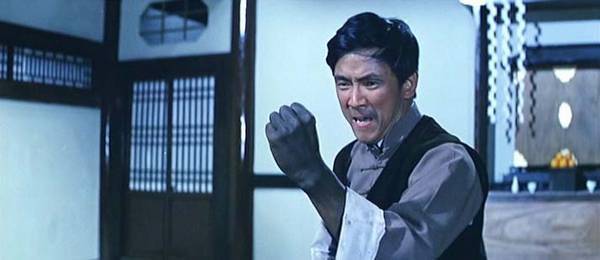 6:00PM

NEW WORLD (2013)
Park Hoon-jung took what could have been another run-of-the-mill Korean gangster film (let's face it, like tortured melodramas, gangster films are a dime a dozen these days) and turned it into an absolutely fascinating (and harrowing) look at the power structures and politics of a criminal organization. Beginning with a truck demolishing a car containing the Goldmoon crime syndicate's head honcho, the film looks at the contest for power between #2 Chung (Hwang Jeong-min) and #3 Joong-gu (Park Seong-woong). Chung's second in command Ja-sung (festival guest Lee Jung-jae) is actually an undercover cop with a baby on the way, and he just wants out. So a political pawn game, that has just as much thrilling drama as any knife fight, begins while Goldmoon is being hunted by Chief Kang (Choi Min-sik, in one of his best performances). A huge hit in Korea, NEW WORLD has a scope and depth that has been missing from a lot of gangster films, but the real anchor is the phenomenal performances from all of the leads.
Actor Lee Jung-jae will attend the screening and give a Q&A. Part of Korean Actor in Focus: Lee Jung-jae. Presented with the support of Korean Cultural Service in New York.

9:15PM
SILENT WITNESS (2013)
With a script that doesn't loosen its grip in its entire two hours, a big name cast at the top of its game (especially Sun Honglei and Yu Nan), and an atmospheric production package that's all in service of the drama, SILENT WITNESS is superb, mesmerizing entertainment. The film opens with the trial of a millionaire's daughter for the murder of her future stepmother, pulls its first big surprise in a powerful courtroom scene early on, and then builds layer upon layer of previously hidden information, and ultimately the tale is elevated into one of Chinese myth and personal redemption. It's the ensemble of performances that helps give real dramatic heft to what otherwise might just have been just a well-written, cleverly constructed genre movie, full of the usual coincidences, moments of sudden revelation, and sequences of engineered suspense. Most remarkably, in a genre that U.S. cinema has made its own, SILENT WITNESS has a totally Chinese feel in its emotions, pacing, and underlying philosophy.
Director Fei Xing and Actress Zishuo Ding will attend the screening and give a Q&A.

Stay tuned for daily updates from us here at Daily Grindhouse, and hey, if you'd like to find out which screenings I'll personally be attending, you know how to find me …
– JON ABRAMS.  
Latest posts by Jon Abrams
(see all)
---
Tags: Asian Cinema, Choi Min-sik, Crime, Ding Zishou, Drama, Fei Xing, Gangsters, Hideo Nakata, Hong Kong, japan, Jimmy Wong Yu, Korea, Lee Jung-jae, Lo Lieh, Martial-Arts, New York, Park Hoon-jung, Screenings, shaw brothers, Sir Run Run Shaw, South Korea, Thrillers, Yu Nan