Good Lord, there's so much going on today I'd better get right to posting the line-up. Last thing we've got time for is a pile of words from me. So much great stuff to watch!

The NYAFF is being presented by Subway Cinema (visit them here), and almost all of the screenings are taking place at the Film Society Of Lincoln Center (find a more complete rundown here).
THURSDAY
1:00PM

COLD EYES (2013)
"Remember everything," Hwang (one of this year's guests, Sol Kyung-gu), the chief of the Special Crimes Unit surveillance squad tells a fresh young recruit (Han Hyo-joo, who has won two Best Actress awards for her performance). That could go for the audience, too. Rocketing by at 500 plot points per second, this is a high-tension thrill ride where one glance away from the action unfolding on screen can leave you flailing in the dust, three plot twists behind. It's a three-way race against time between Hwang, the rumpled middle-aged surveillance guru; James, the no-excuses criminal efficiency expert who's pulling off a string of super-sophisticated heists before he retires; and Ha, the nervous new recruit who's eager to prove she's got what it takes, even if that means she having to take dumb risks. A remake of Johnnie To's Hong Kong hit EYE IN THE SKY (2007), it became a surprise box-office smash last summer, turning To's taut low-budget thriller into an epic of nonstop suspense. Watch for a cameo by EYE IN THE SKY star, Simon Yam, right before the credits roll.
Presented with the support of Korean Cultural Service in New York.
There are two Pang Ho-cheungs. One is the shock comedian who gave us Vulgaria, about a film director who may or may not have had sex with a mule. The other is a more reflective director who draws surprisingly complex performances out of his cast in films like the father-daughter drama Isabella. It's the second Pang who takes the helm of ABERDEEN, a ensemble family comedy-drama in which characters who would be caricatures in lesser hands ripen into three-dimensional people. There's Tao (pop-star Louis Koo, Golden Chickensss), who believes that physical looks are all that matter in life and whose daughter has been born less than glam. How could this be when his wife, Ceci (Gigi Leung), is a model? But even she is facing competition from younger girls as she approaches 40. There's the family patriarch, a fisherman-turned-Taoist-priest (Ng Man-tat); and Wai-ching (Miriam Yeung), a tour guide whose husband, Eric Tsang, is cheating on her with one of his nurses. It could have been an insufferable yuppie melodrama without Pang's magic-realist touch that gives the story grace notes like whale sightings, kaiju rampages, and unexploded WWII bombs found in the center of downtown Hong Kong.
Part of HONG KONG FOREVER! Presented with the support of Hong Kong Economic and Trade Office New York.
Writer-director Kenneth Bi (Rice Rhapsody, The Drummer) delivers his most ambitious movie to date, the futuristic thriller Control, a big-budget, noirish mystery with multiple twists, set in an unnamed Asian metropolis. The film follows an insurance salesman, played by Daniel Wu, as he is coerced to commit criminal acts by an unseen villain, who sends instructions over the phone and has control of the city's surveillance cameras. Even if not all of the plot elements work on a dramatic level, it's fun to watch a plethora of Greater China stars like Taiwan's Leon Dai and Hong Kong's Simon Yam as over-the-top nutty gangsters; Hong Kong veteran Kara Hui, as the mother of Wu's salesman (adding another loony character to her recent filmography); Mainland light comedienne Yao Chen (Love in Cosmo), as Wu's one-time sweetheart; and her male compatriots Shao Bing, Feng Jiayi, and Hao Bojie as other victims of the mystery phone caller.
Part of HONG KONG FOREVER! Presented with the support of Hong Kong Economic and Trade Office New York.
8:15PM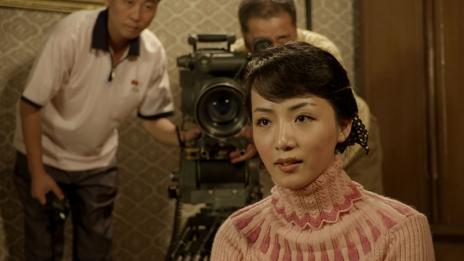 AIM HIGH IN CREATION! is a revolutionary comedy about the cinematic genius of North Korea's late Dear Leader Kim Jong-il, with a groundbreaking experiment at its heart: a propaganda film, made according to the rules of his 1987 Manifesto "The Cinema and Directing." Determined to stop a new gas mine near her Sydney home, director Anna Broinowski (Forbidden Lie$) goes to North Korea to learn from the masters of propaganda cinema. In a worldwide first, Pyongyang's top directors, composers, and movie stars take her to script rehearsals, Taekwondo stunt fights, group dances, drunken picnics, and a film shoot on a real-life captured U.S. spy ship to teach her Kim Jong-il's techniques. Back in Sydney, Anna's fearless cast follow the North Koreans' instructions to produce a didactic socialist melodrama, full of song and kick-ass fights, in which "heroic workers" rise up to defeat the "evil, gas-fracking miners." Through the shared love of cinema, Aim High in Creation! forges an astonishing new bond—between North Korea's hidden filmmakers and their collaborators in the Free World. Revealing an unexpected truth about the most isolated nation on earth: filmmakers, no matter where they live—are Family.
Director Anna Broinowski will attend the screening. Presented with the support of American Australian Association's Dame Joan Sutherland Fund.
MEANWHILE, AT THE JAPAN SOCIETY…
6:00PM
With THE MOLE SONG: UNDERCOVER AGENT REIJI, Japan's most prolific and most popular gonzo director, Takashi Miike, offers two-plus irresistibly frantic hours of undiluted insanity. An out-and-out balls-to-the-wall cops vs. yakuza farce, the film leaves respectability, restraint, and decency at the door. Improbably inept rookie cop Reiji Kikukawa (Toma Ikuta) wants to do the right thing but when he tries to bust a city councilor who's caught molesting a teenage girl he gets fired without much ceremony. He is quickly rehired by his superiors for what turns out to be a suicide undercover mission to infiltrate a brutal yakuza clan. After all, who would suspect such a moron to be a plant? Reiji starts donning a leopard-spotted suit with matching accessories, and soon befriends Crazy Papillon (Shinichi Tsutsumi, WHY DON'T YOU PLAY IN HELL?), the No. 2 in the gang, and a man who also likes to keep it classy with cute little butterflies adorning his coat. Sharing Reiji's impeccable fashion sense and his distaste for drugs, they bond over a number of gangster-like predicaments, the way gangsters do, and together they face the diamond-toothed "cat" Nekozawa (Takashi Okamura) and his gang of cat-men. A monument to pop madness and perhaps, in more ways than one, an apotheosis of post-cinema cinema.
Presented with Japan Cuts: The New York Festival of Contemporary Japanese Cinema.
8:30PM
A back-to-bloody-basics film that pay tribute to old-school yakuza cinema and low-budget amateur filmmaking, WHY DON'T YOU PLAY IN HELL? is based on a screenplay bad-boy director Sion Sono (a NYAFF/Japan Cuts guest in 2009) wrote 17 years ago. Devoting most of their time and frantic energy to guerrilla filmmaking antics, it seems like it might be time for the "Fuck Bombers" to move on. A group of jobless film geeks, they're trying to turn Sasaki (Tak Sakaguchi), a young brawler, into their "new Bruce Lee," but the Bombers are nowhere near getting their action masterpiece made. New blood and inspiration come their way when an ambush set by a yakuza clan comes to a gory end in the home of boss Muto (Jun Kunimura), and is witnessed by Mitsuko, Muto's 10-year-old daughter and star of a toothpaste commercial. Ten years later, she's become a sultry, mean mess of a girl (played by 2014 Screen International Rising Star Award recipient, Fumi Nikaido). Determined to make his little girl a star, her father, fresh out of jail, crosses path with the gang of wannabe filmmakers, and gives the losers a once-in-a-lifetime chance to shoot their movie. To make this happen, the yakuza becomes the film production crew and the Fuck Bombers join the "real" action. Needless to say, things are about to get messy. In what Sono himself called "an action film about the love of 35mm," you'll definitely feel the love. And the blood.
Actress Fumi Nikaido will attend the screening. Presented with Japan Cuts: The New York Festival of Contemporary Japanese Cinema.
Stay tuned for daily updates from us here at Daily Grindhouse, and hey, if you'd like to find out which screenings I'll personally be attending, you know where to find me …
– JON ABRAMS.  
Latest posts by Jon Abrams
(see all)
---
Tags: Action Film, Anna Broinowski, Asian Cinema, Australia, China, comedy, Crime, Fumi Nikaido, Hong Kong, Louis Koo, Melodrama, Movies About Movies, New York, Screenings, shinichi tsutsumi, simon yam, Sion Sono, Sol Kyung-gu, Suspense, Taiwan, Takashi Miike, The Future, Yakuza