Day fourteen! The 14th New York Asian Film Festival is still charging ahead here in New York City, and we're still posting up the schedules every day — if not for you to attend the screenings as they happen, then at least to discover some cool new stuff to add on to your to-watch lists!
The NYAFF is being presented by Subway Cinema (visit them here). As of today, the festival moves downtown, to the SVA Theatre at the School of Visual Arts.
Here are today's screenings, with pictures & summaries courtesy of the festival:
Beatrice Theatre
5:30pm

The first of the long-running TALES OF CHIVALRY IN JAPAN (a.k.a. LEGENDS OF THE YAKUZA) franchise, NIHON KYOKAKU-DEN chronicles a bitter feud over local lumber rights that brews and breaks out between two rival yakuza clans in the late Meiji era. Makino's direction is a draught of clear straightforward style: bare of any visual gimmicks or fancy flourishes, it puts the spotlight on the actors and here you really get the goods. Takakura gives a performance that would stick with him for the next decade as the paragon of Japanese manhood, beckoning us to the beating heart of his appeal as the ultimate old-school leading man: the very picture of deadpan, rock-steady and disdainful of outward display. Kinnosuke Nakamura also turns in a great performance as an emotionally tortured gambler who Takakura's character looks up to for guidance. Chivalry and honor are stained, tattooed chests are bared, swords and guns are drawn, and blood is shed.
Part of THE LAST MEN IN JAPANESE FILM – A Ken Takakura/Bunta Sugawara Tribute. Print courtesy of the Japan Foundation.
7:30pm

North American Premiere
Three years after his record-breaking debut, YOU ARE THE APPLE OF MY EYE, writer/director Giddens Ko has penned an irresistibly zany romantic comedy, based on his book of the same name, this time with Chiang Chin-lin in the director's seat. Following Siying (Vivian Sung), an undergrad and part-time worker at the titular café, the film zips through unrequited crushes, dreams of travel, hot sausages, bowls of tau fu fah (sweet soya bean pudding), and even the supernatural like a gag-manga inspired bullet. Vivian Sung and Bruce shine as the young leads, sharing a charismatic and electrifying chemistry. Vivian Chow also makes a rare and glamourous  appearance after years of withdrawing from the public eye.
Part of TAIWAN CINEMA NOW!. Presented with the support of the Taipei Cultural Center of TECO in New York.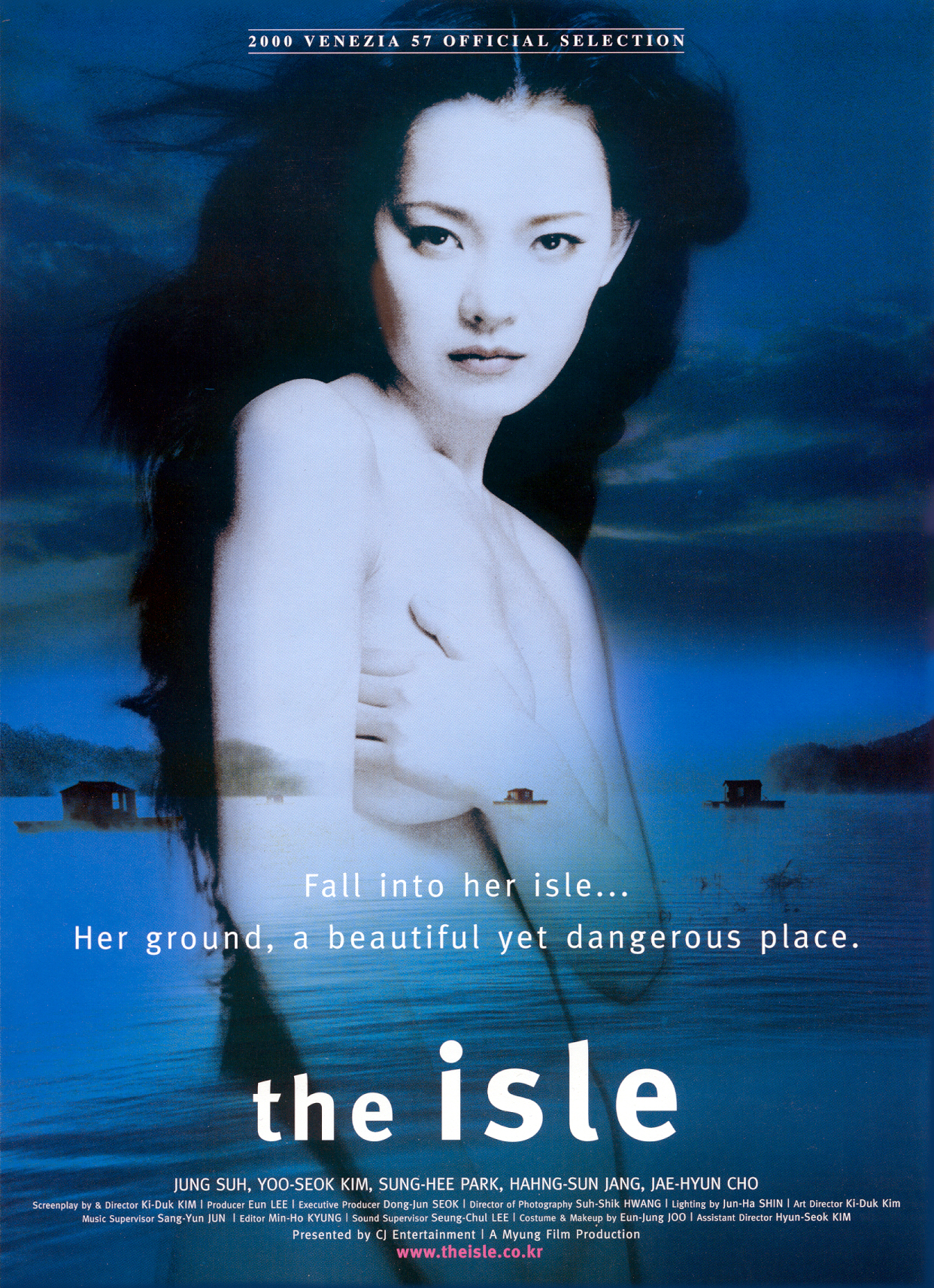 10:00pm

Controversial director Kim Ki-Duk put Korean cinema on the map with this arthouse exploitation shocker featuring fish hooks, sex, surreal cinematography, and some of the most squirm-inducing shots ever put on film. A cop on the run for a crime he definitely did commit holes up on a lake where floating cabins provide weekend retreats for fishermen. The cabins are tended by a young woman who supplies the fishermen with food, coffee, booze, and sexual gratification. She and the ex-cop bond, and before long their relationship has moved on from hugs and kisses, to icepick stabbings and fish hook swallowing. But don't think this movie is just out to shock you. Dreamy and beautiful, it's all about how Seo Jung is actually the spirit of the lake, a feminine force of nature that destroys all the childish men who try to bend her to their will. Too often, movies put you to sleep. This landmark of Korean cinema wakes you up, by forcing you to swallow a fistful of fish hooks.
Part of MYUNG FILMS: PIONEERS AND WOMEN BEHIND THE CAMERA IN KOREAN FILM. Presented with the support of Korean Cultural Service in New York. 
Silas Theatre
6:00pm

International Festival Premiere
Three friends enter their twenties with sex on the mind, easy access to soju, and absolutely no clue how to navigate college, money or women… or really anything else in the world. The leader of the group is a slacker from a comfy background (model-turned-actor Kim Woo-bin) who just wants to date as many women as he can; then there's a wannabe cartoonist from a poor background (Lee Jun-ho from Korean boy band 2PM); and a shy dreamer (actor-singer Kang Ha-neul) who falls for a wealthy older student at the university where he's a freshman.
The friends try to find a goal at what they think is a crucial period in their lives between being a minor and an adult, while engaging in a series of amorous pursuits, and ending up blind-sided at every turn. Thanks to the fresh and breezy screenplay by Lee Byeong-heon (who also contributed scripts for SUNNY and SCANDAL MAKERS) and great chemistry between the leads, TWENTY is not only revolutionary in its transformative effect on the Korean youth drama, which has traditionally been known for a darker subject matter, but is also a painfully hilarious and universally relatable reminder about how awkward transition into adulthood can be.
Presented with the support of Korean Cultural Service in New York.
8:30pm

New York Premiere (U.S. Continental Premiere)
Two years after his anarchic comedy HOW TO USE GUYS WITH SECRET TIPS, Lee Won-suk returns to New York and the silver screen with his ambitious, big-budget period drama THE ROYAL TAILOR. His second feature is set during a clash between tradition and modernity in the royal court of 18th century Korea.
Han Suk-kyu plays the king's tailor Jo Dol-seok. After serving the court for three decades, he is on the brink of rising to the rank of nobleman. But his life's dream is threatened with the sudden appearance of young, handsome and carefree "designer" Lee Gong-jin whose radical fashion ideas quickly earn the Queen's favor.
Unlike most films about the power of art (and music), Lee lets the striking costume designs of Jo Sang-gyeong speak for themselves, without resorting to reaction shots or exposition. The film's traditional costumes took as much as six months to create, at a cost just shy of $1 million.
A playful, fresh and daring reinvention of one of Korea's most conservative film genres.
Director Lee Won-Suk in attendance. Presented with the support of Korean Cultural Service in New York. Co-presented with The Korea Society
Latest posts by Jon Abrams
(see all)
---
Tags: Asian Cinema, Bruce, Chiang Chin-lin, Cho Jae-Hyun, Giddens Ko, Go Soo, Han Suk-kyu, Hiroki Matsukata, Jang Hang-Seon, japan, Kang Ha-Neul, Ken Takakura, Kim Ki-duk, Kim Woo-bin, Kinnosuke Nakamura, Lee Byeong-Heon, Lee Joon-Ho, Lee Won-suk, Marcus Chang, Masahiro Makino, Megan Lai, New York, NYAFF, Park Seong-Hee, Park Shin-Hye, Screenings, South Korea, Suh Jung, Taiwan, Vivian Chow, Vivian Sung, Yoo Yeon-Seok