Ever look back at old haircuts from the 1980s and wonder how anybody could have left the barbershop with a straight face?  That's the way I look at LINK, and at the idea that it was ever sold as a horror film.  LINK is a fun movie to watch, but not on its own terms.  It's a movie that asks an audience to be afraid of chimpanzees.  That's a lot to ask of an audience.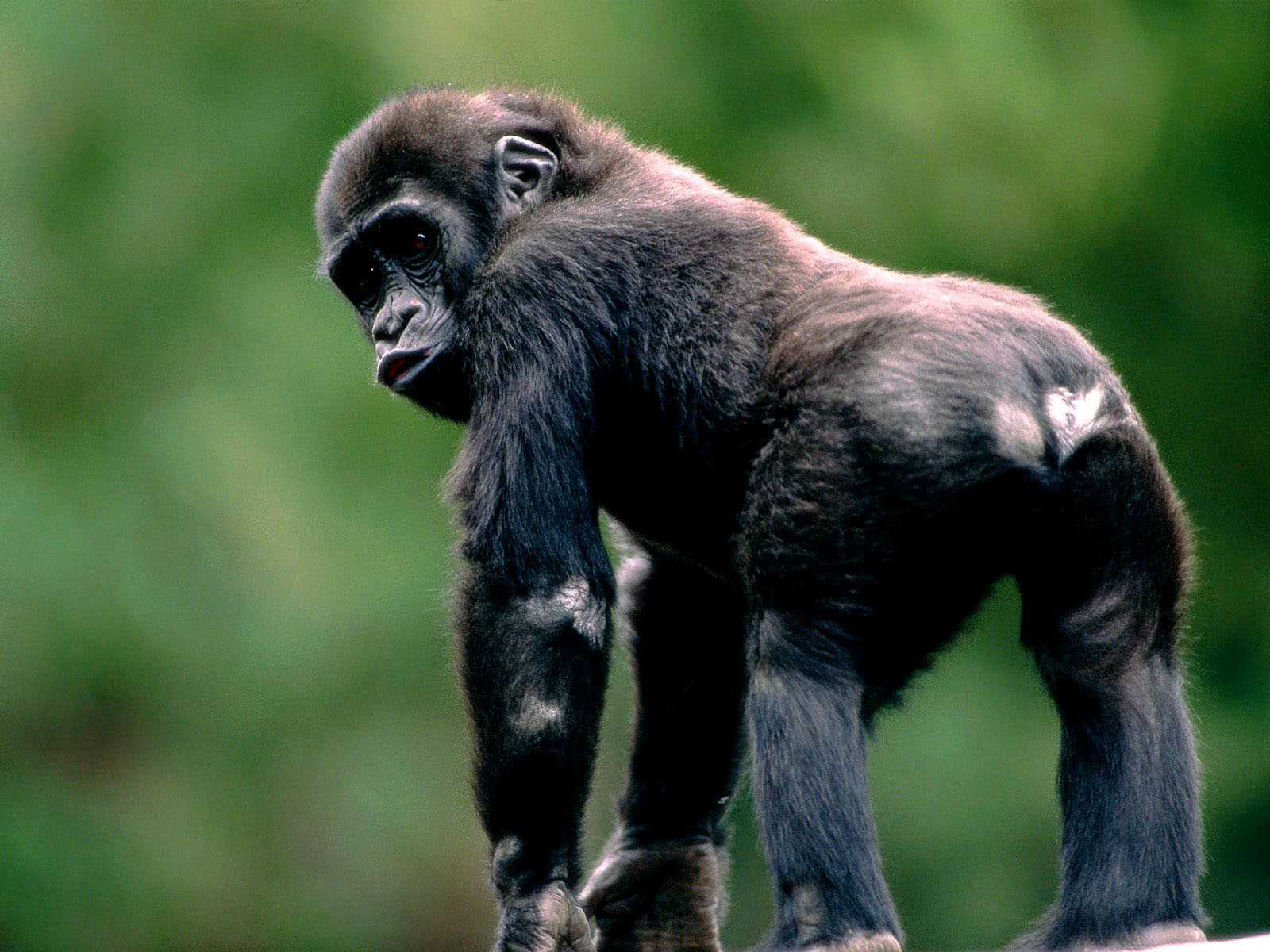 In real life, chimpanzees are like bears:  They're terrifyingly dangerous, but they look cute, hence all the "accidents" you occasionally read about in the news.  But in movies, chimpanzees have historically been treated as friends, sidekicks, or punchlines.  You'd be better served making a horror movie about Chewbacca or C3PO.  (I have a feeling these words will come back to haunt me one day soon.)
Let's begin our visit with LINK at the plot-recap gazebo:  The movie opens on a rooftop, where something inhuman and murderous, something we don't see, is hiding out in the shadows, pigeon bones strewn around nearby.  Right after that mood-setting opening title sequence, we move directly into the main premise, which is this:
The eternally-lovely Elisabeth Shue, then fresh off THE KARATE KID, plays an American college student living abroad in England, where the movie was made. She is hired by an eccentric professor — played by SUPERMAN 2's Terence Stamp, who is also eternally-lovely — to help out at his lab for the summer.  The lab is located a small summer home, which is situated on a cliff high above the coast, with a seaside view, and it is there that the professor studies the behavioral patterns of a group of super-smart chimpanzees.  The smartest of the bunch is a fellow named Link, who wears butler clothes and roams about the house freely.
Now, there's something I haven't told you.
LINK is about chimpanzees, this much is true.  But the title character is actually played by an orangutan.  His naturally orange fur has been dyed black, or, as it turned out, a sickly shade of brown.  I get it, it's a safety issue, chimpanzees are dickheads, one of 'em bit off poor Jennifer Connelly's finger during the making of PHENOMENA (true story, maybe), but still:  We've all seen PLANET OF THE APES.  We know the difference.  Don't give us Dr. Zauis and then tell us he's the lady one who kept calling Charlton Heston "Bright Eyes."  It's insulting to everyone involved.
Meanwhile, back in the movie, Professor Stamp has abruptly disappeared halfway through the story.  Elisabeth Shue gets increasingly suspicious and tries to find out where he went, while trying to run his lab in his absence.  Link and the others may or may not be able to help or hinder her efforts.
That's it.  That's the story.  In as many words, I'm telling you that LINK is a movie where, for a significant amount of its running time, the only living beings onscreen are Elisabeth Shue and a small group of super-smart chimpanzees (orangutans).  If you're even remotely like me, there can't be any more encouraging cinematic prospect on paper.  In 2014, Elisabeth Shue is still incredibly cute (and definitely still deserves to be a much bigger star), but LINK has her at 23.   And I can't pretend to get all sophisticated about it – for me, that's kinda enough.  Show me apes in suits and a pretty girl and I will have to strain to complain.
LINK was directed by Richard Franklin, who was a protégée of Alfred Hitchcock, to the point that Franklin was the one who directed PSYCHO 2.   It was written by Everett De Roche, who also wrote 1981's much more awesome ROAD GAMES for Franklin.  These are not untalented men, not by a long shot, but with respect I must suggest this is not their best work.   LINK has a bizarre, unnatural rhythm that seems to be primarily due to some ill-considered pacing, but it could also have a lot to do with the fact that it's a would-be suspenseful movie that relies heavily on animal actors.  That means that a human character will speak a line of dialogue, and then have to wait for the trained orang's reaction.  That all happens in real time on film.
LINK also has a weirdly jaunty score, for a movie that intends to make chimpanzees (orangutans) in dinner jackets appear ominous.  The orchestral music undercuts most of the movie's attempts at suspense.  I was surprised to see that the legendary Jerry Goldsmith supplied the music – you'd think that the guy who scored ALIEN, THE OMEN, POLTERGEIST, and even GREMLINS could have come up with some spookier tunage, but then again it must have been a tough assignment from the outset.
Lest I start sounding too critical, there are other things you need to know.  There is a scene where a perverted chimp (orangutan) stares at Elisabeth Shue as she prepares to take a bath.  There is a climactic exploding cigar scene.  A climactic exploding cigar scene.  I'm also pretty sure that there are a couple scenes where little people in ape costumes double for the ape actors.  These are all moments that make me glad that I witnessed this movie.
A year later, Hollywood provided an answer to LINK with PROJECT X, where the chimpanzees were heroes, instead of creeps.  According to Wikipedia, however, PROJECT X was besieged by claims of animal cruelty.  LINK wasn't, so that's another chalk mark in its favor.  It's got a growing cult following too, although there's no re-release or remake in the works, as far as I can tell.  That might be for the best, really.  Like I said at the outset, for a horror movie it's one bad haircut.  Then again, the hi-top fade is returning, and the mullet never left, so never say never.
Lope at me on Twitter:  @JONZILLA___
Latest posts by Jon Abrams
(see all)
---
Tags: Apes, CIgars, Elisabeth Shue, Everett De Roche, Horror, Richard Franklin, Terence Stamp