New York City's invaluable Film Forum has officially kicked off one of the most epic and awesome film calendars I've ever seen, and I say that with full awareness of how overused the adjectives "epic" and "awesome" are these days.  Let us reclaim those words in order to use them in conjunction with something they actually describe accurately.   The schedule began over the weekend and will run through August all the way to September 5th.  Here's the full list.  I will do a rundown in a moment.  This event is so huge it has a smaller film festival living inside of it, Kuato style.
SON OF SUMMER SCI-FI, FANTASY, & HORROR is back in New York after seventeen years, and within the overarching line-up is WILD ABOUT HARRYHAUSEN, a tribute to the infinitely-beloved, recently-departed master of stop-motion animation.  (Get tickets here.)  Every Tuesday there will be a double-feature of Ray Harryhausen movies, which I probably don't have to tell you constitutes one of the greatest pleasures of genre films. There's a very particular magic to a Ray Harryhausen creation and the opportunity to see any of his films on the big screen with an audience full of fellow film lovers is a special treat not to be missed.
So now let's take a look at the whole damn thing!  This calendar features a lot of blind spots for me, which hopefully I will remedy with some frequent return trips!  (Summaries courtesy of Film Forum.)
SOLARIS :: Monday August 12
(1972, Andrei Tarkovsky) Within the debris-strewn corridors of a decrepit space station, Donatas Banionis struggles with the enigma of a sentient planet, accompanied by an embodiment of his own past. Approx. 167 min. 35mm.
THE TINGLER :: Monday, August 12 – Tuesday, August 13, also Sunday August 18
(1959, William Castle) "The Tingler is in the theater!" Get ready to "Scream – scream for your lives!" when Vincent Price's fear experiments unleash that centipede-like thing right onto the spinal cords of YOU… our terrified audience, in Film Forum's world-famous interactive happening. Plus the screen's very first acid trip, experienced via our own patent-pending PSYCHEDEL-O-RAMA! Approx. 82 min. DCP.
JASON & THE ARGONAUTS :: Tuesday, August 13
(1963, Don Chaffey) In quest of the fabled Golden Fleece, Jason and the men of the Argo battle a Bronze Colossus, airborne Harpies, and a squad of sword-wielding skeletons, underscored by Bernard Herrmann's percussive dissonance.Approx. 104 min. DCP restoration.


THE 7TH VOYAGE OF SINBAD :: Tuesday, August 13
(1958, Nathan Juran) Kerwin Mathew's Sinbad takes on an evil sorcerer's monster team, including the high-flying Giant Roc, the visually-challenged Cyclops and a sword-wielding skeleton. Approx. 88 min. DCP restoration.

INVADERS FROM MARS :: Wednesday, August 14
(1953, William Cameron Menzies) Nightmare vision of alien invasion seen through the eyes of a small boy – a triumph of low-budget stylized production design by the man who created the look of both THINGS TO COME (see Aug. 28) and GONE WITH THE WIND. Approx. 78 min. 35mm.

KRONOS :: Wednesday, August 14
(1957, Kurt Neumann) A giant extra-terrestrial robot rises from the ocean depths, absorbing and storing energy as the first step toward world conquest. "Superb special effects, despite the $160,000 budget." – Phil Hardy. Approx. 78 min. 35mm.
THE MAN WHO FELL TO EARTH :: Wednesday, August 14
(1976, Nicholas Roeg) "Are you Lithuanian?" After a space craft seemingly crashes to Earth, David Bowie walks off, then almost immediately hires high-priced, thick-spectacled patent attorney (THE GRADUATE screenwriter Buck Henry) to register ten world-changing patents. Orange-haired, pale-faced, minimally expressioned Bowie (well-cast as an alien in his first starring role) desperately yearns to return himself and water to his parched planet – but will the authorities let him? – with coed-shtuppingprofessor Rip Torn providing technical help, and chambermaid Candy Clark providing distractions via overdoses of very terrestrial booze, church, sex, and television. Approx. 139 min. 35mm.
THE THING FROM ANOTHER WORLD :: Thursday, August 15
(1951, Christian Nyby) "Watch the skies!" As Air Force men and Arctic research scientists start to outline the form of a flying craft entombed in the ice, they realize they're standing in a circle—it's a flying saucer! But what if its ice-encased life form thaws out? Credited to its editor Nyby, but really a Howard Hawks film, his typical male-female banter blending effortlessly with mounting suspense and even terror. Approx. 87 min. 35mm.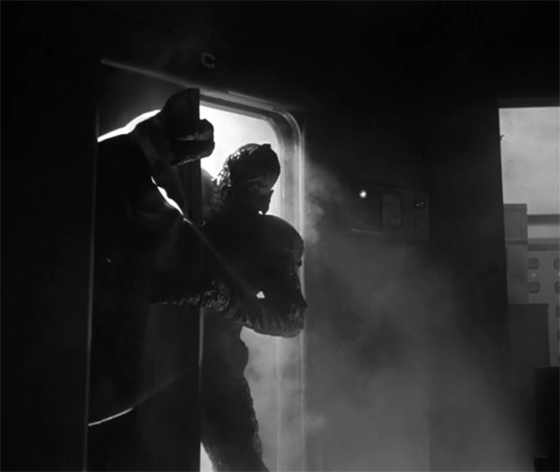 IT! THE TERROR FROM BEYOND SPACE :: Thursday, August 15
(1958, Edward L. Cahn) A blood-drinking Martian stows away on an earth-bound spaceship, in the B movie blueprint for ALIEN. Approx. 69 min. 35mm.
ALIEN :: Thursday, August 15 & Monday, August 19
(1979, Ridley Scott) The motley crew of a garbage scow cum space cruiser, out on yet another dirty mop-up mission, find themselves struggling with a lower life-form monster for bottom rung on the ladder. Sigourney Weaver stars as Ripley, veteran of more subtle battles. With Yaphet Kotto, Harry Dean Stanton. Approx. 117. DCP restoration.
GODZILLA :: Friday, August 16
(1954, Ishiro Honda) H-Bomb tests unleash Japan's most iconic Jurassic-era monster, in the uncut, undubbed, uncensored original – with an extra 40 minutes deleted from the "Raymond Burr" version. English subtitles. Approx. 96 min. 35mm.

MOTHRA :: Friday, August 16 & Thursday, August 29
(1961, Ishiro Honda) When two identical six-inch twin princesses, guardians of a mysterious giant egg, are kidnapped and forced to sing at a Japanese nightclub, the egg's larva transforms into a really pissed-off giant moth. Approx. 88 min. DCP restoration. English subtitles.

PSYCHO :: Saturday, August 17
(1960, Alfred Hitchcock) "Mother's not quite herself today." Embezzler Janet Leigh heads South of the Border, stopping for a little rest and shower at taxidermy buff Anthony Perkins' Bates Motel, where guests check in, but… Approx. 109 min. Restored DCP.

PEEPING TOM :: Saturday, August 17
(1960, Michael Powell) The bodies pile up as camera assistant Carl Boehm moonlights as "private" photographer of scantily clad women, while working on his own "documentary" with the world's most lethal tripod.  Approx. 101 min. 35mm.

THE MAD MAGICIAN 3-D :: Sunday, August 18
(1954, John Brahm) Double-crossed by his manager and dumped by wife Eva Gabor, illusionist Vincent Price seeks revenge, in low-rent HOUSE OF WAX. Plus 3-D short SPOOKS (1953):  Moe, Larry, Shemp and a whole arsenal of objects comin' at ya. Approx. 87 min. DCP.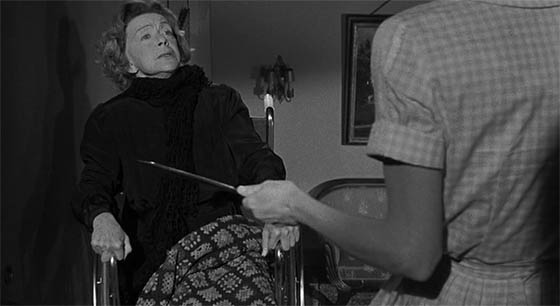 HOMICIDAL :: Sunday, August 18
(1961, William Castle) Two "Miriam Websters," a $10 mill inheritance, a strychnine prescription, and… what's with that guy Warren? Castle's quick cash-in on PSYCHO actually made TIME'sTen Best List! Will you hold out after the FRIGHT BREAK – or will you grovel in our COWARD'S CORNER? Approx. 87 min. 35mm.


ALIENS :: Monday, August 19
(1986, James Cameron) Cameron's rich multi-layered camera pyrotechnics shape the funhouse proceedings into a bang-up manual for proletarian survival. With Sigourney Weaver. Approx. 137 min. DCP restoration approved by director James Cameron.
EARTH VS. FLYING SAUCERS :: Tuesday, August 20
(1956, Fred F. Sears) Silvery saucers bisect the Washington Monument and slice off the Capitol dome, as lines of stunning banality fly. Harryhausen's UFOs inspired Tim Burton's in MARS ATTACKS!. Approx 83 min. DCP.

FIRST MEN IN THE MOON :: Tuesday, August 20
(1964, Nathan Juran) Lionel Jeffries' classically bumbling scientist sets the tone of this semi-spoof rendition of H.G. Wells' classic. Harryhausen's only film in Dynarama, the Scope version of his Dynamation. Approx. 103 min. 35mm.

PLAN 9 FROM OUTER SPACE :: Tuesday, August 20 & Wednesday, August 28
(1959, Edward D. Wood, Jr.) Bela Lugosi, Vampira, Tor Johnson, a chiropractor in a cloak, washed-up cowboy actors, movie-crazy Baptists and The Amazing Criswell star in this tale of earth's invasion by flying hubcaps and paper plates. Approx. 79 min. 35mm. NEW 35mm PRINT!

I WAS A TEENAGE WEREWOLF :: Wednesday, August 21
(1957, Gene Fowler Jr.) Michael (Little Joe) Landon's hairy performance as the teen with the duck tail gone wild, direction by Fritz Lang disciple Fowler, and camerawork by cinematographic wizard Joseph (LAURA) LaShelle:  Approx. 76 min. 35mm.

IT CONQUERED THE WORLD :: Wednesday, August 21
(1956, Roger Corman) Seminal early Corman, as scientists Peter Graves and Lee Van Cleef battle a cone-shaped alien invader with a Body-Snatchers-style plan of conquest. Approx. 68 min. 35mm.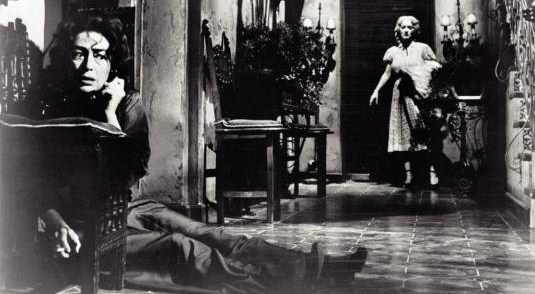 WHAT EVER HAPPENED TO BABY JANE? :: Thursday, August 22
(1962, Robert Aldrich) Grotesque ex-child star Bette Davis fills those empty hours by tormenting wheelchair-bound ex-screen idol sibling Joan Crawford. "They really detested each other," remarked Aldrich. Even more so when Bette was Oscar-nominated and Joan wasn't!  Approx. 134 min. DCP restoration.
STRAIT-JACKET :: Thursday, August 22
(1964, William Castle) "WARNING: Strait-Jacket vividly depicts axe murders!" When heads start rolling anew, who's the obvious suspect but Joan Crawford back from a 20-year asylum stint after hacking up her cheatin' hubby? Scripted byPSYCHO author Robert Bloch. Approx. 93 min. 35mm.

INVASION OF THE BODY SNATCHERS (1956) :: Friday, August 23
(1956, Don Siegel) Small town doctor Kevin McCarthy finds his waiting room is packed with people whose relatives and friends "are no longer their relatives and friends." Mass hysteria? So what's that giant pod doing on the billiard table? Approx. 80 min. 35mm.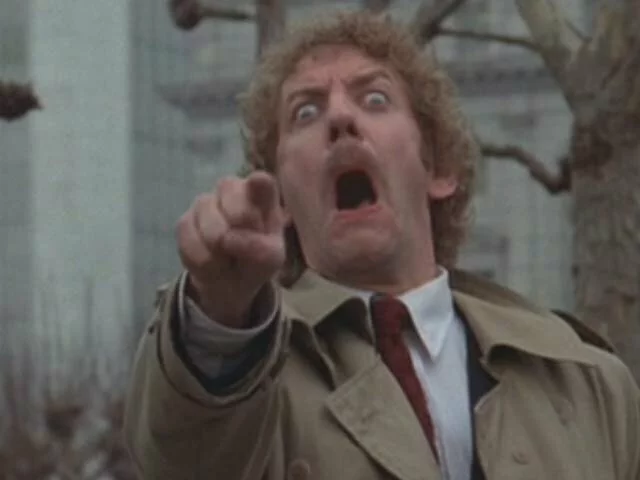 INVASION OF THE BODY SNATCHERS (1978) :: Friday, August 23
(1978, Philip Kaufman) Health department colleagues Donald Sutherland and Brooke Adams find pink flowers turning into giant pods into …  But wait a minute, is Leonard Nimoy's Dr. Kibner one of "them"? Approx. 95 min. 35mm.
BODY SNATCHERS :: Friday, August 23
(1993, Abel Ferrara) Gabrielle Anwar rides along with her EPA dad to check on possible toxic effects from an Alabama military base. But what if stepmom Meg Tilly is suddenly no longer her mom?  From the director of THE BAD LIEUTENANT. Approx. 87 min. 35mm.
THE FEARLESS VAMPIRE KILLERS :: Saturday, August 24
(1967, Roman Polanski) "Oy vey, have you got the wrong vampire," chortles Jewish bloodsucker Alfie Bass, shouldering aside an upheld crucifix, even as doddering professor Jack MacGowran and his bumbling assistant (Polanski, unbilled) take on befanged Count Ferdy Mayne in hilarious/chilling parody [?], butchered on first US release. Approx. 91 min. DCP.
THE ABOMINABLE DR. PHIBES :: Saturday, August 24
(1971, Robert Fuest) The dark side of health reform, as Vincent Price systematically disposes of the nine-man surgical team that botched his wife's operation. Art deco sets and a baroque sense of kitsch highlight Price's most stylish romp. Approx. 94 min. 35mm.
BLACULA :: Saturday, August 24
(1972, William Crain) 200 years after Count Dracula turns him into Blaaaaacula, African prince William Marshall hits the mean streets of L.A. Approx. 93 min. 35mm.

CREATURE FROM THE BLACK LAGOON :: Sunday, August 25
(1954, Jack Arnold) Searching the Amazon for clues to the "missing link," scientists encounter a "Gill Man" with a healthy fascination with Julie Adams and her tight white bathing suit. Pre-Jaws underwater terror, spectacularly filmed in 3-D. Approx. 79min. DCP. 
THE INCREDIBLE SHRINKING MAN :: Sunday, August 25
(1957, Jack Arnold) Businessman Grant Williams starts shrinking after a mist from a strange cloud settles on his arm, befriending a dwarf, being attacked by his cat, fending off a hungry spider, walking through a window screen, until… Approx. 81 min. DCP. 
TERMINATOR 2: JUDGMENT DAY :: Monday, August 26
(1991, James Cameron) "Hasta la vista, baby" Arnold's "back" – reprogrammed to protect Sarah Connor, and her soon-to-be leader of the Human Resistance son, John (Edward Furlong) from the liquid-metal T-1000, the evils of Skynet, and the impending nuclear Judgment Day. Approx. 137 min. 35mm.
THE UNKNOWN :: Monday, August 26
(1927, Tod Browning) Lon Chaney's "Alonzo the Armless Wonder" finds the perfect match in Joan Crawford's Estrellita, who "wishes God had taken the arms from all men."  Approx. 63 min. 35mm.  
THE BEAST FROM 20, 000 FATHOMS :: Tuesday, August 27
(1953, Eugene Lourié) When a gigantic Rhedosaurus – steamed after a defrosting by Polar A-Bomb tests – heads straight for Lower Manhattan, spewing plague from its wounds, Lee Van Cleef climbs a rollercoaster to get that one perfect shot.Approx. 80 min. 35mm. 
MYSTERIOUS ISLAND :: Tuesday, August 27
(1961, Cy Endfield) Union prisoners escaping from a Confederate stockade all the way to a Pacific isle are menaced by giant animals, pirates, and Herbert Lom's imperishable Captain Nemo, in a sequel to Verne's 20,000 Leagues Under the Sea. Approx. 101 min. DCP. 
SWAMP THING :: Tuesday, August 27
(1982, Wes Craven) "There is great beauty in the swamp—if you know where to look." Scientist Ray Wise becomes the half-man, half-vegetable Thing – thanks to his own formula, misused by power-crazed Louis Jourdan. But he's got Adrienne Barbeau on his side. Approx. 91 min. 35mm.
THINGS TO COME :: Wednesday, August 28 & Monday, September 2
(1936, William Cameron Menzies) H.G. Wells' astounding forecast of mankind's fall and rise, from a second Great War through the decline of civilization, through the phoenix-like birth of a brave new technology in the year 2036. Approx. 100 min. DCP.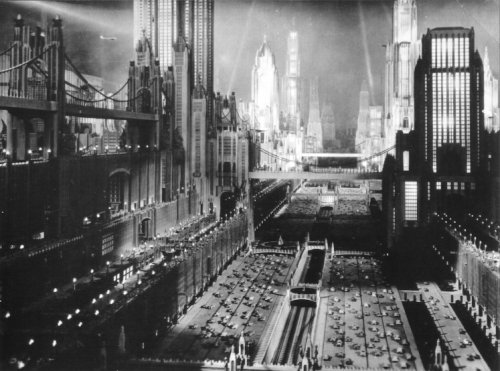 JUST IMAGINE :: Wednesday, August 28
(1930, David Butler) High Deco Manhattan in far-off 1980, when numbers replace names, commuters get stuck in aerial jams, and babies pop out of vending machines. Approx. 113 min. 35mm. 
THE FLY (1986) :: Thursday, August 29
(1986, David Cronenberg) Body parts (human) start dropping off Jeff Goldblum after his transportation of matter experiment actually works — but with a surprise guest — even as romantic comedy with Geena Davis morphs into horror and even tragedy, in Cronenberg's biggest success. Approx. 96 min. 35mm. 
THE FLY (1958) :: Thursday, August 29
(1958, Kurt Neumann) So why did Patricia Owens crush hubbie David Hedison's head and arm?  Could it be he was turning into a…? Brother Vincent Price and Inspector Herbert Marshall clean up the mess. Approx. 94 min. DCP.
ROSEMARY'S BABY :: Friday, August 30
(1968, Roman Polanski) Despite their fab new CPW apartment, Mia Farrow's career-obsessed actor husband John Cassavetes is still looking for that big break. Then Farrow gets in the family way after an evening of wild love-making – but wait… was that hubby, or some sort of horned beast? Approx. 136 min. DCP. 
DEMON SEED :: Friday, August 30
(1977, Donald Cammell) "When will I be let out of this box!" imperiously demands Developer Fritz Weaver's artificial intelligence program "Proteus;" even worse, after taking over Weaver's computerized home, Proteus decides he must have a child by Weaver's wife Julie Christie.  From the director of PERFORMANCE. Approx. 94 min. 35mm.
STARSHIP TROOPERS :: Saturday, August 31
(1997, Paul Verhoeven) Casper Van Dien's military career progresses from recruit to officer as mankind stages "bug hunts" through space as it battles the "Arachnids".  Fill out recruiting cards in the lobby. "War makes fascists of us all"—Verhoeven. Approx. 129 min. DCP. 
TOTAL RECALL :: Saturday, August 31
(1990, Paul Verhoeven) "Consider that a divorce." Working stiff Arnold Schwarzenegger's dreams of a vacation on Mars come true courtesy of virtual memory implant specialists "Rekall" – and what could possibly go wrong? Adapted from sci-fi titan Philip K. Dick's "We Can Remember It For You Wholesale." Approx. 113 min. DCP. 
THE HOWLING :: Saturday, August 31
(1981, Joe Dante) After a hair-raising sting operation to catch a serial killer, news anchor Dee Wallace is sent to a resort to chill out—big mistake! Did anybody mention werewolves? Approx. 91 min. 35mm.
QUATERMASS & THE PIT :: Sunday, September 1
(1967, Roy Ward Baker) Remains of ancient insect-like aliens are found during excavations beneath the London underground – could their dawn-of-time experiments have resulted in the birth of man? 2001 premiered a year later. Approx. 97 min. 35mm. 
VILLAGE OF THE DAMNED :: Sunday, September 1
(1960, Wolf Rilla) After a brief bout of unconsciousness for every living thing around the village of Midwich, pregnancies proliferate, with all the births coming on the same day – of children with frightening extra-sensory powers. And then the deaths begin. Can professor George Sanders intervene? Approx. 77 min. 35mm.
2001: A SPACE ODYSSEY :: Monday, September 2
(1968, Stanley Kubrick) Three million years ago, a mysteriously appearing black monolith gives those apes some new ideas; and then Kubrick cuts from an upthrown bone to a spaceship: it's 2001 and that darn monolith is back! A multiple breakthrough: in its special effects, in the teaming of a world-class director and a science fiction visionary on normally B-picture material; the eschewing of traditional narrative structure; and the tone of mystical transcendence. Approx. 141 min. DCP.
METROPOLIS :: Monday, September 2
(1926, Fritz Lang) In the city of the future, while the rich live well above, the workers below are a bad #2 to the machines; but industrialist scion Gustaf Froelich tries to bridge the gap — only trouble, which Brigitte Helm is his girl, and which is a robot?Approx. 153 min. DCP.
IT CAME FROM BENEATH THE SEA :: Tuesday, September 3
(1955, Robert Gordon) Another one of those darned H-bombs rouses a giant octopus from the Deep to give San Francisco the works. Approx. 79 min. DCP. 
20 MILLION MILES TO EARTH :: Tuesday, September 3
(1957, Nathan Juran) The sole survivor of the first manned spaceship to Venus' crash-landing off the coast of Italy is a tiny reptile – but it doesn't stay tiny for long. Featuring a monster vs. elephant battle in the shadow of the Coliseum. Approx. 82 min. DCP.
DEAD RINGERS :: Tuesday, September 3
(1988, David Cronenberg) Swinging twin gynecologists Jeremy Irons and Jeremy Irons – in tour de force dual performance – take turns seducing patients; but one starts to care for Genevieve Bujold.  But which one?Approx. 116 min. 35mm.
THE DAY THE EARTH STOOD STILL :: Wednesday, September 4
(1951, Robert Wise) "Klaatu barada niktu!" Reeling from an ill-advised fusillade after his saucer lands in the nation's Capitol, alien Michael Rennie gives that famous order to his killer robot Gort. Mega-classic with eerie Bernard Herrmann theremin score. Approx. 92 min. DCP. 
WAR OF THE WORLDS :: Wednesday, September 4
(1953, Byron Haskin) Martians wreak havoc on a defenseless world in George Pal's grand-scale updating of the H.G. Wells novel. Approx 85 min. 35mm.  
MULHOLLAND DR. :: Wednesday, September 4
(2001, David Lynch) Surrealist vignettes blur into Neo-Noir, as aspiring actress/jitterbugging leading lady Naomi Watts dances on a fine line between dreams, alternate realities and multiple identities, in Lynch's "poisonous valentine to Hollywood" (J. Hoberman). Approx. 147 min. 35mm.
CAT PEOPLE :: Thursday, September 5
(1942, Jacques Tourneur) Balkan-descended fashionista Simone Simon fears a panther metamorphosis if her passions are aroused. Memorably subtle horror sequences include a stalking at an indoor pool and the arrival of an NYC bus! Approx. 73 min. 35mm. 
CURSE OF THE DEMON :: Thursday, September 5
(1958, Jacques Tourneur) "It's in the trees!" Val Lewton grad Tourneur transforms mundane settings into arenas of evil, as American shrink Dana Andrews runs afoul of a mad magician who conjures up a demon from hell.  Approx. 95 min. DCP.
ESCAPE FROM NEW YORK :: Thursday, September 5
(1981, John Carpenter) Manhattan turns Alcatraz, and when a hijacked Air Force One crashes on the island prison, Kurt Russell's eye-patched outlaw Snake Plissken only has 24 hours to rescue the stranded President (Donald Pleasance) from his criminal captors. But what if time runs out?  Approx. 99 min. DCP.
So there it is!  I'll surely be weighing in throughout the month with reminders and reviews of some of the featured films.  If you'd like to read what I've already had to say about some of them, here are a couple links:
CREATURE FROM THE BLACK LAGOON
And now I'm done, I promise.
For now…
Latest posts by Jon Abrams
(see all)
---
Tags: Adrienne Barbeau, Alfred Hitchcock, Dick Miller, Don Siegel, Ed Wood, Ernest Borgnine, GODZILLA, Howard Hawks, Jack Arnold, joe dante, john carpenter, Robots