We're back! Welcome to Daily Grindhouse's sort-of weekly listing of all that's new and available to purchase on Blu-Ray and DVD. Everything you see featured here is available as of today. If you're inclined to buy anything you see here, you can get to the Amazon listing by clicking through the cover icons. (It helps us, your dear friends at Daily Grindhouse, if you do that, so please do it if you can!)
AFTER THE SUNSET (2004)
It's a trifle at best, but I like this movie more than I like any of its director's other movies. Music by Lalo Schifrin and pictures by Dante Spinotti (HEAT, MANHUNTER) will do that. Also I'm a big fan of Naomie Harris (28 DAYS LATER, MIAMI VICE).
BREATHLESS (1983)
It's a remake of the more renowned 1960 Godard film and a huge favorite of Tarantino's. Not officially a Marvel movie.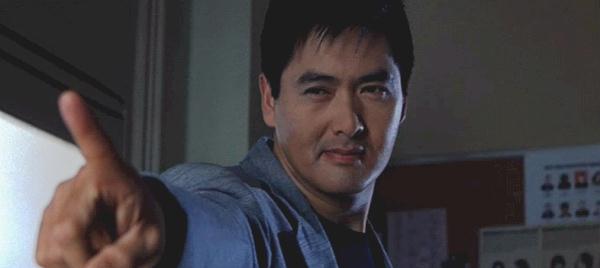 THE CORRUPTOR (1999)
What do you think these two talked about in between takes?
DETROIT ROCK CITY (1999)
Seen it. Not my scene, man.

EMPIRE RECORDS (1995)
Seen it. Not my scene, man.

FOR THE BOYS (1991)
Explore more of James Caan's thoughts about fellow celebrities in his upcoming memoir, Caan Descending.
HOME SWEET HELL (2015)
Our friend Mike McGranaghan reviewed this one over on his own site.
HOOPER (1978)
Can't hardly go wrong with Burt in the seventies.
IMITATION OF LIFE (1934 & 1959)
Only seen the 1959 version, but it's a doozy. Bet it'd be fascinating to watch the two side-by-side.
THE IMMIGRANT (2013)
One of the best and most unfairly buried movies of last year. A great New York movie. A must-see.
INVADERS FROM MARS (1986)
The fuck?
JOURNEY TO THE FAR SIDE OF THE SUN (1969)
KILLERS (2014)
MANHATTAN: SEASON ONE (TV)
MASSACRE GUN (1967)
Great title.
Great tit– le.
PLANET DINOSAUR 3D (2012)
Great Tyrannosaurus.
*** PICK OF THE WEEK !!! ***
SHARKY'S MACHINE (1981)
Burt was never going to be the director his longtime buddy Clint became, because his concerns were arguably less serious. Clint's an artist and a maverick, Burt is a maverick and an entertainer. Clint started directing early on and quickly settled into a steady, reliable pace as a filmmaker. Burt put out a few comedies and action movies — with incredible stock companies of actors and friends — but, history has shown, he didn't go the distance as a filmmaker. That doesn't mean the movies he did make aren't worth seeing. One of these days, I swear, I'm gonna write a piece on Burt Reynolds as auteur. That won't be today, but I will tell you to see SHARKY'S MACHINE, which is pure undistilled Burt, raunchy, horny, borderline sleazy. There are beautiful broads (Rachel Ward from AGAINST ALL ODDS) and hissable heavies (Henry Silva, the most under-heralded wackadoo actor maybe ever). But it's not nearly as rollicking and insouciant as the freewheeling action comedies that made Burt the king of the box office throughout the 1970s. It's more of a comedown after a high. It's like when BOOGIE NIGHTS goes black with the '80s. A different animal. A harshed mellow. It isn't great, but it's great.
A remake is being threatened but they'll fuck it up for sure.
SILENT RUNNING (1972)
One easy way to describe this movie to young'uns is that it's Mystery Science Theater 3000, only Bruce Dern is the one who is hanging out with robots. And really, that's the best way to describe any movie.
You may also remember it as the inspiration for this semi-forgotten soft-rock hit of the 1980s:
SINGLES (1992)
That is a young Tim Burton, who does not have a large role in this movie.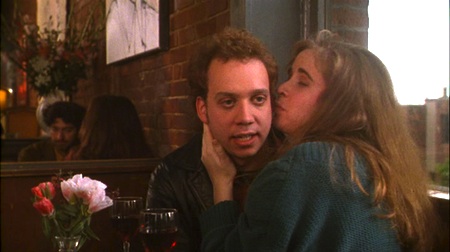 Neither does a young Paul Giamatti, who I didn't know until yesterday was in this movie!
THUNDER ROAD (1958)
Yeah, that's where Bruce got the idea for the song. As SILENT RUNNING was to Mike + The Mechanics, so too was THUNDER ROAD to Bruce Springsteen. Analogies like these are why my SAT reading comprehension scores were so low. Anyway, this is a passion project of Robert Mitchum, who plays a Southern moonshine runner here. One wonders, to bring things full circle, if this film could have influenced a young Burt Reynolds.
And now, let's close this week's column with some animal stuff.
TINY GIANTS 3D (2014)
THE VOICES (2014)
Latest posts by Jon Abrams
(see all)
---
Tags: Blu-ray, dvd, New Releases For The Week, The Wire