Welcome back to Daily Grindhouse's weekly listing of all that's new and available to purchase today on Blu-Ray and DVD. This is last week's list. I'm still in catch-up mode. There's another column coming along right behind this one, so let's get right down to business.
AVENGING FORCE (1986)
Sam Firstenberg may not be a household name, even in genre-film-fan houses, but you know his movies. REVENGE OF THE NINJA. NINJA III: THE DOMINATION. AMERICAN NINJA. BREAKIN' 2: ELECTRIC BOOGALOO. This movie, AVENGING FORCE, reteamed Firstenberg with his three-syllable-surnamed star from AMERICAN NINJA, Michael Dudikoff. As far as I can tell Dudikoff is a frequent punchline to fans of these kinds of movies, mostly because he made these kinds of movies but maybe also because, you know, "doody." But look at him high-kicking that bald goon in the freeze-frame up there! Dudikoff can bring it! Maybe it's time for a re-evaluation. AVENGING FORCE is also interesting because it's technically a sequel to INVASION U.S.A., despite having neither a title nor a star in common. Here Dudikoff takes over the role originally inhabited Chuck Norris ("inhabited" being a pretty generous verb indicating what Chuck Norris brings to the table), and better yet, he brings with him a sidekick played by the way-underrated Steve James, best known as Kung Fu Joe from I'M GONNA GIT YOU SUCKA, though that really only begins to cover it.
BUFFALO BILL AND THE INDIANS (1976)
I like this poster because it reminds me of Paul Newman's food products. But seriously, folks, 2014 has been a goldmine if you've been hoping to receive Robert Altman's filmography on Blu-Ray, and this is but the latest example. It's not the most well-known of Altman's many contributions to American cinema during the 1970s, but this one sports a high-comedy lead performance from Paul Newman and pairs him with an estimable supporting cast including Geraldine Chaplin, Burt Lancaster, Kevin McCarthy, Joel Gray, Harvey Keitel, Will Sampson, Pat McCormick, and Shelley Duvall.
CALVARY (2014)
John Michael McDonagh previously gave to us Brendan Gleeson's glorious lead performance in THE GUARD, one of my top three movies of that year. For that reason, CALVARY was one of my most awaited movies of this year. It reteams McDonagh with Gleeson, but this is a very different story with a very different lead character. In CALVARY, Gleeson plays a small-town Irish priest whose life is threatened during confession by an unknown townsperson. He's told he will be killed, to make a cosmic point, on the following Sunday. The body of the film is Father James conducting his life as if this particular sword isn't dangling overhead, but also as if it is. It's not too much more than a series of conversations between a dazzlingly brilliant character actor and a cast made up of some unknowns and other familiar faces, but in that, it manages to be about everything. Faith, family, vengeance, violence, revenge, regret, love, loss, and about a hundred more of the nouns that make the world go 'round. Half a year later I'm still digesting all the thoughts CALVARY stirred up in my mind. I'm not sure if I'll resolve my feelings in time for this film to make a showing on my year-end top-ten, but I'm also not sure it matters. This much is certain: CALVARY marks a highlight in a career of high points for Brendan Gleeson, one of my very favorite actors, and also cinematographer Larry Smith makes the coasts of Ireland look as gorgeous, ominous, and forbidding as he did the nightlife of Thailand in ONLY GOD FORGIVES (which, for the record, did make my year-end top-ten last year.)
DEAD SNOW 2: RED VS. DEAD (2014)
Still haven't seen the first one. People keep telling me to do it. I still haven't. People know I love zombie movies and I love seeing Nazis getting killed so they assume I'll love a movie with Nazi zombies. But I've been reticent. I think it's because it's no fun for me to watch Nazis getting killed if they're already dead. Certainly I am very much for the eradication and elimination of each and every Nazi everywhere. But killing Nazi zombies is really just janitorial, like picking up dogshit. Killing live ones, that's where the action is. (More on that delightful little theory here.)
THE FORTUNE (1975)
The recently-departed Mike Nichols directed this film, which was underwhelmingly received at the time but looks nothing but compelling to me now. Jack Nicholson and Warren Beatty play schemers looking to cheat an heiress played by Stockard Channing, in a script by Carole Eastman (THE SHOOTING, FIVE EASY PIECES). The photography was captured by the great John Alonzo (VANISHING POINT, CHINATOWN, THE BAD NEWS BEARS, SCARFACE). It's not often that many talented people get together for a movie that turns out to be an entire waste of time. Then again, there's always BIRDMAN.
FRANK (2014)
This is the one where Michael Fassbender wears a big paper-mache mask over his head for the entire movie, in other words, Daily Grindhouse contributor Doug Tilley's least favorite movie of the year. To me it seems impractical to carry on a career as a musician and bandleader while wearing a gigantic mascot head like that, but I'm speaking from the perspective of somebody who's worked while wearing a gigantic mascot head. I've heard nice things about this movie though. Should I make it a higher priority?
FUNNY LADY (1975)
Personally I can't see James Caan putting up with Barbra Streisand's shit for more than, say, seven minutes tops. Is that what this movie is about?
GUARDIANS OF THE GALAXY (2014)
All of my thoughts about GUARDIANS OF THE GALAXY center around its surface-level and subterranean similarities to BOOGIE NIGHTS. Some of the parallels are obvious, such as the fact that John C. Reilly appears in both movies, and the existence of GUARDIANS' "Awesome Mix Volume 1."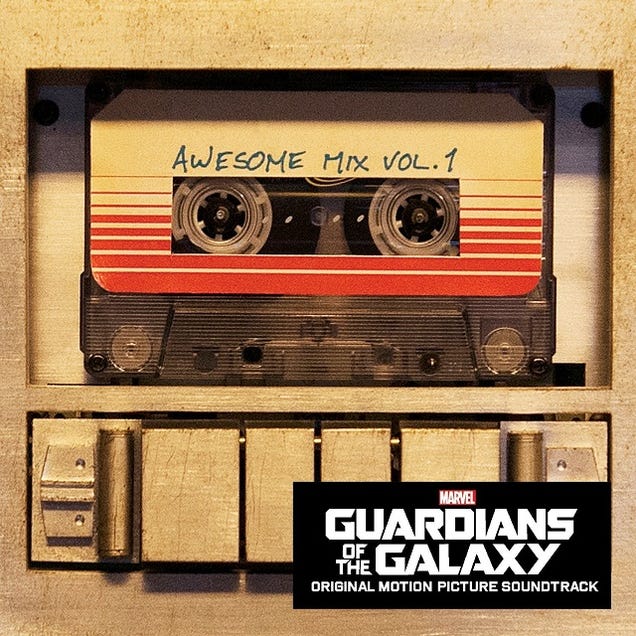 There's also, and this is a line of thought for a much longer essay, the idea that GUARDIANS OF THE GALAXY is a movie dead set on delivering. This movie makes it a duty to please that booty. Its eagerness to please is insatiable — this movie is determined to put a smile on your face. It starts with a Lifetime tear-jerker of a scene and spends the entire rest of its running time dedicated to cheering you up. I guess that makes it kinfolk to THE LEGO MOVIE as much as BOOGIE NIGHTS, but GUARDIANS is weirder, trippier, and vaguely hornier. You've got to give it up to any kids' movie that makes room for something as perverse as Benicio Del Toro as he appears in this movie, let alone that a major role is carried out by the amiably deranged Michael Rooker (HENRY: PORTRAIT OF A SERIAL KILLER). Director James Gunn is a noted proud aficionado so it's not like it's a surprise that the movie ends in explosions. It's only surprising he got the job in the first place. Amazing and pretty inspiring to see such a creative gamble pay off. This is the film they'll remember him by.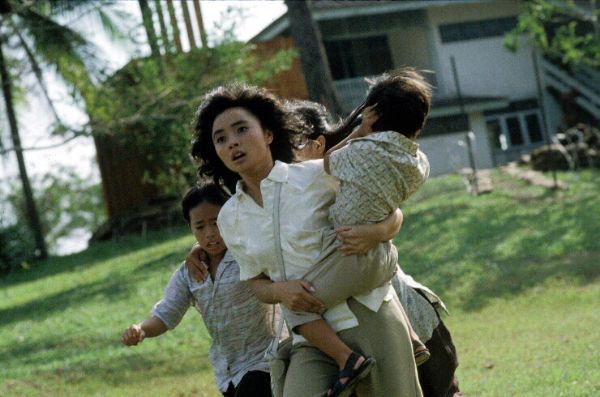 HEAVEN & EARTH (1993)
HEAVEN & EARTH is the third of Oliver Stone's Vietnam films, after PLATOON and BORN ON THE FOURTH OF JULY. It isn't as frequently mentioned as its more well-known predecessors. Hell, it's the one I myself haven't seen. I wonder why that is. Maybe it's because it's more about the aftermath, less about the fireworks. Tommy Lee Jones plays an American soldier who marries a Vietnamese woman he met in country, and from what I can tell the bulk of the film is about their return to America. I've always been interested in seeing this film — I was too young for it when it first came out, and it's been tougher to see than most ever since. Twilight Time is releasing a limited-edition Blu-Ray, a fine occasion to revisit the film, or to get there for the first time.
INHERIT THE WIND (1960)
Everybody else saw this back in school, right? Pictured above is my favorite scene, the suspender-off.
I ORIGINS (2014)
Not a sequel to I FRANKENSTEIN. Maybe an Apple product. Not quite sure.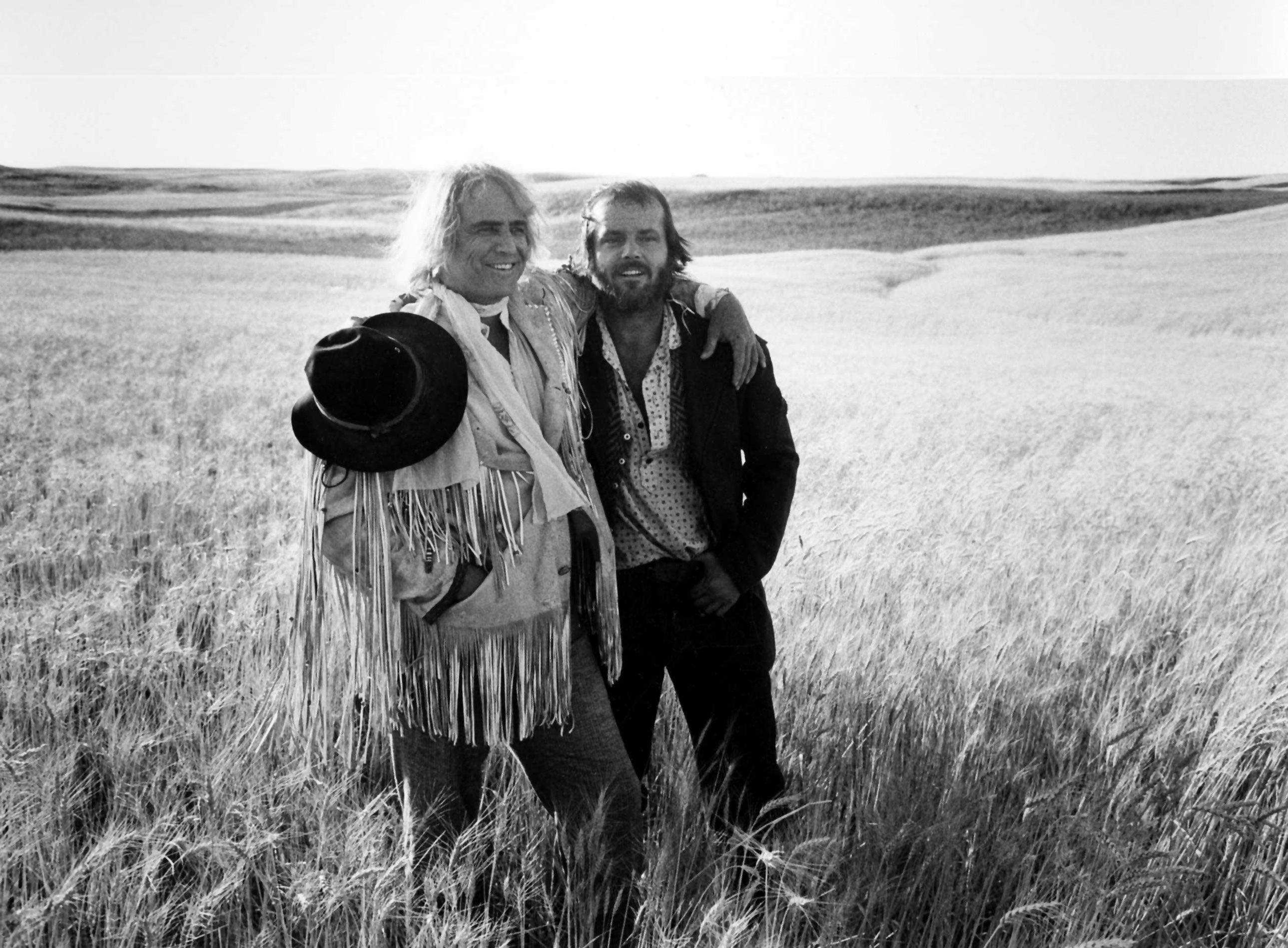 THE MISSOURI BREAKS (1976)
Seems to me like a movie pairing those two guys is one we all ought to be a lot more familiar with, doesn't it? At the time, THE MISSOURI BREAKS took a big dive. But it can't be that bad, can it? BONNIE AND CLYDE director Arthur Penn made this one a year after he made NIGHT MOVES, one of the great and way-under-recognized-great movies of the 1970s. Nobody loses that much mojo within a single year, outside of maybe Alex Rodriguez. I haven't seen THE MISSOURI BREAKS but now that it's out in a new edition, I intend to.
THE NIGHT PORTER (1974)
The first of three big Criterion releases this week, THE NIGHT PORTER is the most controversial of them by far, with the legendary Charlotte Rampling as a Holocaust survivor who engages in S&M with a former Nazi officer played by Dirk Bogarde. On an intellectual level I can understand how this scenario could be compelling in a sociopolitical sense, but only being two generations away from this era and having grown up under stories of relatives who survived (barely), this is subject matter I don't play around with often, be it in a highly-regarded art film or otherwise.

THE PRIME OF MISS JEAN BRODIE (1969)
Did you know that Dame Maggie Smith was young once? Here's proof!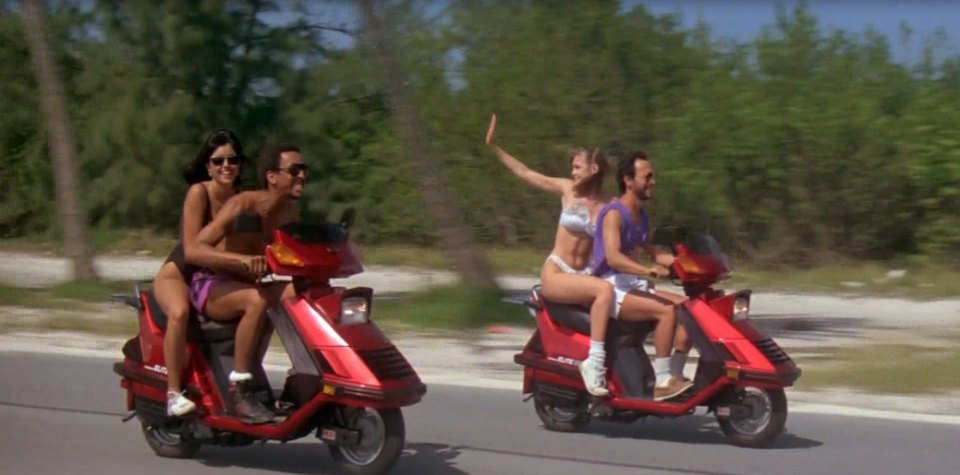 RUNNING SCARED (1986)
There are four films with this title. This is the one that probably already has got "Sweet Freedom" going in your head. RUNNING SCARED was directed by under-appreciated action filmmaker Peter Hyams, and I fuck with Peter Hyams. I don't fuck with Billy Crystal, though, so believe it or not, I've never seen this movie, even though B&W buddy pictures like HICKEY & BOGGS and 48 HRS. are normally my jam. I do like Gregory Hines though, so maybe he can bring me around.
SAFE (1995)
After Julianne Moore's work with Robert Altman in the early 1990s, this film she made with Todd Haynes is the first I remember really becoming aware of her, right before breaking my heart (and everyone else's) in BOOGIE NIGHTS and MAGNOLIA. Julianne Moore rocks so hard. SAFE, however, is not a film for everyone, no matter how canny it is. To me, it's a film to admire more than one to love, although I have to say I owe it another look, and a special Criterion edition, as always, is the ideal way to do that.
SLAUGHTER HOTEL (1971)
Fernando Di Leo is best known — if at all — for his incredible run of phenomenally entertaining and vicious crime films in the 1970s. But the Italian directors of the 1960s, 1970s, and 1980s very rarely confined themselves to one genre, and this is Di Leo's spin on the giallo carousel. I can't attest to it personally but having seen the glory of his poliziotteschi years, I aim to have the experience.
This is a well-received modern-day Italian giallo film which elicited one of the better reviews our humble site has published in 2014, from the talented Jason Coffman. Please read that one here. It made me want to see the movie, no higher praise than that, and now that it's on Blu-Ray, I can.
TESIS (1996)
TESIS is the feature debut of Alejandro Amenábar, the Spanish filmmaker who broke big with ABRE LOS OJOS, THE OTHERS, and THE SEA INSIDE, and who hasn't made quite as much noise since. In 2015 he'll be back with Emma Watson and the thriller REGRESSION, so fans can rejoice. In the meantime, catch up with this little-seen early effort.
*** PICK OF THE WEEK !!! ***

TIME BANDITS (1981)
TIME BANDITS is kind of the GUARDIANS OF THE GALAXY of its time. That's definitely not the craziest notion I've ever put forth. TIME BANDITS is a free-wheeling, knock-around joy-buzzer of a movie. Terry Gilliam's movies are gifts, and this is one of the giftiest. It's the kind of movie where you'll start smiling as soon as you scan through the names of the characters, and end up beaming by the time you see who plays them. When the movie starts, forget about it. You'll be a smile with legs, like one of those wind-up toys. Just jumping up and down and grinning.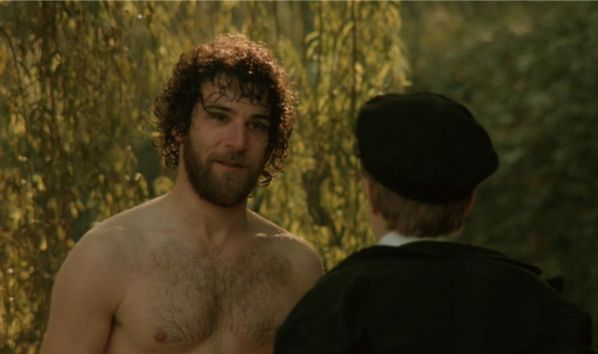 YENTL (1983)
Well I'd say that's just about all the young hot Mandy Patinkin action one website can handle, wouldn't you? Very Rogen-esque. Also, yikes. Time to call it a day.
See you back here soon for this week's new releases.
Latest posts by Jon Abrams
(see all)
---
Tags: Blu-ray, dvd, New Releases