Most people would argue that PULP FICTION is Quentin Tarantino's masterpiece. A lesser number would argue for this one.
Personally, I tend to favor JACKIE BROWN, largely because I love Pam Grier and Robert Forster so much and this movie is such a highlight amongst highlights for the both of them. It's interesting that almost everybody (a scientific measurement) favors either PULP FICTION or JACKIE BROWN — these are the only Tarantino-directed films where his recognizable and dominant authorial voice has ever been ameliorated by second writers.
PULP FICTION drew on material by Tarantino's one-time collaborator Roger Avary, while JACKIE BROWN is, of course based on a novel by Elmore Leonard. I'm not saying that's good or bad or necessary or even interesting — it just is what it is. But until DJANGO UNCHAINED, I never loved a Tarantino movie as much as I loved JACKIE BROWN.
JACKIE BROWN started from a great place (the book RUM PUNCH) and built from said greatness by stocking up entirely on maybe the greatest Tarantino-movie cast ever, with one of the greatest Tarantino-curated soundtracks. It looks and sounds pretty damn glorious.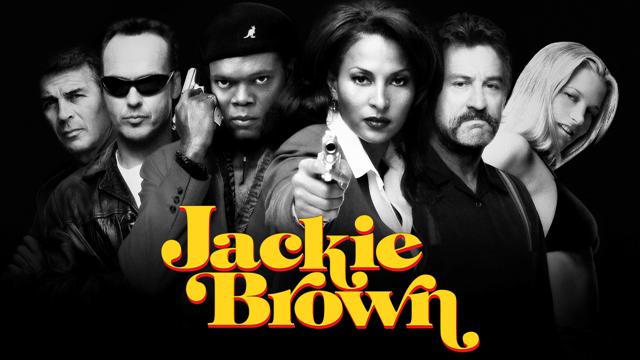 JACKIE BROWN is Quentin Tarantino's dual love letter to Pam Grier and to Elmore Leonard, who wrote the book and who influenced so much of Quentin's work. The Jackie character in the book is much different. Casting Pam Grier changes things. She brings that classic Pam Grier sex-bomb brilliance, but aged up with sophistication and world-weariness.
One of many things that's special about this movie is that Pam isn't asked to play a shit-kicking superhero — she's smarter and sexier than anyone else in the movie, but this time she's much closer to an actual person you could really meet in daily SoCal life. She gets to slow down and show her range. Her scenes with the great Robert Forster are intoxicating verbal dances between a couple of pros who have been around the block a few times onscreen.  Both actors are legit national treasures, and JACKIE BROWN gave them the showcase they deserve.
Pam hasn't made all that many movies since, and certainly none that made as much of a cultural impact, which is a shame for us. Hopefully that's because she chooses not to work as often, and that she's enjoying her off-screen life, because it would be a legitimate crime if no other A-list filmmaker has even attempted to utilize one of the greatest-ever. Stop depriving us, Hollywood.
JACKIE BROWN is playing today, Sunday, at 6pm and 9pm in Brooklyn as part of the cool-as-cash Sunshine Noir series. Check out this insane line-up!
Latest posts by Jon Abrams
(see all)
---
Tags: Books, Bridget Fonda, Chris Tucker, Elmore Leonard, Los Angeles, Michael Bowen, Michael Keaton, Movies, New York, pam grier, Quentin Tarantino, Robert De Niro, Samuel L. Jackson, Screenings, Sid Haig, Southern California, The Delfonics, Tommy "Tiny" Lister Jr.