Imagine sitting down in a movie theater today to watch a modern day comedy duo such as Seth Rogen and James Franco — sorry haters, best I could come up with at the moment — butt heads with such modern day ghouls as Jason Voorhees, Freddy Krueger or Michael Myers. Then imagine if this unlikely oddball mixture of comedy and horror actually worked, and you found yourself experiencing both fear and amusement as the film rolled before you. I'm guessing this is exactly the ride that hesitant audiences took when the horror-comedy classic ABBOTT AND COSTELLO MEET FRANKENSTEIN was released in 1948.
So how did this unique and wonderful film come to be made? How do you combine a comedy team from the world of burlesque with three of the most famous monsters to ever grace the silver screen? That's the question that writers Robert Lees, Frederic Rinaldo and John Grant were trying to figure out after Universal producer, Robert Arthur, approached them with the idea of pitting the studio's famous comedy team against their most popular beasties: Frankenstein's Monster, Dracula and The Wolf Man.
The blueprint the filmmakers came up with is simply brilliant. First, and most importantly, they left the comedy to the comedians, and the horror to the monsters. Watching Frankenstein's Monster take a pratfall, or hearing Dracula enter into one of Abbott & Costello's patter routines, would have helped derail this one real quick.
Secondly, they hired the actors who made the monsters famous in their original films to play the beasts for another go-around. Thus Lon Chaney Jr. continued his tortured journey as Lawrence Talbot, aka The Wolf Man, Bela Lugosi donned the cape once more to recreate Dracula and since Boris Karloff had long since retired from the role, Glenn Strange was secured to portray the Frankenstein Monster for the third time after having done so in HOUSE OF FRANKENSTEIN (1944) and HOUSE OF DRACULA (1945).
Thirdly, Charles Barton — Abbott and Costello's best director –was given the film to direct.
And fourthly, the burlesque routines that Abbott and Costello relied on so heavily for laughs in their films were for the most part eliminated and instead, fresh, original comedy set pieces were filmed, adding a freshness to the film that delighted audiences of the day.
With these ingredients in place, ABBOTT AND COSTELLO MEET FRANKENSTEIN was shot and released to very accepting audiences, becoming one of the biggest hits of 1948. Abbott and Costello's energy levels are high throughout the film and though Lou Costello amazingly hated the script, he delivers one of his funniest performances. Lou's scare takes in the flick are second to none, and he and Bud's timing is amazing as always.
Highlights to note include the team's moving candle routine (one of the few burlesque routines that made it into the film), a hilarious bit where Lou sits on the Monster's lap, and a wild chase finale in Dracula's castle.
Barton directs with a sure hand, and though the film was Universal's second cheapest production of the year, it has the look of an A-picture, due to Arthur's expertise as a producer. Also worth mentioning is Frank Skinner's wonderfully atmospheric score, re-used in many of the 'Abbott & Costello Meet' films that followed.
Today, the film is still loved by both monster and comedy fans alike. Many adults who grew up in the 1960s, 1970s, and 1980s watching old Abbott and Costello movies on television still cite the film as their introduction to horror films. Quentin Tarantino remembers the film as one of the first movies he remembers loving as a child, and how it taught him that horror and comedy can successfully overlap to create a wild film experience.
Ranked number 56 on American Film Institute's 100 Funniest Movies, ABBOTT AND COSTELLO MEET FRANKENSTEIN remains a timeless classic, and it gets my vote as the greatest horror-comedy of all time.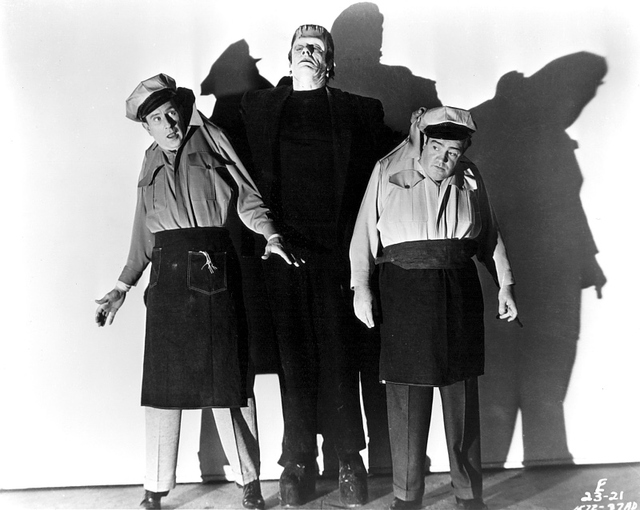 For more on ABBOTT AND COTELLO MEET FRANKENSTEIN, click here for my interview with Lou Costello's youngest daughter: Chris Costello!
Latest posts by Jon Abrams
(see all)
---
Tags: Bela Lugosi, Bud Abbott, comedy, Glenn Strange, Horror, lon chaney jr, Lou Costello, trailer trash