Day seven! The 14th New York Asian Film Festival is still charging ahead here in New York City, and we're still posting up the schedules every day — if not for you to attend the screenings as they happen, then at least to discover some cool new stuff to add on to your to-watch lists!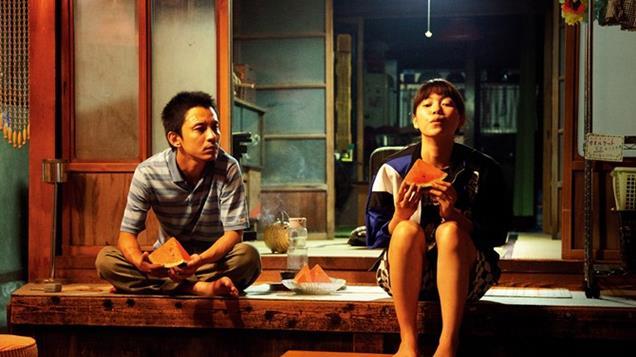 The NYAFF is being presented by Subway Cinema (visit them here), and all of today's  screenings are taking place at the Film Society Of Lincoln Center (find a more complete rundown here).
Here are today's screenings, with pictures & summaries courtesy of the festival:
6:00pm

KIKI SUGINO, 2014
JAPANESE WITH ENGLISH SUBTITLES | FORMAT: DCP | 97 MINUTES
North American Premiere
Along with his wife Yuri (Yoko Mitsuya Yoko), the dying Chihiro (Saito Takumi) arrives in Bali to visit his pregnant sister Kumi (Kiki Sugino) and her Dutch husband Luke (film critic Tom Mes) who live there. With long takes and a measured pace, the film allows the cast to really dive into their roles. Focusing on each couples inability to communicate, their own needs and desires driving them further and further apart, the film is content to let sadness and melancholy permeate through the beautiful scenic backgrounds. Erotic, existential, and rich in atmosphere Sugino continues to prove that she is an independent director to watch even with only three films under her belt.
Part of New Cinema From Japan. Presented with the support of Japan Foundation New York.
8:00pm
NOBUHIRO YAMASHITA, 2015
JAPAN | JAPANESE WITH ENGLISH SUBTITLES | FORMAT: DCP | 103 MINUTES
North American Premiere
Following LINDA LINDA LINDA, and TAMAKO IN MORATORIUM, director Yamashita helms a uniquely emotional "how-did-I-get-here?" movie about memory, identity, and the healing power of rock & pop music. Shibutani plays Shigeo who is beaten up to the point of memory loss following his release from prison. Discovering his singing skills (Shibutani is the lead singer of the popular Kanjani Eight), Kasumi (Fumi Nikaido, WHY DON'T YOU PLAY IN HELL?) takes him in and puts him to work cleaning the recording studios where they live and fronting the band she represents. As his memory begins to return he is caught between his dark past as a small-time  gangster, and the new life he has found. Tackling redemption, second chances and the power of music, this film is a romantic comedy that steers clear of stereotypes and allows the extremely human characters at the center of the film to reveal themselves slowly.
Part of New Cinema from Japan. Presented with the support of Japan Foundation New York.
Image Credit: © 2014 'Misono Universe' Film Partners
10:15pm
RUINED HEART: ANOTHER LOVE STORY BETWEEN A CRIMINAL AND A WHORE 
KHAVN (AKA KHAVN DE LA CRUZ), 2014
THE PHILIPPINES/GERMANY | FORMAT: DCP | 73 MINUTES
A nearly dialogue-free gangland visual tone poem, shot in just four days in the slums of Manila by master cinematographer Christopher Doyle, and directed by the king of Filipino digital filmmaking, Khavn de la Cruz (MONDOMANILA along with 47 other features, and over 100 shorts!). Starring Japan's indie icon Tadanobu Asano (ICHI THE KILLER) and one of Mexico's best new actresses Nathalia Acevedo (POST TENEBRAS LUX), RUINED HEART defies easy explanation. The basic plot is simple: Asano's gangster rescues Acevedo's whore and they go on the run. Along the way there is a Godfather (poet-playwright Vim Nadera) who is "the world's poem", dance parties, dream parades and carnivals, orgies, and murder. All of this is accompanied by wild visuals and an even wilder soundtrack. Acevedo's exuberant acting and eye popping costumes along with Asano's raw physicality (sequences where Asano runs through the back alleys holding the camera are some of the most striking in recent cinematic memory) create an emotional center to the film that gives the chaos a joyful tenderness that stays with the viewer long after the film is over.
Latest posts by Jon Abrams
(see all)
---
Tags: Asian Cinema, Christopher Doyle, Elena Kazan, Fumi Nikaido, Germany, japan, Katsumi Kawahara, Khavn De La Cruz, Kiki Sugino, Mexico, Nathalia Acevedo, New York, Nobuhiro Yamashita, NYAFF, Saito Takumi, Sarina Suzuki, Screenings, South Korea, Subaru Shibutani, Tadanobu Asano, Takumi Saitoh, The Philippines, Tom Mes, Vim Nadera, Yoko Mitsuya