Today we have a searing kamikaze comic attack on the Korean film industry, a controversial blockbuster about kamikaze pilots during the Great War, and a movie with an astonishingly great title, one which all movies from here on out will have to work over-time to top. See if you can guess which is which.
The NYAFF is being presented by Subway Cinema (visit them here), and almost all of the screenings are taking place at the Film Society Of Lincoln Center (find a more complete rundown here).
THURSDAY
3:30pm 
ROUGH PLAY (2013) 
Rough. Raw. Real. The Kim Ki-duk school of filmmaking has given us several great projects produced and written by Kim and directed by young filmmakers: POONGSAN, BEDEVILLED, and now we have ROUGH CUT's spiritual successor in ROUGH PLAY. The film opens with crazed actor Oh Yeong (K-Pop idol Lee Joon playing totally against type) dragging a mannequin up the stairs of a department store and spouting some rather menacing dialogue. Intercut with this is a stage performance from early in his career where Oh takes his performance a bit too far and threatens the actress he's doing a scene with. The rest of the film expands outward from these two moments and shows Oh's rise and violent fall under the influence of mobbish manager Kim Jang-ho (Seo Bum-suk). Lee Joon is absolutely captivating in a performance that is all about the destruction that narcissism and rampant ego can bring. He lets it all hang out and embodies Oh's (literally) insane dedication to his craft. A darker than dark take on the Korean film industry, ROUGH PLAY rails against the apathy of a business wholly concerned with appearance and that gives no long-term thought to the future.
Director Shin Yeon-shick will attend the screening: A Q&A will follow.
Presented with the support of the Korea Society.
6:00pm 
FUKU-CHAN OF FUKUFUKU FLATS (2014)
An irresistibly quirky comedy about love, losers, loners, and life in a run-down apartment complex called FukuFuku Flats, FUKU-CHAN offers laughs aplenty, sweet and bitter, in the expert hands of helmer Yosuke Fujita (FINE, TOTALLY FINE, winner of the 2008 Audience Award at NYAFF) and his lead actress, comedienne Miyuki Oshima (GU GU THE CAT, THE HANDSOME SUIT, and MISS KUROSAWA, also well known for her comic impersonations of old men), who's cast here in the improbable role of a Japanese everyman (sort of) rich in friends and poor in romance. Tatsuo Fukuda (Oshima)—or Fuku-chan, as his many buddies have affectionately nicknamed him—lives a modest happy-go-lucky existence running a team of painters/decorators. Walking through life with an all-around positive attitude, he is surrounded by friends during and after work hours. Despite this charmed existence and his kind-hearted nature, Fuku-chan has no luck with women, in whose company he feels almost pathologically awkward. One day, aspiring photographer Chiho Sugiura (Asami Mizukawa) comes back into his life and accursed memories of a nasty high-school prank flood back, reminding him of the trauma that forever destroyed his male mojo and ambitions to get cozy with the fairer sex. Although many things have changed, can they still be friends? Is it possible that they could be more? A film with a heart as big as its lead actress' smile, it's not to be missed, especially for fans of FINE, TOTALLY FINE.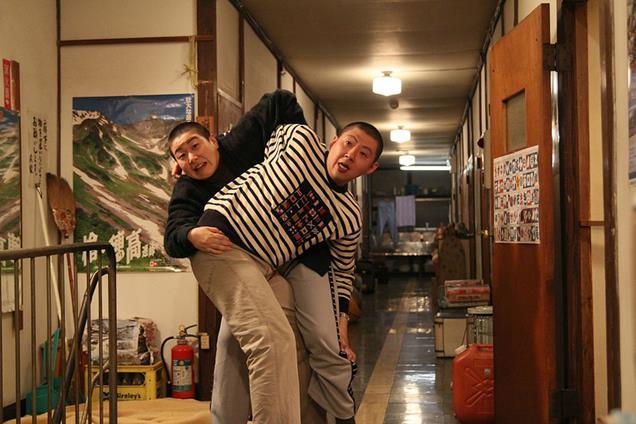 8:30pm 
THE ETERNAL ZERO (2013) 
Japan's biggest hit last year, and one of the 10 top-grossing Japanese films of all time,THE ETERNAL ZERO will no doubt provide the most extreme film experience of the NYAFF/Japan Cuts 2014 lineup. Infuriating in its ideological and political black holes as it is exhilarating in its superb visual artistry, particularly the grand cinematic spectacle of airborne combat that bookends the story, THE ETERNAL ZERO follows the quest of a young man investigating the life of his late grandfather, the reluctant kamikaze pilot Kyuzo Miyabe (Junichi Okada, in his best performance yet) during the Pacific War. The quest goes from ever-more-troubling revelations to shocking truths about heroism, history, and his own family. In flashbacks that progressively reveal that his alleged cowardice in battle actually concealed a specific moral philosophy of survival, the film becomes not just an ambiguous war movie but a touching celebration of family values and ordinary individualism. In addition to the raw emotions it stirs in its depiction of the cruelties of war, the film generously shares the sensory rapture of breathtaking airborne battles, with sumptuous visuals of the Zero fighter planes in deadly action. Kinetic, emotionally intense, but also politically and morally thorny, it is, in short, a film that will leave no one indifferent.
Presented with Japan Cuts: The New York Festival of Contemporary Japanese Cinema.

Stay tuned for daily updates from us here at Daily Grindhouse, and hey, if you'd like to find out which screenings I'll personally be attending, you know where to find me …
— JON ABRAMS.  
Latest posts by Jon Abrams
(see all)
---
Tags: Asian Cinema, comedy, japan, Korea, Lee Joon, Miyuki Oshima, Movies About Movies, New York, Pilots, Planes, satire, Screenings, Shin Yeon-shick, War, Yosuke Fujita