The catch-up resumes! I'm going to go through this quickly now, because we're now in August and enough already, but also there's a ton of stuff here I haven't seen yet and wouldn't have too much illumination to provide. Sometimes I feel like we should have a code word when I do this column for movies I haven't seen, just a short-hand phrase to make that disclaimer unnecessary. Like "bumfuzzle" or "cattywampus" or "gardyloo." Or something pertinent to my realm of expertise, like "billingsgate" or "snickersnee."
Still working on that one.
Meanwhile, the most significant release this week is probably Criterion's slavish barrage of films by the French New Wave director Jacques Demy. As I'm more familiar with the work of his American counterparts Jonathan Demme and Ted Demme, I haven't seen any of these films yet (though I'd like to!). So in the meantime, be prepared for many code words as these titles come up.
"Widdershins." "Collywobbles." "Gubbins." "Diphthong."
THE ESSENTIAL JACQUES DEMY
This box set includes LOLA, BAY OF ANGELS, THE UMBRELLAS OF CHERBOURG, THE YOUNG GIRLS OF ROCHEFORT, DONKEY SKIN, and UNE CHAMBRE EN VILLE. If, like me, you've always meant to explore the work of this very influential filmmaker, Criterion has provided the ideal introduction. THE UMBRELLAS OF CHERBOURG and THE YOUNG GIRLS OF ROCHEFORT, in particular, are films I've long been aware of by reputation but never managed to experience. As we go forward through the rest of the column, I've sprinkled these six titles in alphabetically, not because I have anything worth saying on them yet, only because most of them provide me the opportunity to include pictures of the young Catherine Deneuve. Any Catherine Deneuve is a gift, but those films had her at the start of her illustrious career.
This horror film from Lucky McKee (MAY, THE WOMAN) and Chris Sivertson (THE LOST, I KNOW WHO KILLED ME) — all of which are movies worth sampling, by the way — focuses on the matter of zombie cheerleaders. Here's Joe Bob Briggs on the film and if that weren't swell enough, here's Daily Grindhouse's own Paul Freitag-Fey weighing in!
Having written at length about this surprisingly influential monster movie starring Jennifer Lopez and a yooooge snake, I urge you to read some or all of what I had to say. You will enjoy some or all of it.
THE ANGRIEST MAN IN BROOKLYN (2014)
Phil Alden Robinson directed FIELD OF DREAMS and SNEAKERS, so if you're one of the many fans of those movies, you may want to know he has a new one out. Here Robin Williams plays an obnoxious person who is told by his doctor, Doctor Mila Kunis, that he has ninety minutes to live, which is seven more minutes than the movie has. He runs around in an attempt to make peace with the people in his life, including his brother Peter Dinklage. I don't know guys, so far this is sounding more watchable than we might have expected. It's based on an Israeli film which may or may not have also been set in Brooklyn, I can't quite tell. This went straight to video, but that doesn't always mean a movie is a lost cause.
BAY OF ANGELS (1963)
Bumfuzzle.
BLOOD LAKE: ATTACK OF THE KILLER LAMPREYS (2014)
As far as I can tell, that picture shows Christopher Lloyd having an unfortunate experience on the toilet.
As seen on Animal Planet!
** PICK OF THE WEEK! **
BLUE RUIN (2013)
A convict recently freed from incarceration sets out on a remarkably underdeveloped revenge plot for which he is uniquely unqualified to perform. The director, writer, and cinematographer Jeremy Saulnier and the star Macon Blair are gifted pranksters who take a pure black-comedy premise and slow it down, a masterstroke which ends up unearthing the beauty and the pathos of a situation any other filmmaker might play strictly for laughs. Blair's performance is unshakably affecting and Saulnier's imagery is crystalline and lovely. I watched it twice in a day and it's my highest recommendation that all of you do the same. We'll talk about this one more on my upcoming list of the best films of the year.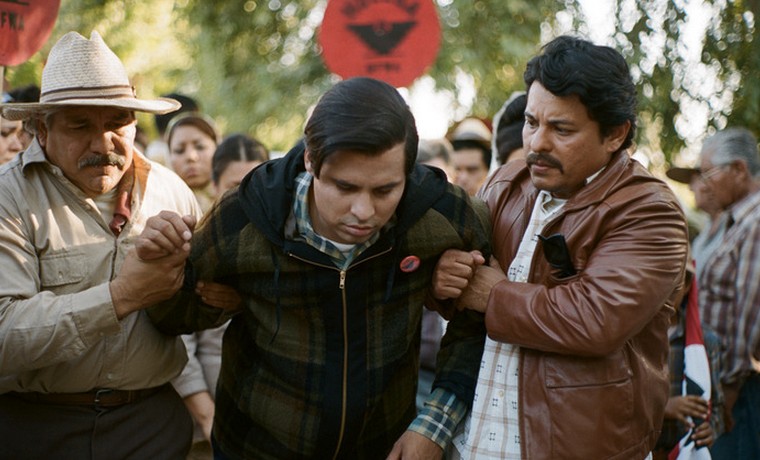 CESAR CHAVEZ (2014)
The first English-language film of the very well-regarded and likable Mexican actor Diego Luna, Michael Peña heads up a talented cast in the role of the renowned California labor organizer whose name is in the title. I've personally driven down his Boulevard in Los Angeles many times (it's what Sunset Boulevard eventually turns into if you go far enough east). César Chávez is a folk hero in Los Angeles and I am very interested to learn more about his life and work. I will be checking out this movie for sure. 
DOM HEMINGWAY (2013)
Richard Shepard is a film and television director whose film THE MATADOR is an entertaining crime-comedy. It looks like this is more of the same, with Jude Law as an ex-con looking to reconnect with his estranged daughter (Emilia Clarke from Game Of Thrones.) The remarkable actor Demián Bichir plays the heavy, so that alone would make this worth a look.
DONKEY SKIN (1970)
Billingsgate.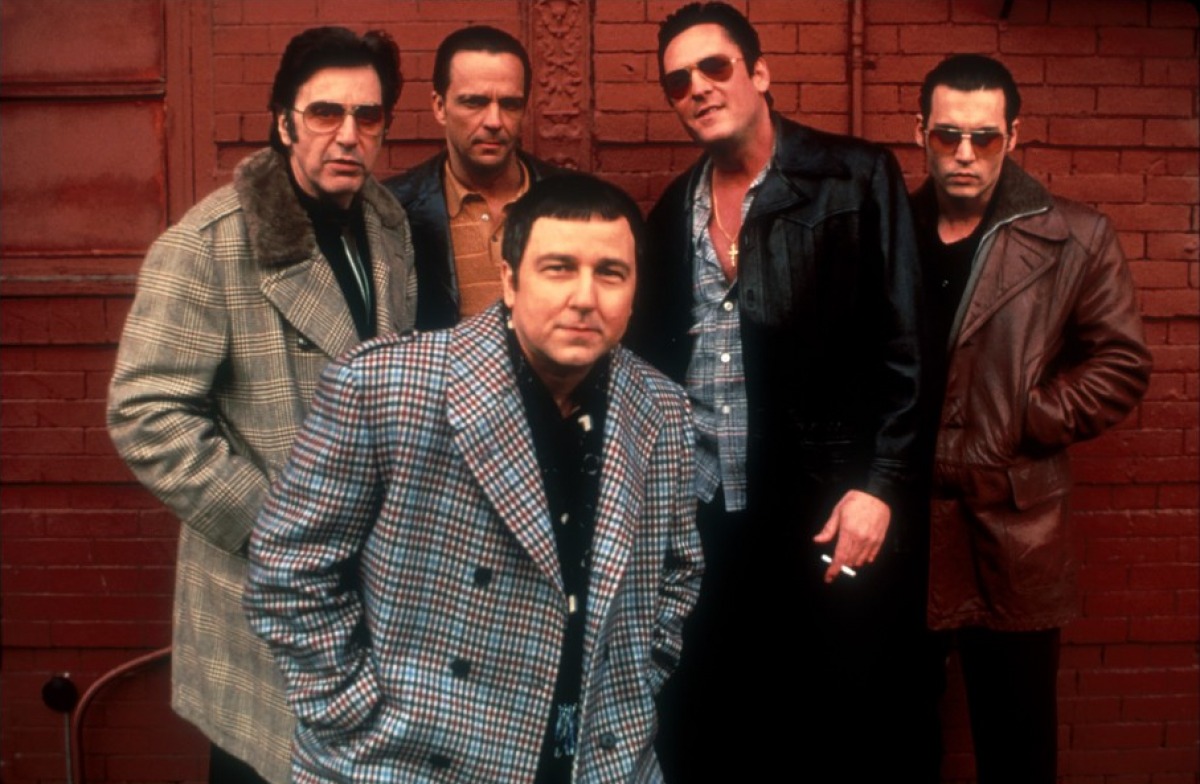 DONNIE BRASCO (1997)
Well now there's a cast. Al Pacino, James Russo, Michael Madsen, Johnny Depp, and the late great Bruno Kirby. Not pictured above: Željko Ivanek (you'd know him if you saw him), Anne Heche (more likable than she's ever been since), and even Tim Blake Nelson and Paul Giamatti in small roles. In a true story about an undercover agent who infiltrates the New York mob and by doing so, inadvertently dooms the veteran small-timer who grandfathers him in, Johnny Depp and Al Pacino turn in superlatively restrained acting work which will remind you why they are so admired, in case you're one of those people who need to be reminded. I haven't seen this film in a long time but now that it hit Blu-Ray I'm interested to revisit it.
FLATLINERS (1990)
LOL at Oliver Platt! He's so awesome. His character name here is "Randy Steckle." Obviously. I've never seen this movie — sorry, "widdershins" — but it looks like Kiefer Sutherland brought his tight mullet game from THE LOST BOYS and Kevin Bacon brought his from TREMORS (released the same year!) so scientifically speaking, as a field observer of mullets in the wild, I may need to add this to the queue for research.
FOREVER FEMALE (1953)
Great title. No joke. Even better, the director's name is Irving Rapper. For real. Holy crap. This movie stars Ginger Rogers as an aging ingenue who goes on a rampage over having to "switch over" to mom roles, and William Holden plays the writer whose script she wants overhauled. That's an incendiary premise, and it's so cool Olive Films is putting it out there so people like me can rediscover it, because, of course, cattywampus.
GINGER SNAPS (2000)
A werewolf film with the most inevitable premise, GINGER SNAPS is a movie that needed to happen sooner or later. The connection between lycanthropy and menstruation was previously only the subject of Type O Negative songs, but eventually some horror filmmaker was going to take that ball and run with it. As much of a werewolf-movie maniac as I am, I'm not as big on GINGER SNAPS as many others of my ilk. The visual style is kind of cramped and uninspired and it's all a little easy, systematically speaking (and extremely Canadian, no offense). The best strength of this movie is its star, Katharine Isabelle, who has both an instant likability and a fierce charisma onscreen, and didn't really receive another role or vehicle worthy of her talent until last year's AMERICAN MARY.
"Come at me, bro!"
GODZILLA VS. MEGALON (1973)
That latest GODZILLA may have been a bit of a let-down, but that isn't stopping the flow of vintage GODZILLA adventures to Blu-Ray. And why should it? If there's one thing GODZILLA movies teach us, it's that Godzilla cannot be stopped or slowed by disappointing movies about him. I wrote about many of the GODZILLA movies in a previous column. GODZILLA VS. MEGALON is interesting because it'd be more aptly titled GODZILLA & JET JAGUAR VS. GIGAN & MEGALON. There's a really interesting backstory to this one. Jet Jaguar is a robot built to defend humanity. He was created by a young student who won a competition held by Toho Studios. Godzilla wasn't meant to be the star of this movie. He only shows up when Jet Jaguar needs an assist. One of the more recognizable kaiju creatures, Megalon is a big beetle-looking bastard from the sea. When Jet Jaguar can't stop Megalon alone, Godzilla rides for Jet Jaguar. In turn, Megalon calls in Gigan, the surly hook-handed lizard-bird whom Godzilla defeated in 1972's GODZILLA VS. GIGAN, with some help from Anguirus (who, it should be noted, falls into a deep hole at the beginning of this film but who happily returned the next year in 1974's GODZILLA VS. MECHAGODZILLA).
According to the book Eli Tsuburaya: Master Of Monsters, GODZILLA VS. MEGALON is little-loved among most serious fans, but according to Wikipedia, the network television premiere of the film in 1977 was introduced by John Belushi in a Godzilla costume, which is one of my favorite extraneous Wikipedia details ever.
GRIDIRON GANG (2006)
Has this guy doubled in size in the last ten years? When will he stop accruing muscle mass? Where will we be in ten years? Anyway this is a movie where Dwayne "The Rock" Johnson plays an inspiring football coach. The director was Phil Joanou, who previously made THREE O'CLOCK HIGH. Dwayne "The Rock" Johnson would have made a great Buddy Revell.
HEAVEN IS FOR REAL (2014)
From the writer of BRAVEHEART and PEARL HARBOR comes the true story of a pastor's son who believes he visited Heaven during a major surgery. I'm not a person completely resistant to spirituality, nor am I a moviegoer with much trouble suspending disbelief. In the past I've been convinced a fire-breathing dinosaur came out of the ocean to defend mankind from an evil robot version of itself. I've come to believe that for one night at least, a gigantic marshmallow man walked the concrete canyons of Manhattan. I've seen a man fly. I've seen a belligerent duck trapped in a world he never made. I've seen the dead rise from the grave. I've even seen them visit a shopping mall. What I have some difficulty accepting that, of all the millions and billions of potential mouthpieces He could have chosen, the Good Lord chose to speak to us through a four-year-old cherub named Colton Burpo. I'm amenable to the idea of a prophet with the power to enlighten us; I just strongly feel that our world today is far too complicated to have our problems solved by a prophet who still poops his pants.
Pretty straightforward premise here; haunted sorority house, okay, I can picture it. Any good? Read the Daily Grindhouse review!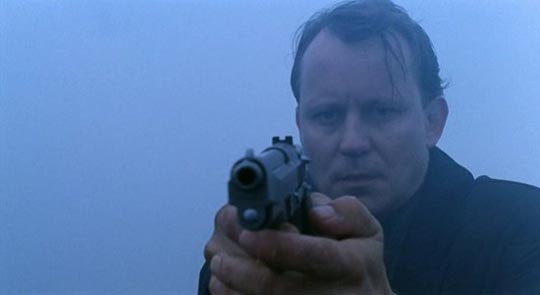 INSOMNIA (1997)
This is the Norwegian thriller from which Christopher Nolan adapted his 2002 version, which cast Al Pacino against Robin Williams and transplanted the action to Alaska. INSOMNIA is by all accounts an excellent, moody neo-noir, and it basically broke Stellan Skarsgård to the world. He'd been in plenty of high-profile films before (like THE HUNT FOR RED OCTOBER and BREAKING THE WAVES) but after INSOMNIA, he was suddenly in everything for a while. But, you know, gubbins.

LAST ACTION HERO (1993)
Zak Penn and Adam Leff's original idea and script featured a sturdy and still-timely concept, a meta-textual look at the situation of action films and our endless national fascination with them. Infamously rewritten to death, the finished film is generally considered a failure. It has problems, to be sure, but it still has plenty to recommend it. Director John McTiernan, coming off a streak of winners including PREDATOR and DIE HARD, gives the movie a muscular, energetic, appealing sheen. The action scenes are appropriately ridiculous and appropriately engaging. Many of the in-jokes, cameos, and film references are genuinely clever, and more ambitious than most reference-heavy comedies. (Sir Ian McKellen shows up as a Bergman-esque Death come to life.) The film's villains, particularly Charles Dance and the great Tom Noonan, are well-cast and memorable. We don't have to dwell on the bad stuff, do we? Yeah, yeah. The kid is shrill and mostly annoying. The tone careens all over the place. Some of the humor is way too cheap and broad. And Arnold Schwarzenegger has never been as self-aware or as deft a comedian as his fans would argue — verbal dexterity is not the man's strong suit. Bruce Willis might have been the better choice for the lead, to name just one. Arnold's a convincing enough bruiser but he's always been to me a bit more laughable than lovable (and make no mistake about it, I am precisely this film's target audience.) Apparently some people think of LAST ACTION HERO as underrated — I'm not one. It's pretty accurately rated. A lumbering gargantua constructed from the conflicting directives of too many cooks (many of whom normally very much know what they're doing), LAST ACTION HERO can't help but have good bits poking out in places — like the chocolate chips in a giant cookie that's otherwise burnt. It could have been something more special if allowed to be more spry and esoteric, but there's just too much capitalistic ambition in there. It's something of a burden. Somewhat interestingly, cinematographer Dean Semler in a long and storied career, has gone from shooting this film to this year's (and this week's) HEAVEN IS FOR REAL.

THE LEGEND OF BILLIE JEAN (1985)
As my sixth-grade history teacher Mr. Smegman once said, "Well-behaved women seldom make history. But nobody in their right mind wants to go out like Joan Of Arc either."
My other thought is, that's a weird picture of Helen Slater and her brother.
LOLA (1961)
Gardyloo.
LOVE IN THE CITY (1953)
Federico Fellini and Michelangelo Antonioni are two of the directors providing segments for this anthology film, which I don't have a code-word for so I will have to write it out: Haven't seen it.
MADE IN AMERICA (2013)
Because when you want to make the definitive Jay-Z documentary, you call Ron Howard. Some great acts on that bill though, particularly Kanye West, Odd Future, my beloved Run-DMC, and one of the most exciting performers anywhere right now, Janelle Monáe. You don't need a celebrity director, you just need somebody to point a camera at that stage and hold it steady. Janelle will provide the fireworks.
MAKE YOUR MOVE (2013)
Included this title because once I saw it, I needed to Google what a "BoA" is. "BoA" is the stage name of one of the hugest pop stars in Korea, who co-stars in this dance film. "BoA" comes from the girl's real name, Kwon Boa, and is also meant to mean "Beat Of Angel" for some reason. I said "Of," not "Off." Calm down, David Boreanaz.
THE OTHER LOVE (1947)
Olive Films again comes up with an older film I'd never heard of before now. André De Toth is a terrific, under-discussed director who I guarantee could make dynamic and compelling even a sad-sounding romance about a troubled concert pianist (Barbara Stanwyck) and her relationships with her doctor (David Niven) and a race car driver (Richard Conte, who you know best as Barzini from THE GODFATHER.)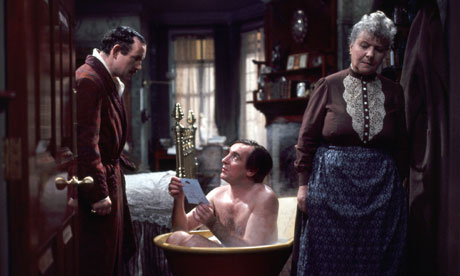 THE PRIVATE LIFE OF SHERLOCK HOLMES (1970)
Hey, it's one of the few Billy Wilder movies I haven't seen! Blu-Ray is a handy reason to take that one down from the big board.
A ROOM IN TOWN (1982)
Another Jacques Demy. With music from the same guy who did the music for THE GOLDEN CHILD!
** PICK OF THE WEEK!! **
SABATA (1969)
Sight-unseen, I'm going for it. It's a Lee Van Cleef 'spaghetti' Western. Those are my favorite kinds of movies.

SABOTAGE (2014)
It looks like everyone on that cover art is trying way too hard to impress and intimidate, and I can't look at that still frame of Arnold with his cigar and his tight vest without chuckling, but I still really want to see this movie because I like the work of its director, David Ayer, whose last film was the very solid END OF WATCH.
THE SCALPHUNTERS (1968)
Beautiful cover art. Splendid cast. Hadn't heard of the movie up until this moment, but that is a relatively small detail.
SHOGUN (TV) (1980)
We like to think we're living in some golden age of television now, but there was once a time when Toshiro Mifune took over NBC for a week. So, you know. Slow your roll.
THE SINGLE MOMS CLUB (2014)
On the one hand, there is Tyler Perry's track record. On the other hand, there is Nia Long. I wish I could promise you I will never watch this movie but we are friends and I like to be honest with you. 30% chance is the best I can do.
SUNSET STRIP (2012)
From around 2002 to 2007 I was up to some weird stuff in this neighborhood. I hope I didn't inadvertently make the cut. Pretty sure I definitely would have remembered running into Mickey Rourke, at least.
THE SUSPECT (2013)
It's a South Korean action thriller with a cool-looking cover and it's currently streaming on Netflix and that's all I have so far.
SYMPATHY FOR MR. VENGEANCE (2002)
Here is the first part of South Korean filmmaker Park Chan-Wook's unofficial 'vengeance' trilogy, the second being OLDBOY and the third being SYMPATHY FOR LADY VENGEANCE. Most people who have heard of any of these movies know OLDBOY well, but more logically this is the one to start with, since it came first. Park Chan-Wook is the real deal, but his films are not for the faint of heart.

TRANSCENDENCE (2014)
Boy, I'm so disinterested in this movie I can't even pull together a one-liner for this space. Why is that? Maybe it's that meiskeit punim Johnny Depp is making in that promotional image there.

THE UMBRELLAS OF CHERBOURG (1964)
Not a Yiddish speaker? Didn't know what I meant when I used the phrase meiskeit punim? Well, as a means of illustration, here's an example of a shayna punim.

WITNESS FOR THE PROSECUTION (1957)
And there's Charles Laughton! He plays an old-time defense lawyer (the type with the funny wig) who takes on Tyrone Power as a client in a murder trial. He's accused of killing a woman who named him in her will. It's not an easy case because most of us have seen Tyrone Power kill, like, six thousand pirates. The legendary Marlene Dietrich (TOUCH OF EVIL) plays his wife and the wonderful Elsa Lanchester (BRIDE OF FRANKENSTEIN) plays a supporting role. Billy Wilder directed from a script he co-wrote based on an Agatha Christie play, and the lucid imagery was captured by Russell Harlan (RED RIVER). A lesser-known Wilder film, but they're all pretty much mandatory. So get to it!
THE YOUNG GIRLS OF ROCHEFORT (1967)
Collywobbles! Shayna punim!
Please let me know if you enjoyed this little code-word game, or if it's the most annoying thing I've ever done (and good luck narrowing down that little list.) I'll be trying out all-new routines next time around anyway. Hopefully the next batch of releases will feature many more films I'm familiar with. So much good stuff being put out these days!
Latest posts by Jon Abrams
(see all)
---
Tags: Blu-ray, dvd, New Releases