Quality horror festivals can be surprisingly difficult to come by in New York City. Oh, there's no shortage of horror films themselves; midnight screenings at the IFC Center, Sunshine Cinema, and Nitehawk Cinema provide a weekly deluge of revivals and cult classics, while art houses and museums such as the Museum of the Moving Image  or the Anthology Film Archives regularly put out horror-themed programming. Larger festivals – such as the Tribeca Film Festival and the New York Asian Film Festival – have increasingly opened up room in their schedule for horror-related films, even if the festivals themselves are not organized around a midnight theme.
And yet, most horror fans find themselves looking wistfully at programming in other cities. The festival atmosphere – organizing entire weekends around program lineups, rubbing elbows with filmmakers, buying drinks with other genre enthusiasts – is its own unique beast, and even the occasional genre retrospective can't capture the energy of the film festival proper.
Thankfully, "surprisingly difficult" does not equal impossible. Beginning this Thursday, Tribeca Cinemas will play host to the 13th Annual New York City Horror Film Festival, a four-day romp through the world of independent horror cinema. Pairing each feature film with an assortment of horror-related shorts, the festival brings together filmmakers and fans for some of the best independent horror cinema you'll find east of ATX. Many of the programs also include a post-screening Q&A with the filmmakers – for both the shorts and the feature film – and each year, the festival highlights one horror persona to award its Lifetime Achievement Award. This year, the award will be given to Angus Scrimm, star of the hugely influential – and hugely prolific – PHANTASM series.
I attended the New York City Horror Film Festival for the first time in 2013 and was immediately enamored with the environment. Many of the staffers and organizers knew the audience members by name, taking time out of their pre-screening introductions to acknowledge their friends and family members. One audience member in particular was lauded for traveling from the Middle-of-Nowhere New Jersey to attend the screening and received a nice round of applause for his trouble. Even the lack of polish surrounding the festival – the single table at the front door, the casual tone of the Q&A sessions – adds to the festival's appeal.
And while the names in this year's festival may not be familiar to most, this often works in the festival's favor. The programmers go to great lengths to dig up under-the-radar titles and talent. I threw darts at my festival lineup in 2013 and walked away with perhaps my favorite horror film of the year in Scott Schirmer's ultra low-budget FOUND and a bizarre slacker nightmare that I can't quite shake from my mind in Don Thacker's MOTIVATIONAL GROWTH. For the most part, the entries in the New York City Horror Film Festival are not the festival darlings that generate bidding wars over their distributions rights. There are the other guys, the low-budget horror that blends schlock and creativity in equal amounts.
But as good as the features may be, it is the short films that make the festival. Each feature is paired with no fewer than two short films; many of these shorts are making their world or USA premieres and some even demonstrate a level of enthusiasm and technical skill that far outpaces the features themselves. And since the short films are not organized around a central gimmick – no anthology format, no alphabet of death – they are free to be whatever their creators originally intended. The organizers are smart enough to know that some of the best horror films of the year only last about ten minutes and simply curate the best of what they've seen to be paired with the features.
Below is a day-by-day breakdown of the festival lineup. All show-times and synopses provided by the New York City Horror Film Festival. You can visit their website here: http://nychorrorfest.com/.
Thursday, 11/13
Program 1 (7:00 PM)
MINERAL (Michael Marino)
DISENGAGED (Christopher Moore)
EYE IN TUNA CARE (John Walter Lustic)
FEAR CLINIC (Robert Hall)
When trauma-induced phobias begin to reemerge in five survivors a year after their horrifying tragedy, they return to the "Fear Clinic" hoping to find the answers they need to get cured. Dr. Andover, a fear doctor who runs the clinic, uses his Fear Chamber to animate their fears in the form of terrifying hallucinations. However, Dr. Andover begins to suspect that something more sinister may be at work.
Program 2 (9:15 PM)
GONE IN THE DARK (Steven Moreno)
PRANK (Alex Weight)
TIME LAPSE (Bradley King)
Three friends discover a mysterious machine that takes pictures 24 hours into the future and conspire to use it for personal gain, untils disturbing and dangerous images begin to develop.
Friday, 11/14
Program 3 (7:00 PM)
M IS FOR MOBILE (Baris Erdogan)
COUNTER PARTS (Patrick Rea)
TALES OF POE (Alan Rowe Kelly, Bart Mastronardi)
TALES OF POE is a feature film anthology based on the writings of Edgar Allan Poe. TALES OF POE re-adapts three classic Poe tales: "The Tell Tale Heart," "The Cask of Amontillado," and "Dreams." Produced by Bart Mastronardi and Alan Rowe Kelly. Bart Mastronardi wrote and directed "The Tell Tale Heart," which tells the classic horror story set in the 1950's. Alan Rowe Kelly wrote and directed "The Cask," placing a modern spin on the horror tale. "Dreams," directed by Bart Mastronardi, from a script by Michael Varrati, based on Poe's poem, which is a surrealistic silent-movie fantasy piece.
Program 4 (7:00 PM)
THE CREED (Kevin James)
WATERBORNE (Ryan Coonan)
CALL GIRL OF CTHULHU (Chris LaMartina)
When a virginal artist falls in love with a call girl, she turns out to be the chosen bride of the alien god Cthulhu. To save her, he must stop an ancient cult from summoning their god and destroying mankind.
Saturday, 11/15
Program 5 (12:00 PM)
CANNIBALS + CARPET FITTERS (James Bushe)
HAG (Erik Gardner)
CHRYSALIS (John Klein)
CHRYSALIS is a post-apocalyptic horror film, set 25 years after a biological terrorist attack unleashes a virus upon the world, transforming much of humanity into vicious creatures and laying waste to civilization. The remnants and survivors have staggered about for years, as the "infected" slowly starve and die off. Our story follows Joshua (Cole Simon) and Penelope (Sara Gorsky), two such survivors who have banded together in the hope of rescuing others and hopefully rebuilding civilization. When they encounter Abira (Tanya Thai McBride), the lone survivor of another group, their worlds and goals are irrevocably altered, and they must face new and terrifying challenges if they are to survive.
Program 6 (2:30 PM)
WHAT'S EATING DAD? (Michael Goldburg)
FARE (Andrew Silke)
PRETTY (Elysa Sardinha)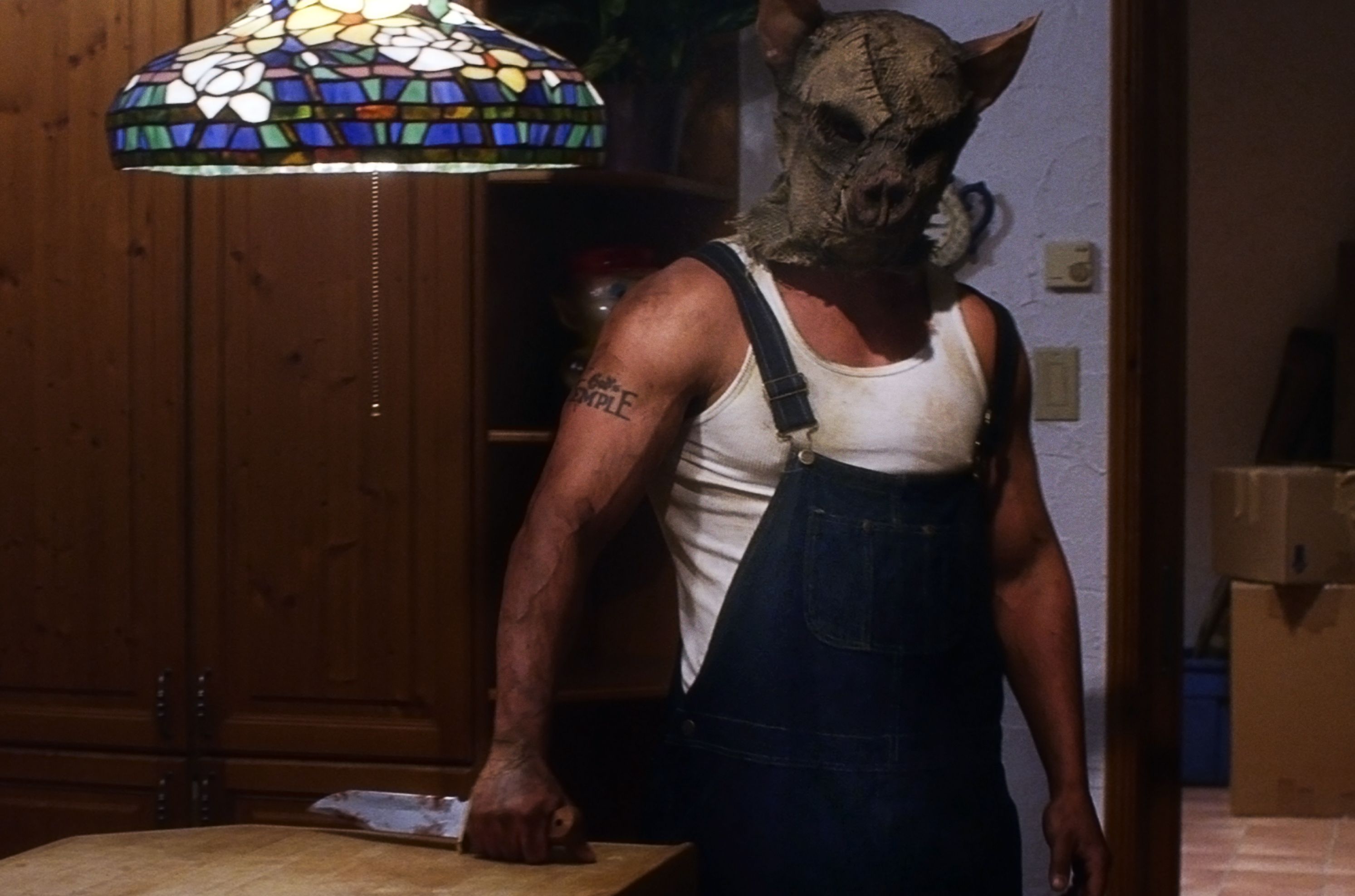 BERKSHIRE COUNTY (Audrey Cummings)
Kylie Winters, a bullied and self-loathing teen, reluctantly agrees to babysit at an isolated country mansion on Halloween night. When a small boy in a pig mask appears at the door trick-or-treating, Kylie's night transforms into a horrifying and violent cat-and-mouse game. She must go beyond what she ever thought possible if she and the children are to survive the night.
Program 7 (5:00 PM)
THE STOMACH (Ben Steine)
SWITCH (Adam Bradley, Amelia Mathews)
CAROLINA PARAKEET (AJ Briones)
BAG BOY LOVER BOY (Andres Torres)
BAG BOY LOVER BOY follows the lowly life of Albert, an oddball hot dog vendor who is shocked to find himself suddenly becoming the bizarre muse of enigmatic NYC photographer Ivan Worthington. But shocks come his way even more so when, a midst his role in Ivan's disturbing photographs for which he poses, Albert finds out just how difficult it is to succeed in the art world, leading him to take some disturbing photographs of his own that suit his very unique – and very limited – skill set.
Program 8 (7:00 PM)
I AM MONSTER (Shannon Lark, Lori Bowen)
BAD GUY #2 (Chris McInroy)
JULIA (Matthew A. Brown)
A neo-noir revenge thriller centering on Julia Shames, who after suffering a brutal trauma, falls prey to an unorthodox form of therapy to restore herself.
Program 9 (7:15 PM)
JIGSAW (The Al Safar Bros)
LUNA (Antonio Perez)
THE SCAREHOUSE (Gavin Michael Booth)
When two friends open a Halloween fun house on Devil's Night it is all fun and games until their former sorority sisters begin to arrive. These six sisters are confronted by their past as the night spins out of control.
Sunday, 11/16
INSANE (Adam O'Brien)
THE CARNIVAL (Van Maximillian Carlson)
LATE NIGHT DOUBLE FEATURE (Torin Langen, Navin Ramaswaran)
During a late night taping of "Dr. Nasty's Cavalcade of Horror", bloody chaos takes place during the screening of two features ("Dinner for Monsters" and "Slit"). Samantha/Nurse Nasty (Jamie Elizabeth) is frustrated by how the show is being run by its womanizing director (Mike Donis) and its drunk and crazy host Dr. Nasty (Brian Carleton). "Dinner for Monsters" tells the story a down and out chef (Nick Smyth) is hired to cook a special meal for a rich and powerful couple (Jeff Sinasac and Sandra DaCosta) for midnight dinner party. The chef has an ethical crisis when he falls in love with the maid (Raven Cousens) of the household that finally puts him over the edge. In "Slit", we meet Brad (Colin Price) who has an underground freelance business of cutting people for relief and profit. Brad meets his match when he meets an oddball client (Caleigh Le Grand) that has violent plans not just for him, but for herself.
Program 11 (3:00 PM)
MOTH (MAN OF THE HOUSE) (O-T Fagbenle)
FOREVER (Blair Franklin)
DARKNESS COMES (John Marsh)
THE LOWER ANGELS (Adam Hardman)
There is a demon prowling the streets of New York City. When Haily is drugged, raped, and abandoned in a vacant apartment building, she thinks no one can help her. She's wrong. Gabriella is a killer, who rips out throats, drinks blood, and feasts on men. Can Haily seduce Gabriella? Will Gabriella share her power? Will Haily enter an eternity of darkness to take revenge? Murder, love, revenge, and lust bleed together in THE LOWER ANGELS, an unconventional vampire film destined for a place in the cult classic canon.
Program 12 (6:30 PM)
3 VESOS (Antonio Yee)
LUNACY (Rony Patel)
DEEP RED DANDELIONS (Brendan Butler)
AFTERIMAGES (Tony Kern)
A collection of horror films appear in the ashes after a group of artists burn cameras as offerings to the dead.
Program 13 (6:30 PM)
KNOCK KNOCK (Jeff Betancourt)
SEA DEVIL (Dean C. Marcial, Brett Potter)
HOUSEBOUND (Gerard Johnstone)
Kylie Bucknell is forced to return to the house she grew up in when the court places her on home detention. However, when she too becomes privy to unsettling whispers & strange bumps in the night, she begins to wonder whether she's inherited her overactive imagination, or if the house is in fact possessed by a hostile spirit who's less than happy about the new living arrangement."
Latest posts by Jon Abrams
(see all)
---
Tags: Angus Scrimm, Cthulu, Demons, Fiona Dourif, Horror, Kevin Gage, New York, Robert Englund, Screenings