Welcome to Daily Grindhouse's weekly listing of all that's new and available to purchase on Blu-Ray and DVD. Everything you see featured here is available as of this past Tuesday. If you're inclined to buy anything you see here, you can get to the Amazon listing by clicking through the cover icons. It helps us, your dear friends at Daily Grindhouse, if you do that, so please do that if you can do that.
ARDENNES FURY (2014)
Nearly every week a high-profile Hollywood genre picture is released, there is an accompanying release on home video from The Asylum. Ya gotta respect that, I think. This is their version of FURY.
THE BABADOOK (2014)
I've seen this listed on a few Blu-Ray new-release sites, but I think that must refer to out-of-country schedules. THE BABADOOK is only just now arriving in American theaters, and so I don't think you can get it on Amazon or anything here just yet. But go see it in the theaters! I'm going to. I've heard nothing but raves about it.
BATMAN: THE COMPLETE SERIES (TV)
This is a pretty big deal for a lot of people. Long-awaited. Delayed by rights issues or whatever. Now it's here. I loved this show as a small kid, even though I could always sense it was a goof and once I discovered them, I much preferred the spookier comics (I got in during the Jim Aparo/ Norm Breyfogle era, right before Tim Burton's first movie hit). But for many, this version of Batman and Robin is still the defining image, for better and probably worse. It pervades. Everyone excoriated Joel Schumacher for bringing the 1960s Batman into the 1990s, but in the following decade, Christopher Nolan ran so far from it that he eventually tripped and fell (see THE DARK KNIGHT RISES, or don't). Now you have Fox's Gotham, a confused mess that wants to have it both ways: 1960s silliness and Nolan-esque uber-grit. You kinda can't do that. Pick one. But go too far towards either pole, superhero spoof or morose self-seriousness, and you begin to lose people. The Batman TV show was a terrific lark for a while, G-rated fun for a Playboy era, but it couldn't last. (Neither can the current screen trend towards ultra-darkness, but wait and see.) That said, there are still so many joys to be had with the 1960s series, and there even are some elements that endure — for example, until Michelle Pfeiffer (and since) there hasn't been a slyer, sexier Catwoman than Julie Newmar or Eartha Kitt. And whether or not one considers it a virtue considering the character, Adam West remains the funniest Batman. After a decade of Bat-characters scored to stormy Hans Zimmer soundtracks, there's something refreshing to me about revisiting a lighter age.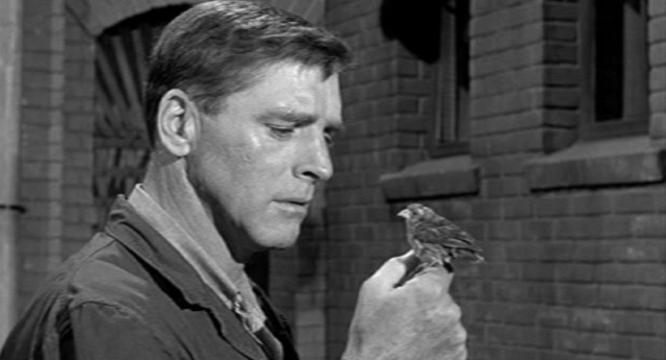 BIRDMAN OF ALCATRAZ (1962)
I always confuse this movie with ESCAPE FROM ALCATRAZ, but this is the one John Frankenheimer made with Burt Lancaster, not the one Don Siegel made with Clint Eastwood. Both have superb supporting casts — in this case Karl Malden, Thelma Ritter, Edmond O'Brien, and Telly Savalas, among others — and both take place on the notorious prison island. But this one, unlike the one with Clint in it, has a lot of birds. Literally. He ain't called 'Birdman' for nothing.
BLOOD FIRST (2013)
I do not know what this is, if not a dyslexic Rambo movie.
THE BRUCE LEE PREMIERE COLLECTION
Four movies you've probably seen if you love Bruce Lee (and who doesn't), all in one handy package at an affordable price.
BUNNY LAKE IS MISSING (1965)
Hopefully this Blu-Ray release will stir up some overdue attention for this film, which is way overlooked and under-discussed and supremely cool. Directed by Otto Preminger from a script by John and Penelope Mortimer (from a novel by Evelyn Piper), the story centers on a police inspector (Laurence Olivier) investigating the disappearance of a little girl, the daughter of a distraught single mother (Carol Lynley from THE POSEIDON ADVENTURE). Keir Dullea (2001: A SPACE ODYSSEY) is memorable in the role of the woman's brother, and playwright Noël Coward is almost moreso as a total creep. Preminger's use of the widescreen frame is peerless, as the inky black-and-white photography awesomely heightens Olivier's suspicion (and the audience's) that the little girl never existed at all.
THE DAMNED (2014)
IMDb says "A family are involved in an accident and take refuge in a secluded inn, where they free a girl locked in a basement without knowing she's an ancient evil." IMDb also lists another project with the same title to be released this year but starring Danny Trejo. I kind of wish they were one and the same. Don't you?
This is a fun and crazy Italian horror film in which vicious and horrible demons attack a movie theater and attempt to murder everyone in it. That's just about all that happens, and it's just about all you need. Just about the only thing more crazy and fun (and gross) than DEMONS is its sequel.
Buy DEMONS from Cult Movie Mania!!!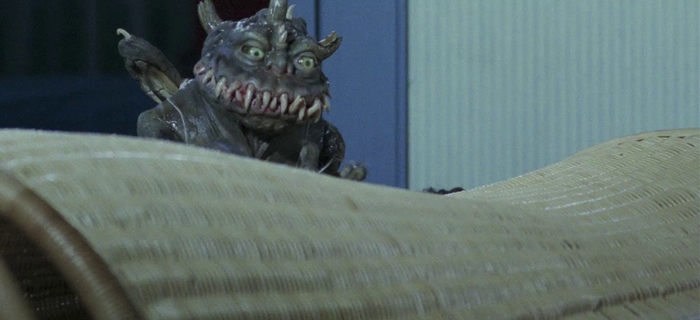 DEMONS 2 somehow ups the ante. It has a puppet, which is obviously a huge deal. In this one, the murderous and gross demons attack a the residents of a high-rise apartment building, including anyone using the fitness gym because this happened in the 1980s. Creatures come out of TVs more than in all the POLTERGEIST and THE RING movies combined. As in the first movie, the demons have the ability to rewrite reality. Basically if Luigi Pirandello made splatter movies, this would be the result.
Buy DEMONS 2 from Cult Movie Mania!!!
DOLLS (1987)
Haven't seen it. Need to. Stuart Gordon! Evil dolls! Oh my God!
DRIVE HARD (2014)
Love Brian Trenchard-Smith. This is his newest movie. I'll check it out and report back to you.
DRUM (1976)
This one I ordered already. The subject matter is very very dicey (DJANGO UNCHAINED without the irony), but I couldn't pass up the chance to see Warren Oates and Pam Grier in a movie together. Hope it's in something I can stomach.
FLAMING STAR (1960)
This is the Elvis movie that Don Siegel directed. I'm not a big Elvis fan but I'm a huge Don Siegel fan. It's on the list.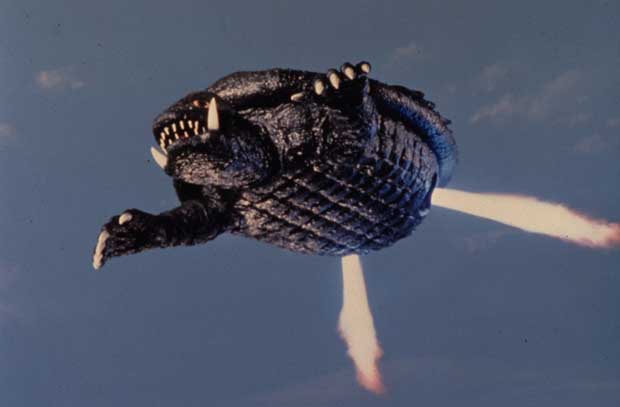 GAMERA HD BUNDLE COLLECTION
All the Gamera you could ever need or want, in a bundle!
GATOR (1976)
A sequel to WHITE LIGHTNING (scroll down), this was Burt's directorial debut. Hard to go wrong with 1970s Burt Reynolds in my opinion. This movie was written by Bill Norton, whose Wikipedia page you really ought to read.
HOW TO TRAIN YOUR DRAGON 2 (2014)
Liked the first one, not convinced more was necessary. Dragons that look like cats. Okay…
I AM ALI (2014)
This is a documentary about one of the few people in history who can be instantly recognizable to millions off three simple letters. A. L. I. Doesn't look like this reveals all too much new information, but this is not a subject I ever personally get tired of hearing about.
ICEMAN (2014)
Quoth IMDb: "An imperial guard and his three traitorous childhood friends ordered to hunt him down get accidentally buried and kept frozen in time. 400 years later passes and they are defrosted continuing the battle they left behind." Starring Donnie Yen? Sounds good!
JERSEY BOYS (2014)
Still haven't. It's inevitable. But my aforementioned reluctance stands.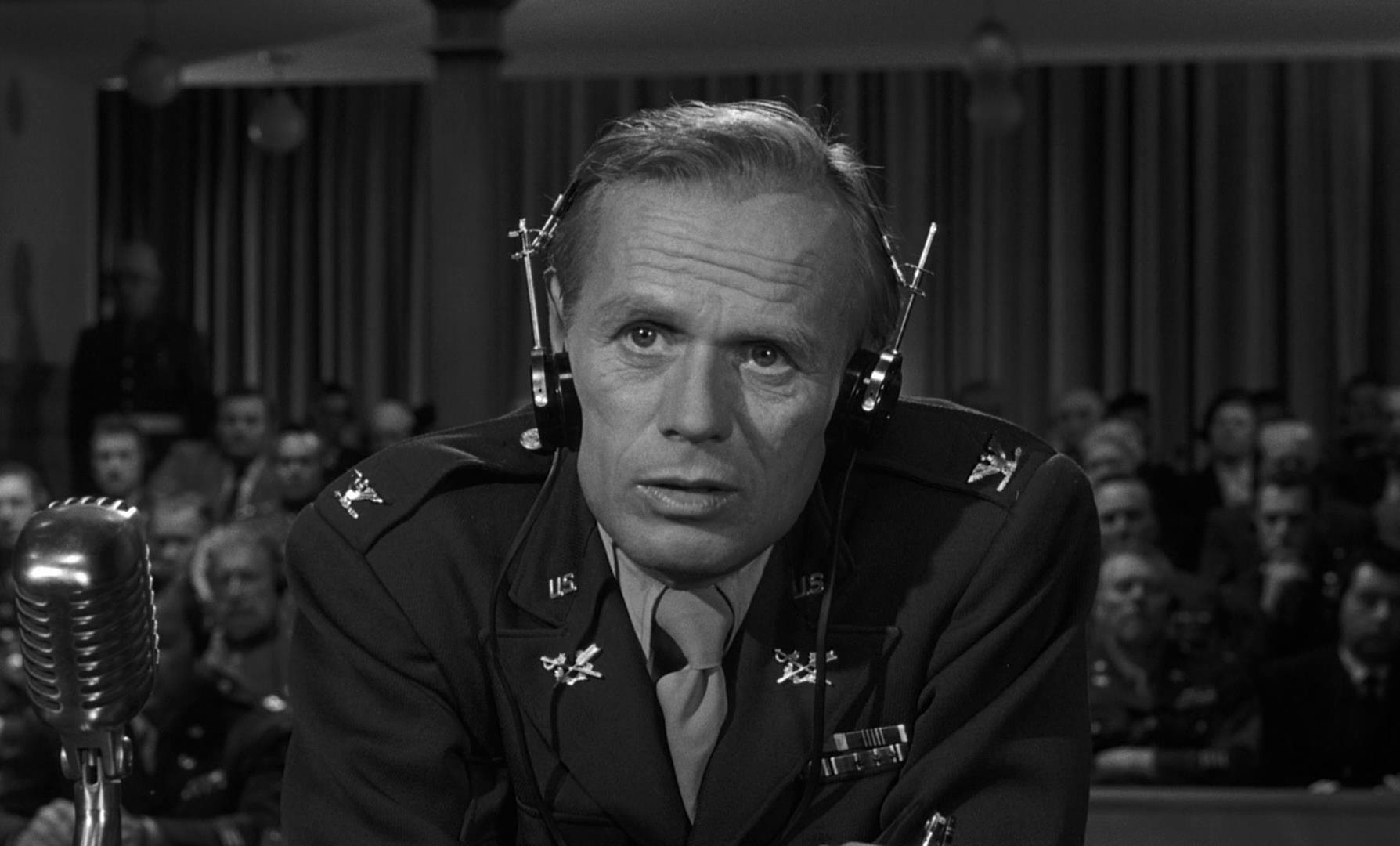 JUDGMENT AT NUREMBERG (1961)
This film dramatizing a historical incident has a positively incredible cast, including Spencer Tracy, Burt Lancaster, Richard Widmark, Marlene Dietrich, Judy Garland, and Montgomery Clift. Apparently William Shatner is in there somewhere also.
MOOD INDIGO (2013)
This one might be a little too much French for me.
MORE DEAD THAN ALIVE (1969)
A Vincent Price Western? With a rad title and an even radder poster? Is there any possible way this movie could surpass the movie that's already unspooling inside my head?

SAM WHISKEY (1969)
Haven't seen it yet. Still highlighting it. The title. The poster. The cast. The poster, again. Another Bill Norton script. I've been amping to see this movie since I first found out it existed, and now I easily can.
P.S. You need to know that one member of the cast is named Chubby Johnson.
SANDS OF IWO JIMA (1949)
Allan Dwan isn't one of the big-name old-Hollywood studio-era directors like Ford or Hawks or Capra or Hitchcock, but he was a lifer, hugely prolific and steward of many onscreen adventures of characters like Robin Hood and The Three Musketeers. I'll admit to more than my share of unfamiliarity with Dwan's output, but it's possible that's a subject worthy of study.
THE SHOOTING / RIDE IN THE WHIRLWIND (1966)
Already pulled the trigger. Been meaning to watch these two films forever, and a new Criterion edition is the ideal way to do it. There's a 50% off sale going on now at Barnes & Noble — move quick! More on the films themselves soon.
TAMMY (2014)
Not for me, but not everything has to be.
UHF (1989)
How has this movie aged? I'm really asking. Haven't seen it since I was a kid.
*** PICK OF THE WEEK!!! ***
WHITE LIGHTNING (1973)
Son, that up there is O.G. bad motherfucker R.G. Armstrong menacing Burt Reynolds with a pigsticker. I'm assuming the film's title comes from a George Jones song. The story revolves around moonshine and revenge. Stuntwork was done by Hal Needham, Glenn Wilder, and Buddy Joe Hooker, among others. The man calling the shots was Joseph Sargent, who made THE TAKING OF PELHAM ONE-TWO-THREE a year later. Bill Norton wrote it. R.G. Armstrong's character is named "Big Bear." All of these things I'm telling you are important.
Latest posts by Jon Abrams
(see all)
---
Tags: Blu-ray, dvd, New Releases