After a replay of the suspense thriller THE TERROR LIVE, today's screenings take a softer turn, with the classic Korean romance IL MARE, the thoughtful Korean drama HOPE, and the light Japanese comedy AU REVOIR L'ÉTÉ. The last of those features a star turn by the charismatic Fumi Nikaido, who will appear tonight to answer questions about the film. She was the star of my #3 movie of 2013, WHY DON'T YOU PLAY IN HELL?, which she will return to introduce on Thursday. (She'll also be on hand for tomorrow's screening of MY MAN). Many crushes on Fumi Nikaido will be born this week.
The NYAFF is being presented by Subway Cinema (visit them here), and almost all of the screenings are taking place at the Film Society Of Lincoln Center (find a more complete rundown here).
1:00PM 
THE TERROR LIVE (2013)
After rocketing to fame as an off-handed serial killer in THE CHASER, a cab driver pushed to extremes in THE YELLOW SEA, and one of Korea's coolest gangsters in NAMELESS GANGSTER, Ha Jung-woo finally gets the one-man movie he deserves. A disgraced TV news anchor demoted to drivetime radio call-in shows, Ha is a callow opportunist in career purgatory when a man phones in, blows up a bridge, and claims to have other bombs hidden around Seoul. Unfolding in real time, set mostly in the claustrophobic radio studio, the film is a showcase for Ha, who manipulates, bullies, cajoles, cowers, lies, and unleashes righteous anger as he goes up against an unseen terrorist, trying to save lives while also trying to resurrect his career. A master class in wringing out maximum suspense from one man and a microphone.
Presented with the support of Korean Cultural Service in New York.
3:30PM
IL MARE (2000)
Two enormous Korean stars, a magical time-portal mailbox, and a house by the lake were all mixed into the Korean melodrama pot in 2000 and out came IL MARE. Since then it has become a classic Korean romance, anchored by the performances of Lee Jung-jae and Jun Ji-hyun. Sung-hyun (Lee), an architectural student, moves into a house by the lake and starts getting mail from a woman named Eun-joo (Jun) who claims to have lived there. The only problem is that Sung-hyun is the first one to have ever live in that house… Soon the time-crossed lovers begin plotting to meet up. The performances of the leads along with the brilliant production design by Kim Ki-cheol and beautiful cinematography by Alex Hong have since cemented this in the canon of Korean melodramatic romances.
Actor Lee Jung-jae will attend the screening and give a Q&A. Part of Korean Actor in Focus: Lee Jung-jae. Presented with the support of Korean Cultural Service in New York.
6:00pm
HOPE (2013)
Inspired by a horrifying case of child rape some five years ago in South Korea, HOPE brings a fresh approach to a difficult subject matter, and by focusing on the victim's recovery, ultimately delivers technically flawless feel-good human drama, guided by the steady hand of producer-director Lee Joon-ik (KING AND THE CLOWN). Anchored by veteran actors Sol Kyung-gu and Uhm Ji-won as the child's parents and Kim Hae-suk as a child-abuse specialist, the film's breakthrough performance comes from Lee Re (7 at the time of filming), as the 8-year-old victim who is considerably more mature in many respects than her elders. Lee's cool, assured directing often keeps Hope from becoming too melodramatic for its own good. The real-life event, known as the Na-yeong Case, took place in December 2008. It also involved an 8-year-old girl, and the serial offender getting off lightly with a 12-year sentence that sparked public outrage.
Actor Sol Kyung-gu will attend the screening. Presented with the support of Korean Cultural Service in New York.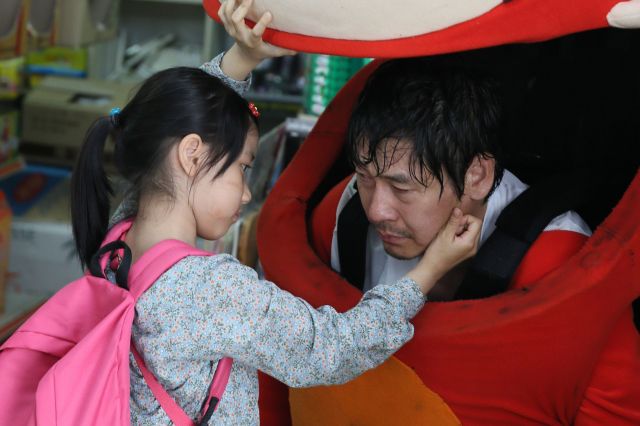 9:00pm
AU REVOIR L'ÉTÉ (2013)
A light comedy of manners played out during 10 days in a seaside town, AU REVOIR L'ÉTÉ is a nicely played rondo of human behavior that's amazingly mature for a writer-director who's still in his early thirties. With its teenage central character Sakuko (a strikingly assured Fumi Nikaido), who philosophically observes the small hypocrisies and lies by the adults around her, as well as goes through a small learning experience of her own, AU REVOIR L'ÉTÉ echoes Eric Rohmer's films, especially PAULINE AT THE BEACH (1983). And when Sakuko's 10 days of "summer holiday" suddenly ends, so too does the movie. No one has changed, life goes on, eternal truths remain out of reach. But director Fukada doesn't look like he's just aping an established genre. From its acceptance of various social norms to the way in which the protagonists interact (or, more often, avoid confrontation), the film authentically Japanese, and is the better for it.
Actress Fumi Nikaido will attend the screening and give a Q&A.
Stay tuned for daily updates from us here at Daily Grindhouse, and hey, if you'd like to find out which screenings I'll personally be attending, you know where to find me …
– JON ABRAMS.  
Latest posts by Jon Abrams
(see all)
---
Tags: Action Film, Asian Cinema, comedy, Film Screenings, Fumi Nikaido, Ha Jung-woo, japan, Jun Ji-hyun, Korea, Lee Jung-jae, New York, Romance, Screenings, Sol Kyung-gu, South Korea, Suspense