The Big Question is where multiple Daily Grindhouse contributors and friends offer their answers to some burning question. In observance of Rocktoberfest 2019, all of October's questions will be about the intersection of horror and music. Check in every Friday afternoon in October to see what some of your favorite writers have to say. The results…may surprise you.
Today's big question is…
What is your favorite use of pop music in a horror movie?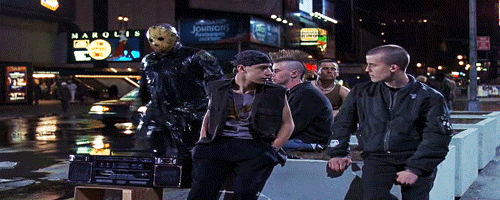 Which is your favorite use of one [pre-existing] pop song in a horror movie (ironically, humorously, to chilling effect, or whatever reason)?
Jeremy Lowe – "Hip to be Square" by Huey Lewis and the News in AMERICAN PSYCHO 
There are few period piece films that fully capture the essence of the era in which they take place. AMERICAN PSYCHO fully embraces the aesthetic of the '80s that made it such a hedonistic Babylon. The monologue where Patrick Bateman (Christian Bale) explains to Paul Allen (Jared Leto) why Huey Lewis and the News' album Four is their greatest album and the cultural significance of the song "Hip to be Square" is possibly one of the most darkly comedic scenes in a very serious, psychological horror film ever. 
Director Mary Harron masterfully created a Monty Python-esque moment with this scene. It's such a brutally violent visual combined with a song that is completely innocent that the absurdity of it all makes me bust out laughing every time I watch it. Regardless of how iconic this moment is, "Hip to be Square" has since been removed from the AMERICAN PSYCHO soundtrack. It's a shame, because without it, the soundtrack is incomplete and unacceptable. Now if you'll excuse me, I have some video tapes I need to return.
Rockie Juarez – "Sound of da Police" by KRS-One in ATTACK THE BLOCK
"Sound of da Police" is a hip-hop classic from the legendary emcee KRS-One, a powerful warning about police violence and the life shattering consequences of having to deal with them on a daily basis. A song meant for the inner city residents of most gargantuan metropolises. So when it plays in Joe Cornish's ATTACK THE BLOCK, a film that features hood kids that are tough as nails, one would think it would needle drop for those badasses. Instead we see it being blasted in the headphones of the meekest character in the film, Brewis played by actor Luke Treadaway. The contrast is absolutely hilarious because you know damn well Brewis has never had to deal with police in any capacity. Just by looking at the guy, you can imagine the worst authority figure he's had to deal with was probably a school teacher.
Just as the joke lands, the hardrocks, lead by John Boyega (in a star-making performance), blow past him as if he doesn't exist, completely stealing his elevator ride from him. He barely spits out  "I….I just…I'll get the next one." telling us he is a pushover that listens to incredible hip-hop, which frankly might be a large number of fans of the genre. It is a wonderful character introduction and a great way of flipping a song on its ear. KRS-One says at the end of the track: "My great-grandfather dealt with the cops. My great grandfather had to deal with the cops. And then my great, great, great, great, when it's gonna stop?!" Trust me, bruv, Brewis has never come close to dealing with that type of pain.
Justin Leon – "Free Bird" by Lynyrd Skynyrd in THE DEVIL'S REJECTS
Rob Zombie's grindhouse epic THE DEVIL'S REJECTS reaches a classic crescendo in its final shots of the Firefly family faced with certain doom. It's shot gorgeously by helicopter and nothing accompanies the inevitable downfall of our antiheroes better than the band Lynyrd Skynyrd who literally fell from the sky in a plane crash that killed three members of the band. "Free Bird" showcases the blistering guitar solo of Allen Collins as Otis, Captain Spaulding, and Baby barrel towards police barricades guns blazing.THE DEVIL'S REJECTS is certainly a film that blends excess and style without seeking to compromise.  It's a great way to remember Sid Haig, who never half stepped and went out in a blaze of glory.
Jedidiah Ayres – "American Girl" by Tom Petty & the Heartbreakers in THE SILENCE OF THE LAMBS
31 minutes into Jonathan Demme's THE SILENCE OF THE LAMBS we've been introduced to Hannibal Lecter, had some of his crimes described, shown the very capable and smart Clarice Starling be unnerved by the interactions, and we're feeling the urgency of stopping Ted Levine's serial killer Buffalo Bill who stalks young women to skin. Anthony Hopkins' psycho stare into the camera as he professes his disinclination to cooperate until some quid-pro-quo is given and Jodi Foster's wide, determined eyes as she weighs the stakes for herself if she lets the monster into her mind against those of Buffalo Bill's next potential victim. Lecter promises us that Bill is out there looking for her right now.
Cut to "American Girl" playing on the radio while Brooke Smith's Angela Martin drives home in Memphis, so very alive and optimistic and smiling for what we already know could be the last time in her life. The song is so optimistic and clearly defining the qualities the character holds for the audience and for the predator's gaze too. To this day I shudder whenever I hear the song.
Rich Maier – "The Killing Moon" by Echo And The Bunnymen in DONNIE DARKO
It's pretty much an indisputable fact that "The Killing Moon" by Echo And The Bunnymen is the most romantic song ever written. It's also the perfect song to start off Richard Kelly's brilliant art/horror/science fiction/drama/comedy/love story DONNIE DARKO. Kelly's twisted tale of love, fate, and time travel features several musical sequences that not so much advance the story but set the tone for an ultimate conclusion of sacrifice among tragedy. In a film that makes very little effort to explain itself these sequences provide a sort of emotional exposition to fill in the gaps of what the audience doesn't understand and it makes all the difference. It's kind of a sad fact that the song had been Kelly's second choice being that the budget did not allow for his first choice, "Never Tear Us Apart" by INXS. It's an even sadder fact that in Kelly's director's cut the INXS song is used instead. The members of Echo And The Bunnymen were not happy with this. In the words of vocalist Ian McCulloch, "Aren't some people knobheads?"
Samantha Schorsch – "El Condor Pasa" in WHAT WE DO IN THE SHADOWS
I firmly believe that both music and film have a wonderful potential to cross boundaries and cultures. In Lima, Peru one New Year's Eve, several Peruvians and I with varying levels of English fluency watched WHAT WE DO IN THE SHADOWS on a rooftop. Some jokes landed, some didn't, but we all had one thing in common: hysterical laughter as the newly-made vampire Nick projectile vomits blood in an alley after consuming chips (or french fries to us colonialists), portrayed as a deep tragedy with the addition of the Peruvian folk song, "El Condor Pasa." No, it isn't a pop song in the usual vernacular, but you wouldn't find a soul down there who didn't know what that song was, and seeing it used in a New Zealand English language horror comedy was both hilarious and charming. To this day, that's still the scene in the movie that makes me laugh most, as well as fills me with some of my fondest memories. Nice soundtrack, Taika.
(Editor's Note: Simon and Garfunkel released it as a single in 1970 using Los Incas' version for instrumentation, but added English lyrics)
Kevin Maher – "Fool For Blonde" by Roger Bartlett in THE TEXAS CHAIN SAW MASSACRE
You might remember this as the "Sidewalk Cafe" song that's playing in the van when the Hitchhiker (Edwin Neal) gets picked up. I used to really dislike this one, it was annoying and catchy. Of course that's the point, though; it's the kind of  jaunty radio tune that you'd find on Texas FM in the mid '70s. It adds to the "realism" that makes THE TEXAS CHAIN SAW MASSACRE work. The song provides an audio wallpaper, a mundane detail juxtaposed with the Hitchhiker's bizarre behavior. As the scene plays out, it's like the singer is oblivious to the menace taking place. We end up with a delightful contrast: this laid-back song juxtaposed with the Hitchhiker's manic energy. This slice-of-life music helps to ground Neal's over-the-top performance, bringing his ghoulish weirdo into the "real" world.
Trey Hilburn – "Fever" by The Cramps in NEAR DARK
At the all too young age of 8, I was already watching and rewatching the Kathryn Bigelow-directed neo-noir, western horror, NEAR DARK. In particular, I found myself obsessed with the scene that featured the nomadic group of vampires descending upon an any Americana small town bar in the middle of the sticks.  
 The entire scene plays out as a last-ditch effort and rite-of-passage to make the fledgling vampire, Caleb, into a bona fide bloodsucker. Also, in this scene is a whole lot of super-stylized murder. Including a very cool scene that has Bill Paxton's character hopping up on the bar and slitting an unsuspecting bartender's throat using a spur on his boot.  
Though the scene is filled with great needle drops that feature an eclectic blend. It's The Cramps' "Fever" that is easily the coolest and most memorable of the lot. Along with having a cool swing to it, the song also illustrates the vamps in full blood fever, ushering in the most visceral scene in the film. As a lad of all but 8, it cemented my love for vampires, The Cramps, leather jackets, and the larger-than-life Bill Paxton.
Andrew Campbell – "Hurdy Gurdy Man" by Donovan in THE CONJURING
Growing up in the '80s, my parents had a solid vinyl collection that included several albums by Donovan, the Scottish singer-songwriter that churned out a dozen iconic hits in the '60s and '70s.  Though his name feels like it has been lost to younger generations, his psychedelic and haunting songs continue to pop up in culture with their uneasy melodies and warbly vocals. "Season of the Witch," "Wear Your Love Like Heaven," "Mellow Yellow,"  "Sunshine Superman"—they're all Donovan.
When I saw ZODIAC a decade ago, it was a damn delight when David Fincher busted out Donovan's strangest-ever, "Hurdy Gurdy Man," over a brutal double-murder. Five years later, the first trailer for THE CONJURING dropped, looking like more jump-scare date-night trash, destined to be forgotten. Then the second trailer debuted, this one introducing  our beloved Ed and Lorraine Warren hunting for ghosts over a few bars of this creepy-ass tune, and THE CONJURING Universe is born. The song is not actually in the movie itself, but I contend it nailed the vibe of the film and put butts in the theater to the tune of $300M.
Alejandra Gonzalez – "Can't Help Falling in Love" performed by Patrick Wilson in THE CONJURING 2
Always a fan of really happy, whimsical songs being used ironically in horror, I never even considered how effective it could be to use these kinds of songs unironically and actually very seriously in the genre. My absolute favorite example of this is Elvis' "Can't Help Falling in Love" as it is found in THE CONJURING 2. I mean, besides Patrick Wilson's voice making me melt into an absolute puddle, the scene where he plays the song for the family the Warren's are helping adds a layer of emotional involvement that I think is uncommon for such a major studio horror production. See, although Ed Warren is singing the song to the Hodgson family, it is so clearly dedicated to his wife Elaine who is listening in on his performance—their relationship is such a powerful element in the CONJURING films, and I think there is something to be said about how smart it is to use a love song in such an intimate scene in a film that is supposed to be bone-chilling. It makes viewers really, earnestly care about the Warrens and what becomes of them and their love, which in turn makes us worry about what happens to them much more profoundly.
Mike Vanderbilt – "You're No Good" by Betty Everett in HOUSE (1986)
While Linda Ronstadt's 1974 recording of "You're No Good" became the most successful version of the song, hitting number one on the Billboard charts in 1975 and becoming a staple of classic rock radio, it's Betty Everett's 1986 re-recording (she originally recorded the Clint Ballard, Jr.-penned tune in 1963) that holds a memorable place in horror movie history. 
In Steve Miner's 1986 horror-comedy HOUSE (produced by Steve Miner with a story from Daily Grindhouse alum, Fred Dekker), author Roger Cobb (William Katt) is estranged from his wife and his son has disappeared. When Cobb moves into his late aunt's house to work on his next novel, supernatural shenanigans begin the plague the author around every corner. During an afternoon visit to his new digs, Cobb's wife transforms into a nasty creature in a purple dress that is decapitated by a possessed pair of hedge trimmers. 
There is a sense of catharsis and relief in those opening lyrics "Feeling better, now that we're through," as Cobb disposes of his wife…errr…the monster's remains, unceremoniously burying them in his backyard all while Everett's vocals provide a perfect punchline to it all.
Andrew Belonsky – "Mama Tried" by Merle Haggard in THE STRANGERS (2008)
I've always loved the way Merle Haggard's 1968 track "Mama Tried" provides both tension and context in THE STRANGERS. The song's twangy guitar and upbeat tempo, as well as the in-movie record's scratchy sound, supply the perfect mix of unsettling gloom and looming danger, while the refrain lends added texture, especially when repeated as often as it is in the film itself:
Mama tried to raise me better, but her pleading, I denied
That leaves only me to blame 'cause Mama tried.
These lyrics are often interpreted as a commentary on the titular murderous trio, but they also speak to the doomed couples' own troubles: Liv Tyler's just rejected Scott Speedman's marriage proposal; they feel like failures in love, a detail that provides the movie's emotional stakes, and makes their fates all the more gut-wrenching. No pun intended.
(Also, fun fact: Haggard's back up band was The Strangers. Spooky!)
Rob Dean — "Total Eclipse of the Heart" by Bonnie Tyler in THE STRANGERS: PREY AT NIGHT
There were a lot of contenders for this spot, but ultimately I went with the fairly recent use of Bonnie Tyler's "Total Eclipse of the Heart" in 2018's THE STRANGERS: PREY AT NIGHT. Firstly, it's a Jim Steinman song, so…duh. However, the song (and scene) also marks a lot of brilliant contrasting in Johannes Roberts' sequel. Not only within the movie is it a neat bit of juxtaposition taking the neon-lit pool scene and power ballad and using it to stage a savage fight for survival against this unknown menace.
But this particular sequence also underscores the difference between Roberts' film and the original from 2008. It's a wide open space not a cramped house; it's brightly lit with tacky neon instead of ambient lighting and a roaring fire; it's a beloved pop song used diegetically as characters actually fight back against the titular monsters, as opposed to mostly falling victim to them in silence. And yet, with all of those differences underscored in just one scene, it still feels of the same cloth because there remains an unpredictability to outcomes, a brutal tone to the violence, and a thorough maintenance of dread.
Matt Wedge – "Looking For the Magic" by Dwight Twilley Band in YOU'RE NEXT
I am not sure if director Adam Wingard and screenwriter Simon Barrett had other possibilities for the constantly repeated song that punctuates the opening sequence of their modern home invasion favorite, but in "Looking For the Magic" they had the perfect pop song to suit their purposes. Not only is the tune compulsively listenable, keeping it from becoming annoying as it plays over and over, Twilley's odd vocal stylings that combine sincere aching with a sort of Buddy Holly parody makes him sound like a ghostly crooner, adding menace to an otherwise bouncy, hummable power pop tune. That combination of subtly creepy with a satisfying pop sensibility matches the tone and feel of YOU'RE NEXT in a way that complements the film without feeling on-the-nose.
J. Tonzelli – "No One Lives Forever" by Oingo Boingo in THE TEXAS CHAINSAW MASSACRE 2
Tobe Hooper's sequel, THE TEXAS CHAINSAW MASSACRE 2, is one of the most beloved titles in horror history. A daring sequel that completely circumvents expectations, it does not attempt to match the tone or mood of the legendary 1974, overtly horror original. I also hate it. I mean, I just absolutely, positively, have-to-get-my-hatred-there-overnight for THE TEXAS CHAINSAW MASSACRE 2; it's the equivalent of the original's disturbing dinner sequence stretched out to an agonizing 90 minutes. It's important I note this hatred so I can then transition into how much I legitimately love the opening sequence, which sees a couple of rowdy frat boy types finding the wrong end of Leatherface's blade while Oingo Boingo's "No One Lives Forever" blares from the kids' car stereo. 
Before Danny Elfman composed for film, Oingo Boingo was his new wave, somewhat gothy baby, and like his numerous genre film scores, the band leaned on the darkness of life, and the theme of death was found in many of their songs. Its use in this sequence isn't just ironic, nor just a way of alerting the audience that they're in for a very different experience when compared to the original, but it's also just a toe-tapping good time. And, if your time is up, and you've gotta go, go with Oingo Boingo.
Justin Yandell– "Love Hurts" by Nazareth in HALLOWEEN (2007) and "Love Hurts" by Nan Vernon in HALLOWEEN II (DIRECTOR'S CUT) (2009)
This is a twofer for me, and that's the cover of The Everly Brothers' 'Love Hurts' by Nazareth in Rob Zombie's HALLOWEEN and another cover of that same song by Nan Vernon in Rob Zombie's HALLOWEEN II (DIRECTOR'S CUT). I didn't love everything in Rob Zombie's Haddonfield, but I the things I did love were over-the-top. I loved Mikey beating the kid to death with a stick. I loved the young Mikey asylum sequence. And I loved Nazereth wailing 'Love Hurts' as moping Mikey's mom made bank down at the strip club. I've never heard if Rob Zombie intended this moment to be funny, but either way, I enjoyed it.
I like the use of the song in the first one because I think it's absurd. I love the use of Nan Vernon's cover in HALLOWEEN II (DIRECTOR'S CUT) because it's hauntingly beautiful. I maintain if you haven't seen the Zombie's cut of HALLOWEEN II, you haven't really seen the film at all. It's a much deeper, far more painful look at a person obliterated by trauma, and this version of this song caps Laurie's journey in a way the theatrical use of John Carpenter's theme couldn't quite pull off.
I thought of being a smart-aleck and going with  "The Gonk" in DAWN OF THE DEAD. Guessing that wasn't a widely-known pop hit even in its day, though.
Then I thought about "In-A-Gadda-Da-Vida" in MANHUNTER. What kind of music does a guy like Francis Dollarhyde listen to, do you wonder? Then he throws this on, and it's long past time to go "Oh shit; this guy's really fucked up." 
But I don't want to get into the "that's not horror" argument. So let's go with a surer thing. From THE THING, sure.
I like "Superstition" the way it appears in 1982's THE THING. You really couldn't pick a more energetic, irresistible, universally-loved toe-tapper of a song. The lyrics are a little ominous, yeah, but ignore them for now, because damn, this sounds like a party. As it plays in THE THING, briefly — out of a boom box with the volume cranked up by Nauls (TK Carter) as he careens around the mess hall on roller skates—"Superstition" feels like a lifeline to an outside world, one warmer and maybe happier. Thousands of miles away, somebody's driving to the beach, listening to Stevie Wonder. Maybe with their best girl or guy. Maybe with the windows open and the sun shining. Here in Antarctica, it's a different story. Just outside those walls is death-cold and an entire continent of isolation and something even more horrible than both. But music, like movies, have a way of transporting — while they last. A familiar and beloved song like "Superstition" feels like a buffer to all those mounting cataclysms.
It's a security blanket, pulled up over your head. The feeling reminds me of that sensation of watching a scary movie in the middle of the night as a kid, one of those that really freaked you out. Then maybe switching to a cartoon on another channel, just as it ends. So the TV goes off and you try to sleep but you can't, because now you know you're in the dark, alone. The song can't really protect you from the evils of the world, from the evils of the universe, any more than a movie can. Sorry! You're on your own, and here it comes.
---
What about you, gentle readers? What are some of your favorite soundtracks? Sound off in the comments below!
---
Tags: Adam Wingard, Adrian Pasdar, American Girl, American Psycho, Anthony Hopkins, Attack the Block, Betty Everett, Bill Moseley, Bill Paxton, Bonnie Tyler, Brooke Smith, Bryan Bertino, Buffalo Bill, Can't Help Falling In Love, Christian Bale, Cori Gonzalez-Macuer, David Fincher, Donnie Darko, Donovan, Dwight Twilley Band, Echo and the Bunnymen, Edwin Neal, El Condor Pasa, Elvis, Fever, Fool For Blonde, Fred Dekker, Free Bird, halloween, Halloween (2007), Halloween II (2009), Hannibal Lecter, Hip To Be Square, Horror, House (1986), Huey Lewis And The News, Hurdy Gurdy Man, Jake Gyllenhaal, James Wan, Jared Leto, Jim Steinman, Jodie Foster, Joe Cornish, Johannes Roberts, John Boyega, john carpenter, John Carpenter's The Thing, Jonathan Demme, Kathryn Bigelow, KRS-One, Lance Henriksen, Lewis Pullman, Liv Tyler, Looking For The Magic, Love Hurts, Luke Treadaway, Lynyrd Skynyrd, Mama Tried, Merle Haggard, Nan Vernon, Nazareth, Near Dark, No One Lives Forever, October, Oingo Boingo, Patrick Wilson, Peru, Pop Music, Richard Kelly, Rob Zombie, Rocktoberfest, Rocktoberfest 2019, Roger Bartlett, Scott Speedman, Scout Taylor-Compton, Sheri Moon Zombie, Sid Haig, Simon and Garfunkel, Simon Barrett, Sound of da Police, Steve Miner, Stevie Wonder, Superstition, Taika Waititi, Ted Levine, The Conjuring, The Conjuring 2, The Cramps, The Devil's Rejects, The Killing Moon, The Silence of the Lambs, The Strangers, The Strangers: Prey at Night, The Texas Chain Saw Massacre, The Texas Chainsaw Massacre 2, The Thing, The Thing (1982), TK Carter, Tobe Hooper, Tom Petty And The Heartbreakers, Total Eclipse of the Heart, vampire, What We Do In The Shadows, William Katt, You're Next, You're No Good, Zodiac